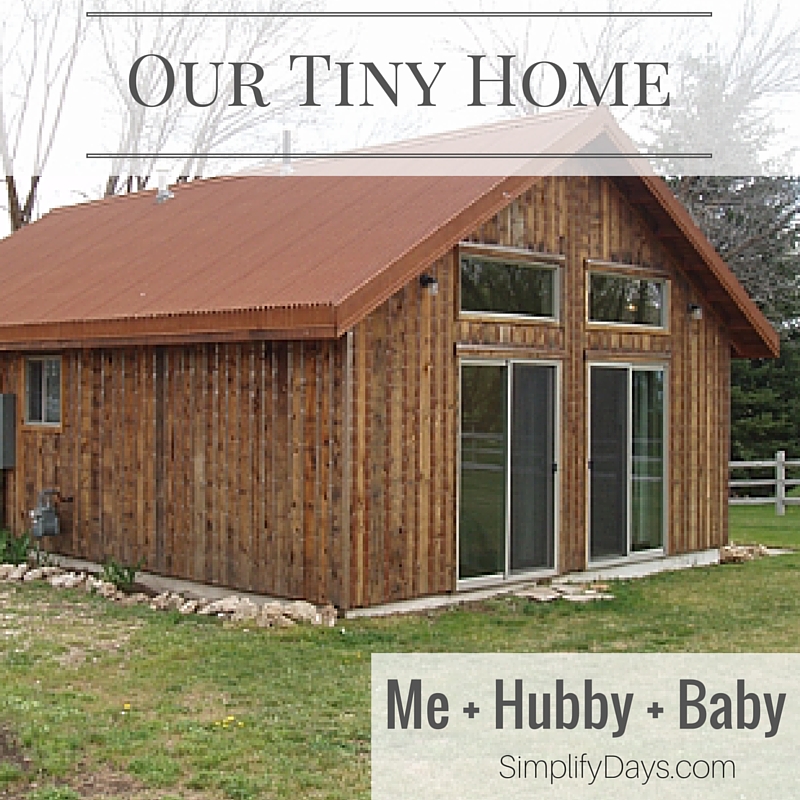 When I tell people that my family of three lives in 650 square feet they are always in shock. Usually they ask me questions to try and get a better understanding of what 650 square feet actually looks like. They'll have me point to an area of their house that's comparable to our whole house. (Usually half of the kitchen or a quarter of the living room area). That's usually followed by a whole slew of questions of how we manage to live in such a small space. What's interesting is that the questions are rarely why questions. I think most people intuitively understand why we choose small space living. (Less stuff = more time). The questions are usually why questions. Most people are looking for similar ways to declutter, organize and simplify their life.
We are unfortunately moving from this little abode at the end of the month. Because we'll be moving, I've been reflecting on our experiences in this "tiny house" and what we've learned from living in the space. Here are the top 5 lessons that will stick with me.
A Commitment to Minimalism
Restricting space means restricting stuff. It's human tendency to completely fill the space we have (and usually try to fill it even a bit more). A small space naturally creates limits for material items. If the closet is small, then clothes are limited. The same principle applies to all areas of the house.
A Love of the Outdoors
When space is limited inside, it's natural to get outside more. We have a 19 month old with a lot of energy. I am outside with her as much as possible. I love that our small space encourages use to explore the wonderful outdoors more often.
A Lot of Time
When we are home, we are together. Period. There aren't different sections of the house where my husband can go or my daughter can play by herself. I've loved the tight living quarters because it brings us together as a family, all of the time. If my husband is reading a book with our daughter while I'm fixing dinner, I can still watch, participate and enjoy. They're not sectioned off in another location. We're all enjoying the evening together.
A Constant Critical Review of Possessions
Fully utilizing the space you have is critical to small space living. Every cupboard and counter space needs to be functional and highly utilized. If an item that is rarely used is taking up prime real estate in one of my kitchen cupboards then out the door it goes. In a small space the item can't be squirreled away in the basement or spare closet. There's no where else for it to go. Small spaces helps us focus on the useful and practical items that we own and helps us to get rid of the rest.
A Digitally Organized Life
Something that's been essential for our small space living is being digital. We don't have room for books, magazines, cookbooks and movies. Because everything is digital, our whole office is a simple desk in the living room. There's no need for bookshelves or filing cabinets. If you're interested in going digital too, check out my course.
Oh and don't worry, we're not moving to upgrade to a larger space. Although small spaces come with their own unique set of challenges, we really like the minimalist lifestyle. We can clean our whole house in less than an hour and then have more time to travel and to do the things we love. We are moving to another small space while we save to build our own "tiny home." Check out my Pinterest Board for some things I've saved for when we build our own small space.


---
Simplify with Less
If you're interested in learning more about how to simplify with digital organization, then you may be interested in my free email course: Simplify with a Life Digitally Organized. Digital organization has made such a difference in our lives! It's allowed us to get rid of boxes and boxes of stuff! A home that once had dozens of bookshelves, a wall of filing cabinets, hundreds of books, thousands of papers, stacks of DVD's, receipts and more now has one simple file box for our remaining papers and that's it! Join the course below and look forward to 7 emails for 7 days with actionable strategies for cutting the clutter and getting digitally organized.