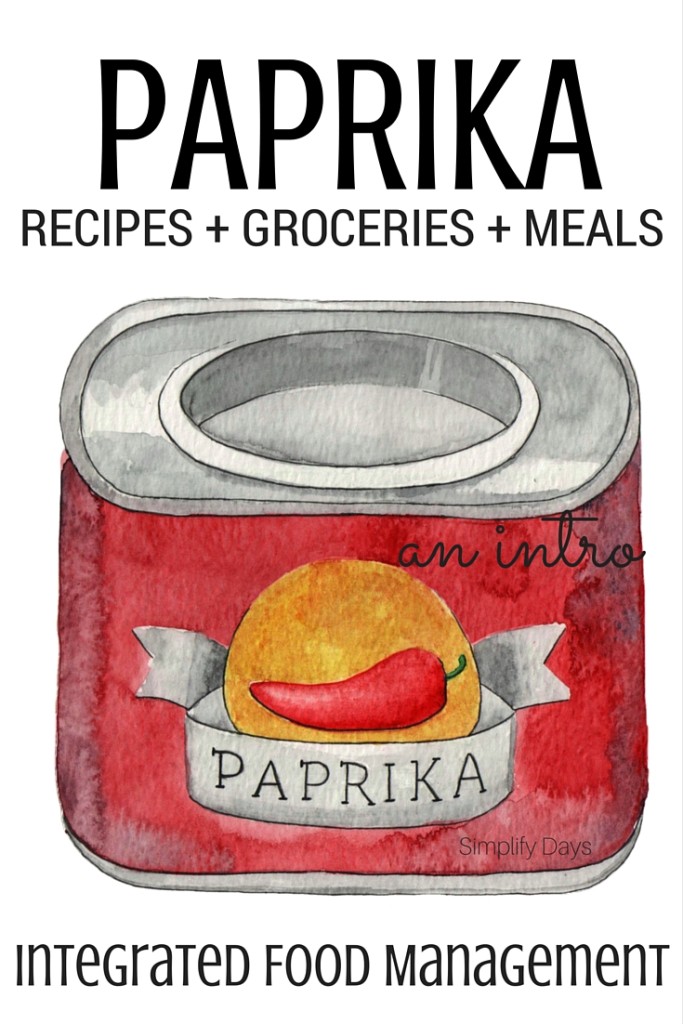 Do you cook? Then you need Paprika. Paprika is the best app on the market for everything you need to manage in the kitchen. Most people have their recipes spread out from cookbooks to magazines, binders, books, Pinterest, emails, Word documents and more. Paprika creates a unified digital system for all of your recipe management, meal planning, and grocery shopping. This article will walk through the basics of Paprika and help you get started with creating your first digital recipe, grocery list and meal plan.
---
Paprika's Three Main Features: Recipes + Groceries + Meals
Recipes
Have you ever had a craving for a meal you made previously but couldn't remember where the recipe was? Was it in the Barefoot Contessa cookbook, on Pinterest, in the Better Homes and Gardens Magazine, saved in Yummly or on a favorite blog?
Paprika gives the perfect gathering place for all of your recipes. Gather all the recipes you use and host them all in the same location. With customization features like your own personal rating system, sorting by categories and favorites, making notes and more you'll never need to wonder what you scribbled in the margin of your cookbook again. This feature makes finding and using your recipes simple.
Create your First Recipe
Getting recipes into Paprika couldn't be easier. You can create recipes by manually inputting all the information, prefect for hardcopy recipes that are stored in cookbooks and magazines. Or you can capture recipe information from websites by clipping the information using Paprika's built in web browser feature.
Manual Input
We'll create a recipe by manually inputting the information first.
On the left side bar of your Paprika window click on Recipes. Then select the + icon in the top right corner.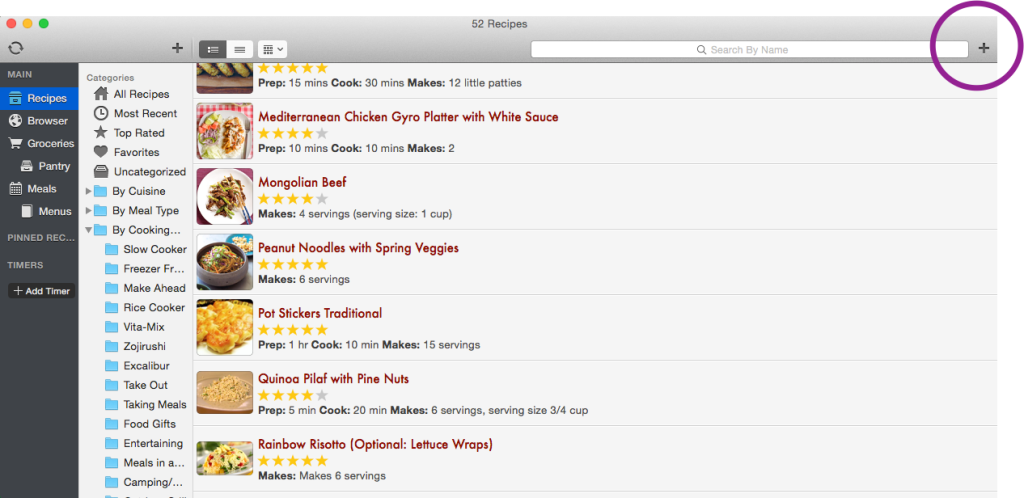 That will bring up a blank recipe card like this.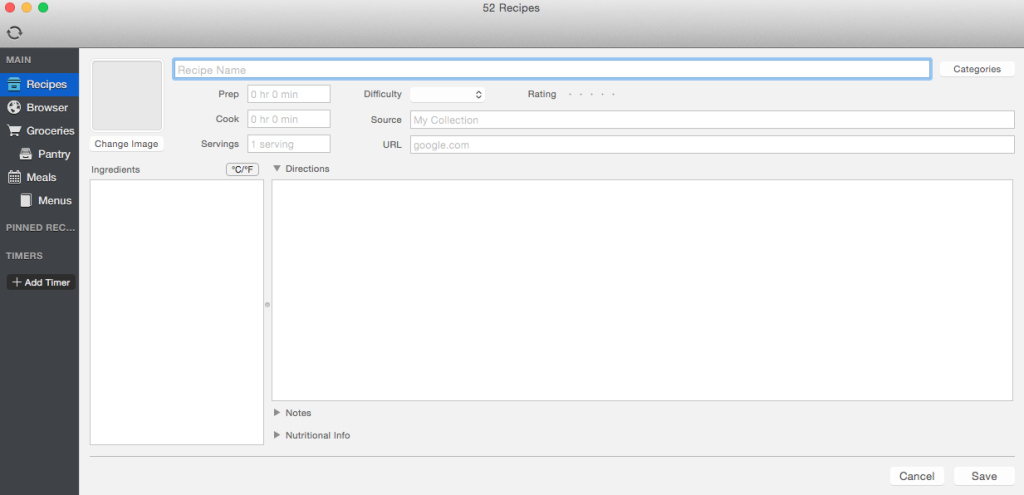 You can see all of the great detailed information that can be added to recipes like prep and cook time and how many it serves. Fill in the information and click Save. That's it! Now the recipe is stored in your digital recipe management system.
Digital Input
Inputting a recipe from a digital source is even easier. With Paprika, all it takes is the click of a button to easily capture recipe information and to save in it your personal cookbook collection. On the side menu bar select Browser.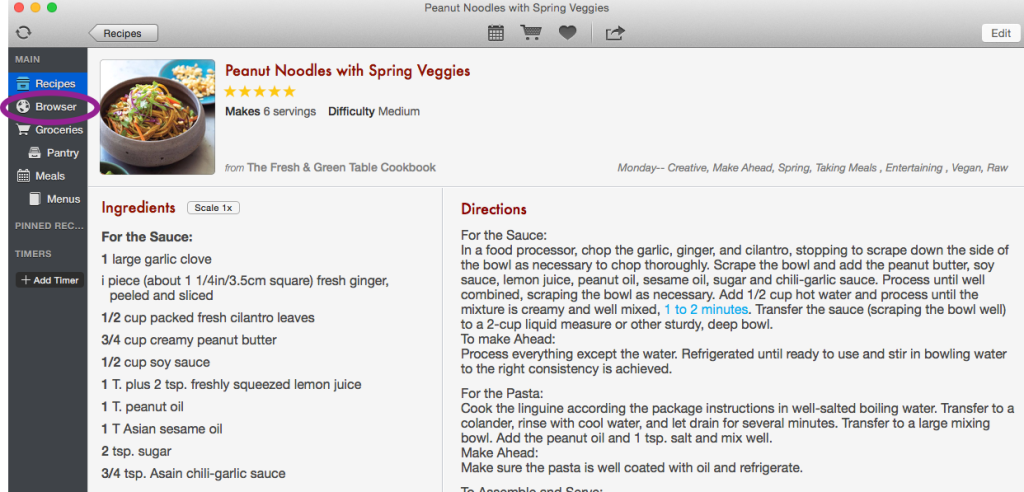 Then search the recipe online that you'd like to save. Here's one of my favorite guacamole recipes. Once you have your recipe up, just hit the Save button in bottom right corner.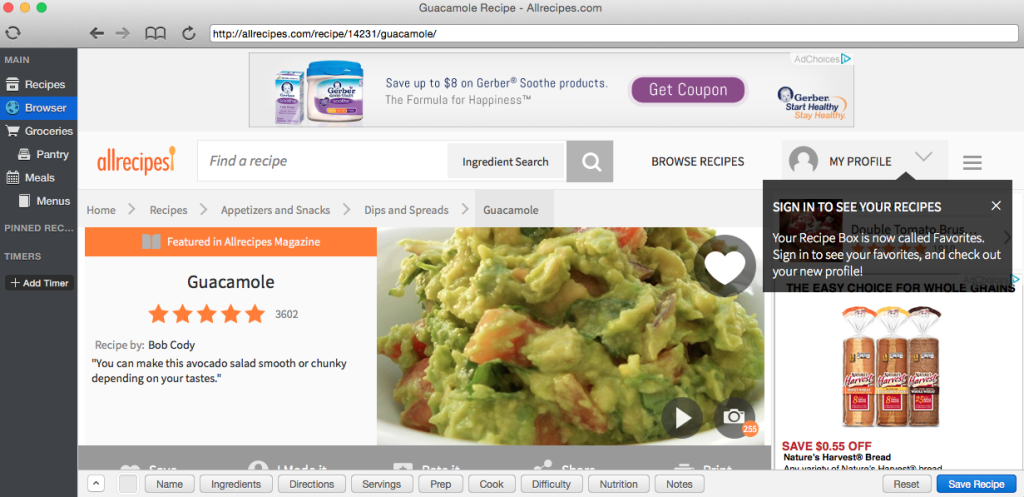 All of the information has now be generated into a personal recipe card. You can make any adjustment you'd like and personalize the recipe with a star rating and by assigning it to one of your specific categories. Also, notice that Paprika saves the source location which is great if you ever want to go back and reference the original recipe — especially if you make personal adjustments.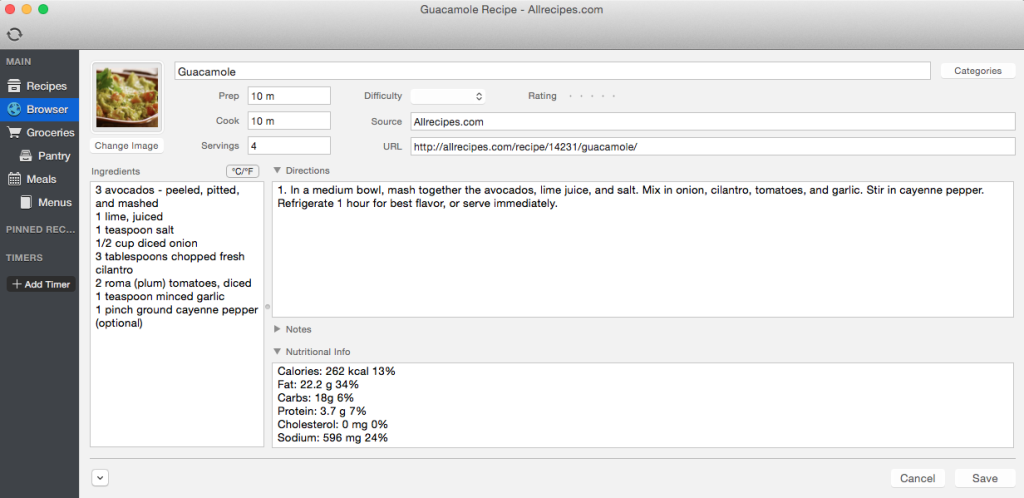 Hit Save and that's it! If you navigate back to the recipe section you will now see your recipe saved there.
Congratulations you just created your first digital recipe in Paprika!
Groceries
Have ever found yourself on the last aisle of the grocery store ready to leave, only to realize you forgot bananas in the produce section and corn in the freezer section? Now you have to navigate the whole store again just for two items. Don't worry, this never needs to happen again.
Paprika intuitively organizes all of your groceries by aisle. So when you're on the baked goods aisle you'll get everything you need quickly. With a simple click you can check things off your list as you make your way through the store. This feature makes grocery shopping quick and easy.
Create your First Grocery List
You can add groceries to Paprika by inputting them one-by-one or by adding all the ingredients in one recipe to your list. I'll show you both ways.
One-by-One
When you navigate to Groceries on the side menu-bar you will see a grocery list. Yours will be empty as you haven't entered anything yet. To create a new grocery store item just select the + icon in the top right corner.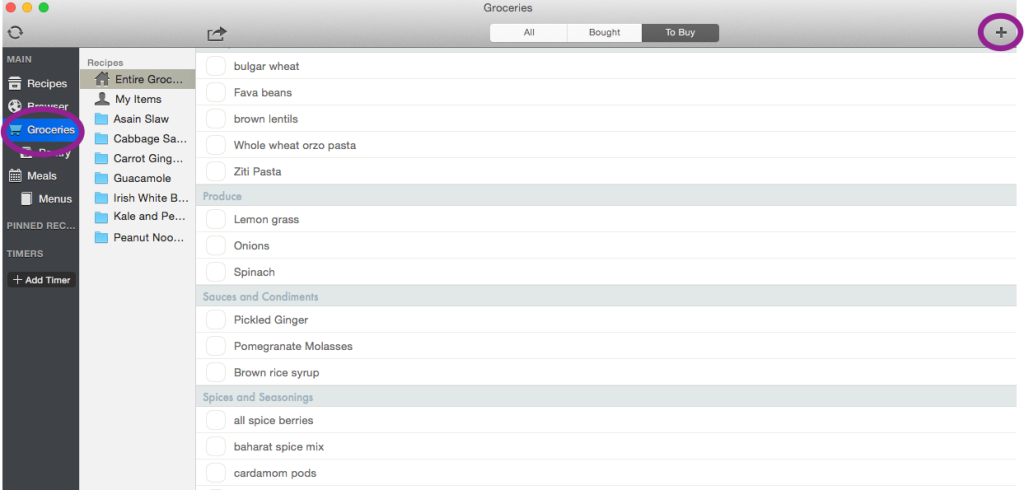 Type in the grocery list item and hit enter. You will see that item is automatically placed into a specific grocery store aisle. If you enter Bananas they will be filed under produce. Paprika does a pretty good job of automating this but if for some reason it's categorized wrong simply select the item and drag it to the right aisle or right click on the item and then choose the aisle where it should go.
By Recipe
To add groceries to your grocery list by recipe, navigate back to recipes and choose the recipe you'd like by double clicking on it. On the top menu-bar will you see four icons. Select the one that looks like a shopping cart.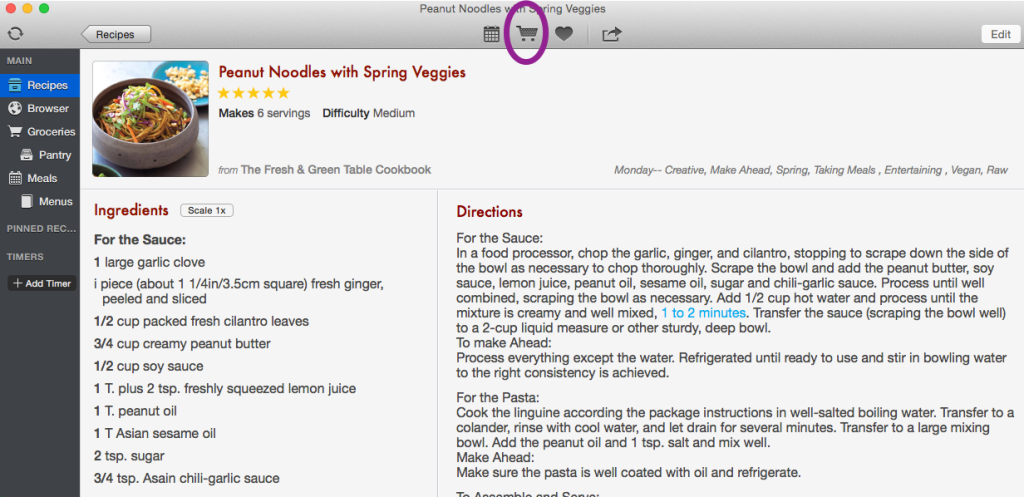 That will bring up this nice window. All of the ingredients that are needed for the recipe will appear. The list makes it easy to unselect items so you don't have salt, pepper and water on your grocery list 10 times. Then click add.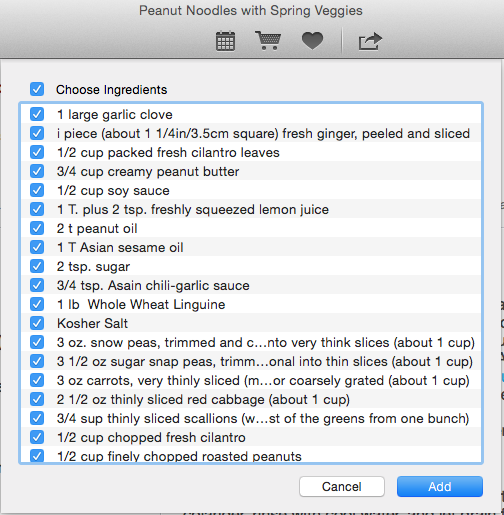 Congratulations you just created your first digital grocery list in Paprika!
Meals
One of the most frustrating things is looking at the clock at 4:30 pm and thinking "Shoot, what are we going to have for dinner?" Last minute meal planning can cause, stress, frustration, less healthy eating, more expensive eating and an ineffective use of time.
Paprika makes weekly meal planning easy. Simply look at the built-in calendar and add recipes you have already saved in Paprika or add personalized notes. Meals will be organized by day and by meal type: Breakfast, Lunch, Dinner or Snacks. This feature makes every meal of the day organized and ready to go.
Create your First Meal Plan
When you select meals in the side menu-bar you get a calendar view of the current month. Recipes are organized by color. Breakfast is orange, lunch is green, snacks are purple and dinner is blue.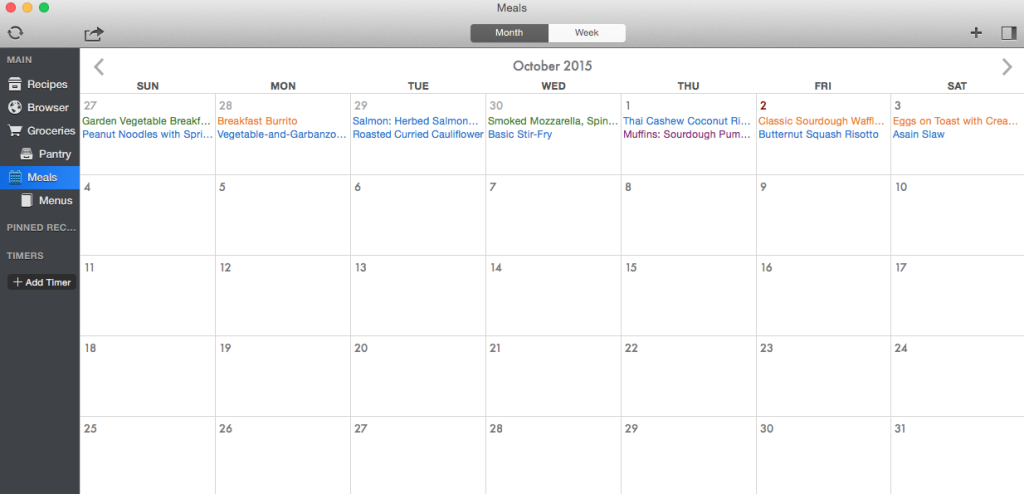 Meal plans can also be viewed by week.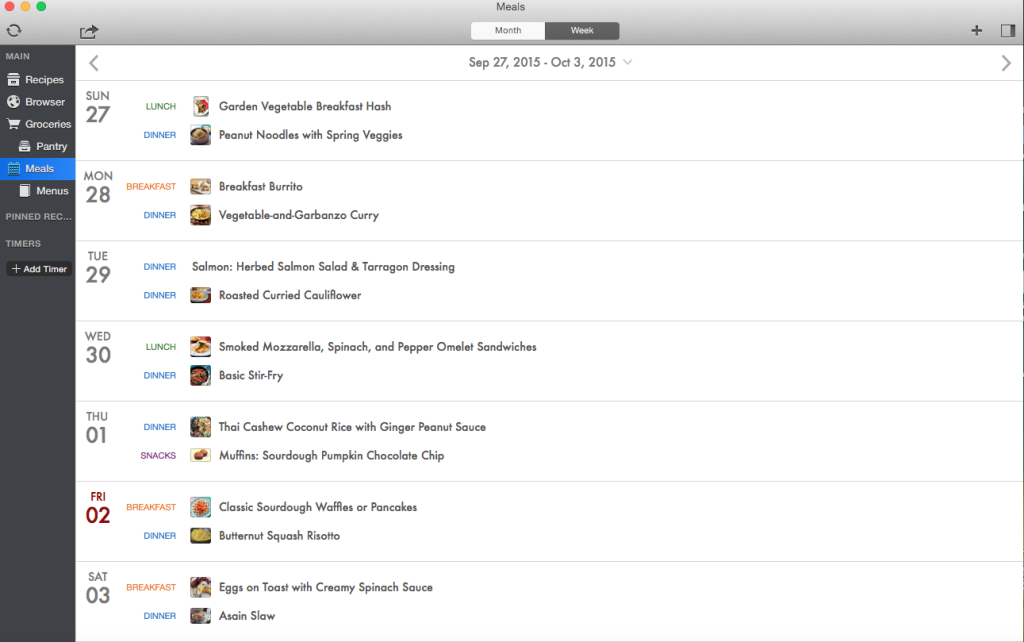 Adding Meals
When in the meals section viewing by month, you can double click on a day to add a recipe or click on the + icon in the top right corner. You can also add notes like: eating out or Sarah bringing dinner to a particular day.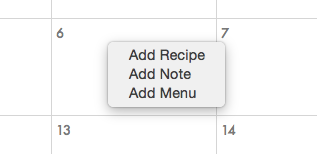 When viewing a single recipe you can easily add it to your meal plan by selecting the calendar icon on the top menu-bar.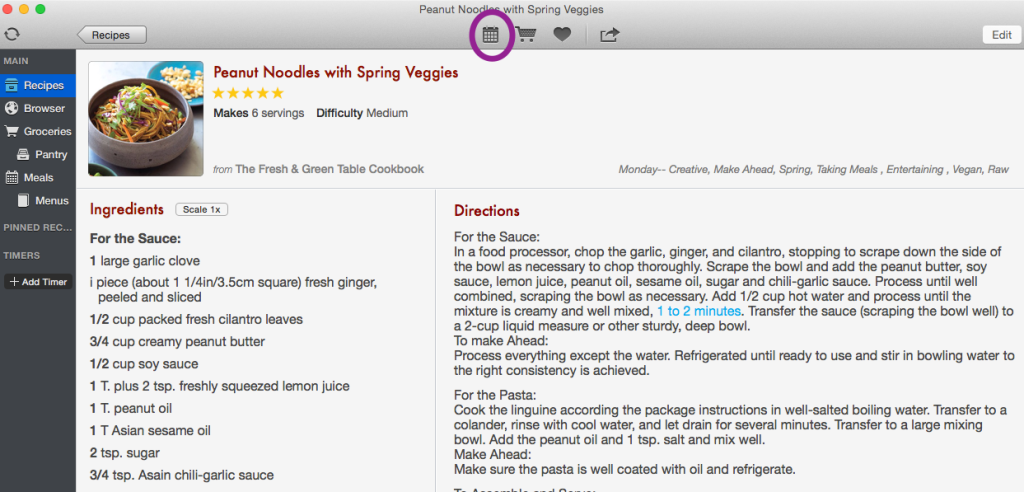 This is the perfect way to have stress-free meal times. Planning out your meals and groceries can also help save money and reduce waste by only purchasing the items you need and ensuring that you use and enjoy them.
Congratulations you just created your first digital meal plan in Paprika!
---
Get Started!
Paprika is an amazingly powerful organization app for everything food. Start inputting your recipes to see how easy it is to keep things managed using Paprika. It's made such a difference in simplifying and making my life easier!
Learn More
This is just the beginning! There are many other great features. You can check out more tips and tutorials for using Paprika and creating a digital kitchen
here
. If you're looking for a complete solution for creating a life digitally organized check out the
Go Digital. Go Paperless. LIVE Organized.
course which includes a very detailed lesson with videos on creating a digital kitchen. If you're not sure about going digital but want to give it a test run, check out my FREE 7-day email course below,
Simplify with a Life Digitally Organized
.