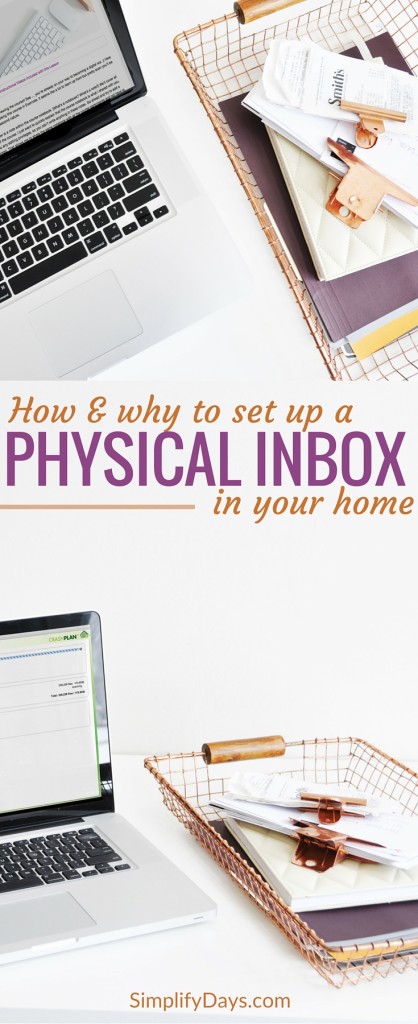 A great (and easy 🙂 ) way to stay organized and to stay on top of things is to have an physical inbox. Most corporate workspaces have inboxes but a lot of people don't think to have one at home.
---
What's an Inbox?
An inbox is a simple gathering location for tasks, invitations, receipts and anything else that will require an action or that will need to be processed and stored for referencing later. Instead of walking in your door and dropping papers on your kitchen counter, simply place them in your inbox.
An inbox can be in a drawer, on a shelf, entry-way table or office desk. Choose just one simple designated location. If there are multiple members in your household set up an inbox for each individual. Have the inboxes clearly marked and let everyone know what the inboxes are for. If someone gives you an invitation meant for your husband just place it in his inbox instead of on the counter where it can build up clutter and can easily be lost or forgotten.
---
Managing the Inbox
After the inboxes are established, designate a day and/or time to go through the contents. (Following my simple routine, I clear out my inbox on Friday). The frequency of purging your inbox will depend on the urgency of your roles and responsibilities. I go through my inbox weekly.
When you go through your inbox, complete quick tasks (anything that will take 5 minutes or less) right then. For example, if you have a note to text Heather, when you're going through your inbox send off the text. Any tasks that are more involved (anything that will take longer than 5 minutes) process the task or project into your digital task management system. I use OmniFocus for this. Lastly, any items that are reference material, I prep and then scan these items on Saturday using my ScanSnap. For me, the majority of these papers go into Evernote. Then I simply recycle and get rid of all the paper.
---
Inboxes are the perfect way to:
Keep clean counters
Manage a clean purse
Relay information to other members of the household
Stay focus on the task at hand
Keep a clear mind
Get things done
Stay organized
An inbox is such simple thing to set up and can make a huge difference in mitigating clutter and keeping track of the to-do's.
---
Get Organized
For me, digital organization is paramount for keeping and maintaining an effective inbox. The majority of the things that go in my inbox get processed and organized digitally. If you're interested in getting digitally organized check out my free email course: Simplify with a Life Digitally Organized. You'll learn about Evernote and other important elements of digital organization. Join the course below and look forward to a more organized life, home and office!