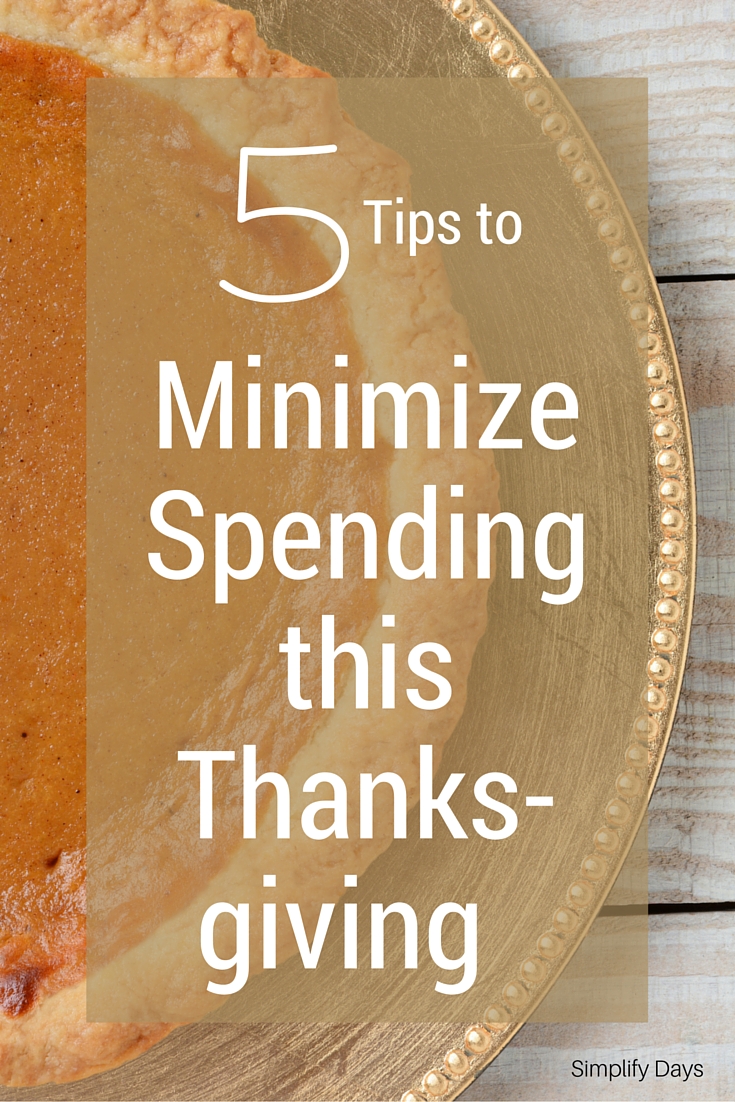 In 2014 Americans spent a total of $50.9 billion shopping in retails stores the weekend of Thanksgiving, another $1 billion shopping online on Thanksgiving and another $1.5 billion shopping online on Black Friday.
Whew that's a lot of money! Here are a few tips to cut spending this year.
---
ENJOY THE HOLIDAY AND REDUCE THE STUFF
Plan Ahead
It's amazing what a little planning ahead can do! Not only will planning out Thanksgiving help you save money it will also help you relax and enjoy this time of year.
Plan out the Meal and Give Assignments
If you're hosting, let your guests know what they can bring. Don't do the whole dinner yourself!
Plan out Groceries and Shop Ahead
Get everything but perishables in advance and perishables a few days before the meal. Use my favorite app, Paprika for meal and grocery shopping planning – see tips and tutorials here.
Think Outside the Box for Leftovers
Everyone loves Thanksgiving leftovers but mashed potatoes and turkey can only be enjoyed so many times. Plan on making Thai Turkey with Coconut Milk or Turkey Tacos for fun and creative ways to use your leftovers.
Spend Thanksgiving at Home with Your Family
I dislike the new trend of shopping on Thanksgiving. Don't encourage stores to have their employees working on Thanksgiving instead of being home with their families. Voice your disapproval by not shopping on Thanksgiving.
Regarding Black Friday
I grew up always going shopping the day after Thanksgiving. It was a family tradition! Thanksgiving evening we'd pull out the ads and write out our game plan for the next morning. Alarms usually went off at 5 am; we bundled up and rushed off to the stores. I remember getting free stuffed Bon bears, Macy's Christmas snow globes and Christmas coloring books from the mall. It was the kick-off for Christmas! These days most shopping starts on Thanksgiving or at ridiculously early hours like 2am and I don't know of anyone that gives free goodies anymore. However, the magic of this day still lives in my memory.
If you are considering shopping on Black Friday here's some advice. The door-busters are the only thing worth going for. All of the other sales and promotions are hardly ever better than normal sales that stores run. Don't get sucked into American holiday shopping frenzy. Make a list and stick to it. Get it and get out. Or just stay home like I do these days and enjoy the time with your family.
Cyber Monday Deals
Cyber Monday can be a great way to prep for the Holidays; however, it can also be a HUGE waste of time and money. Remember, you don't "save money" by spending money and buying something that you don't need won't be of any meaningful use to you. Don't shop just for the purpose of shopping. If there's something you need or someone in the family, write it down. Then search for it on Cyber Monday to see if it's a good deal and purchase the item if you'd like. Then shut your computer and go enjoy your family.
I hope you truly enjoy this time of year with good food, family and Thanksgiving! How do you cut spending and focus on what matters most this time of year?