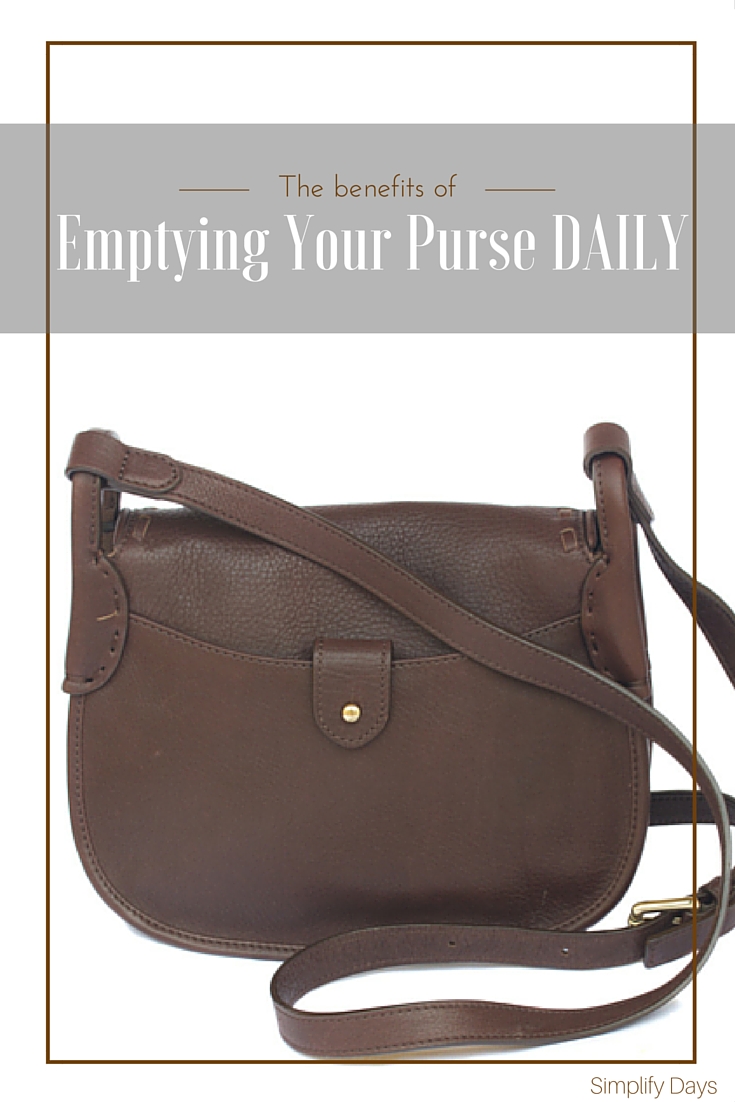 Purses can be the gathering place for all sorts of things. From receipts, snacks, flyers and change purses can become a catch-all for the things that life throws at us daily. Purses eventually build up and collect more and more; this makes our bags become a cluttered and unorganized mess.
---
The System
A quick way to prevent this build up is by simply emptying your purse daily. That may sound crazy but once you have a system down it's actually very easy.
Here's the trick: have a home for everything that usually goes in your purse. Right by my front door I have a simple furniture piece with multiple drawers. The top drawer is where my everyday items belong. This includes: my wallet, lip balm, a pen and small notebook, hand sanitizer etc.
A drawer right below this includes items that need to be processed and organized later. This includes: receipts, mail, flyers and anything else that will require an action from me at a later point. Following my routine, every week I go through this drawer and complete the tasks associated with the contents.
In my furniture piece, I also have additional drawers for items that sometimes go in my bag depending on the trip. This includes: water bottles and re-usable shopping bags.
Having a designated location for all of these items makes it very quick when I walk in the door to pull things out of my bag and file them away where they belong.
---
The Benefits
Emptying your purse daily will help to:
Create an organized bag.
Create a light bag! You'll only have what you need for that particular trip.
Make sure important tasks are not forgotten. If an invitation is stuffed in some obscure pocket of your bag it probably won't make it to your calendar or in a scheduling discussion with your spouse. If that invitation is in your action drawer then when you go through it you'll make the appropriate steps to either decline the invitation or be present when the date arrives.
Make switching bags a cinch. Do you need the pool bag instead of your everyday bag? No problem. Get the bag, open your essentials drawer and everything you need is there.
---
Tips
Here are a few more tips for keeping an organized bag:
Get a purse with lots of pockets and have a home for everything in your purse. Choose a specific location where your lipbalm, receipts and other items go.
Keep purse contents to a minimum. Only take what you need for that trip.
Generally, don't opt for the huge suitcase as a purse. We tend to fill the space we have so choose something functional but also slim.
Granted there are days when my purse isn't emptied out and times (particularly after my baby has been playing in it) that my purse looks like a bomb exploded. This isn't about having a perfect system all the time. It is however, about having a system. My purse is almost always cleaned out daily and is usually neat and organized. Having a system and a home for everything is what makes this process quick and easy. This single task of emptying your purse daily, turns something that is typically cluttered into a functional and simple
tool for carry our belongings … Afterall isn't that what a purse is for?
What are some of your tips and tricks for keeping your daily bag neat and organized?
---
Get Organized
If you're looking for more ways to get organized you may be interested in my free email course: Simplify with a Life Digitally Organized. All of the those receipts and invitations in my bag get processed and organized digitally. It's much easier than you think and can make a HUGE difference in your life. Begin your digital organization journey for free by joining me in the course below.