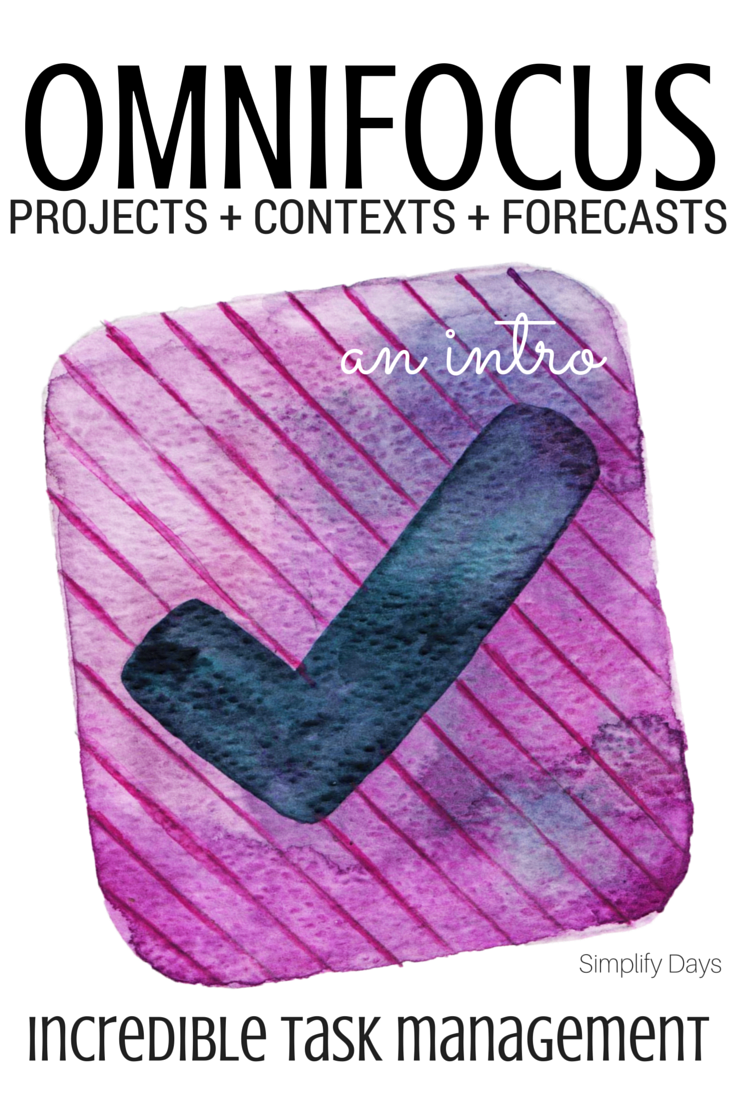 Do you have tasks, projects, deadlines and goals? Then you need OmniFocus! OmniFocus is the best app on the market for all of your planning needs.
This article will walk through the basics of OmniFocus and help you get started with understanding projects, contexts and forecasts.
---
OmniFocus' Three Main Features: Projects + Contexts + Forecasts
Projects
Projects is the perfect location to keep track of everything from writing an ebook to planning your daughters upcoming birthday party. This is what the desktop application looks like for project management. As you can see all of my projects are listed on the left. When one project is selected I can see all of the tasks associated with that project in the main window.
On the left side-bar, you can also see the basic framework is centered around the Getting Things Done (GTD) planning and productivity methodology. You have an Inbox, Projects, Contexts, a Forecast (to view tasks by day), flagged items, and a great feature called review. Get a quick overview of what the GTD methodology is here.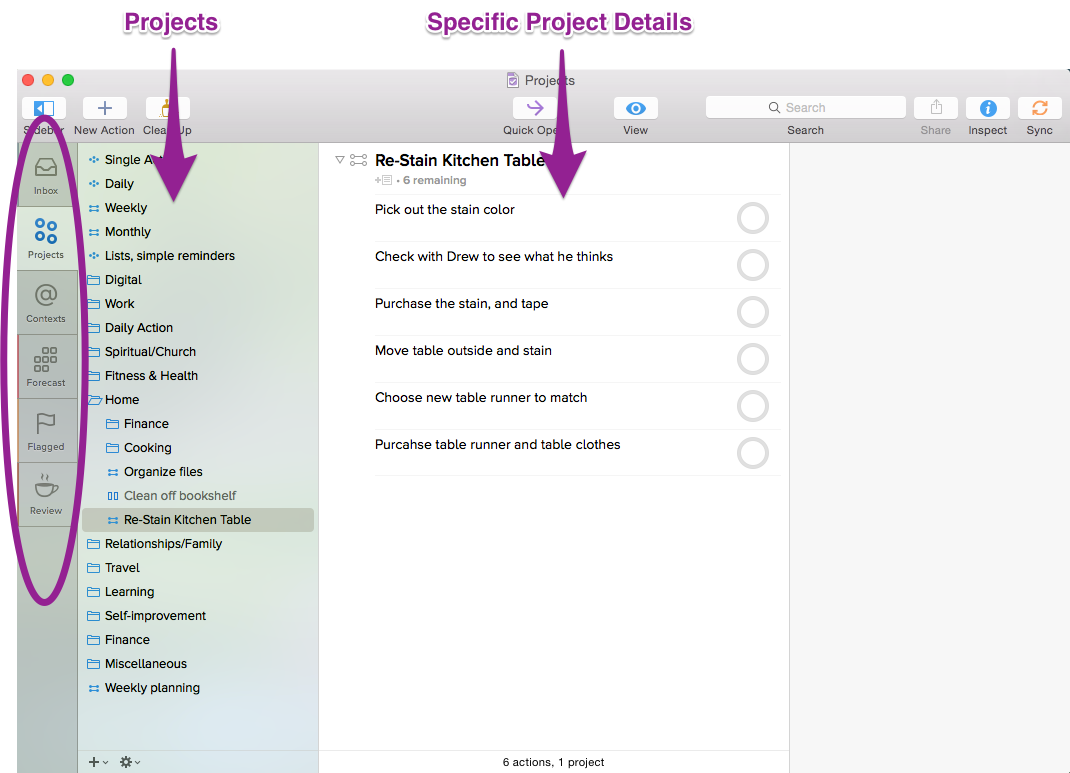 Add a Project
Setting up a new project is very simple. Make sure Projects is selected in the left side-bar and then press the + icon on the bottom left side of the screen.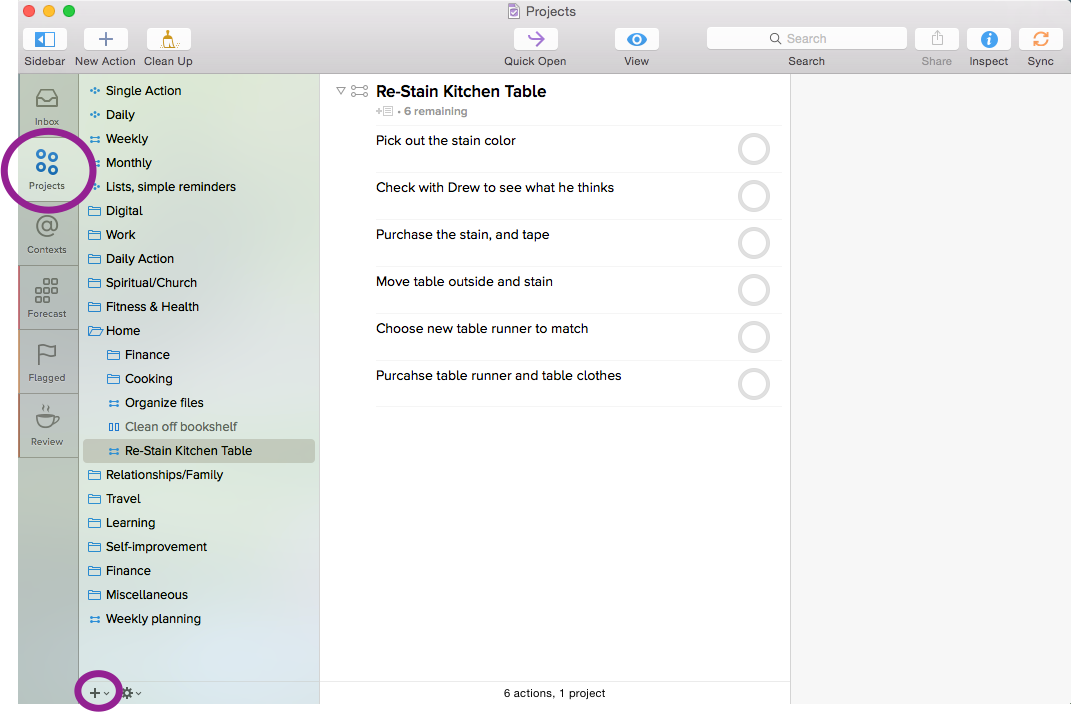 That will bring up this window.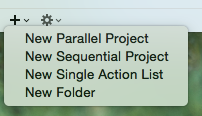 OmniFocus gives you the option to choose three different project types: parallel, sequential or single action.
Parallel Projects are projects that have tasks that can be completed in various orders. Most of my projects go here.
Sequential Projects have tasks that need to be completed in order one after the other. Like — painting the living room. Choosing the paint color needs to be done before taping off the walls.
Single Action Lists are mostly just lists for keeping track of random things. Like movies to watch.
Since parallel is what I use most frequently let's set up a new parallel project. Select that option and you will see a newly created project in the project side-bar.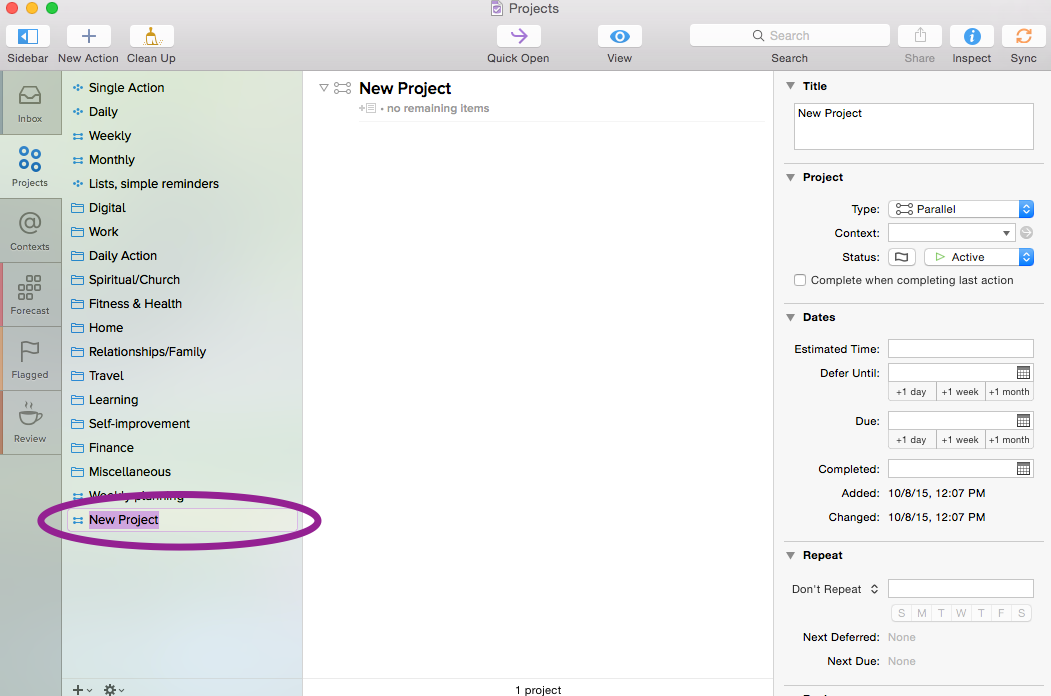 Give a title to your project and hit Enter. For this example I will create a project for the Simplify Days signature course. 

Now let's take a closer look at the right side-bar. You have a lot of wonderful options to keep your project organized and moving forward. You can give it an estimated time, defer date, due date, repeat options and more. It's not necessary to fill in every option for every project just what's applicable. Fill in what's important and then let's start inputting tasks.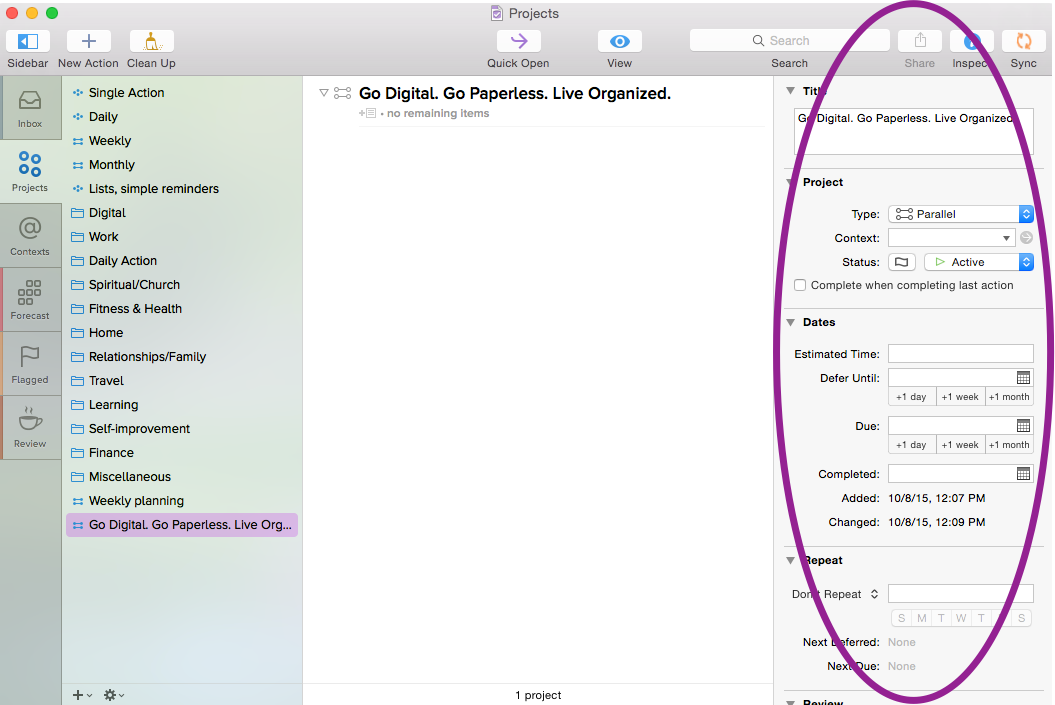 Add a Task
To add a new task just click on the main middle window and hit enter, a new line item will appear.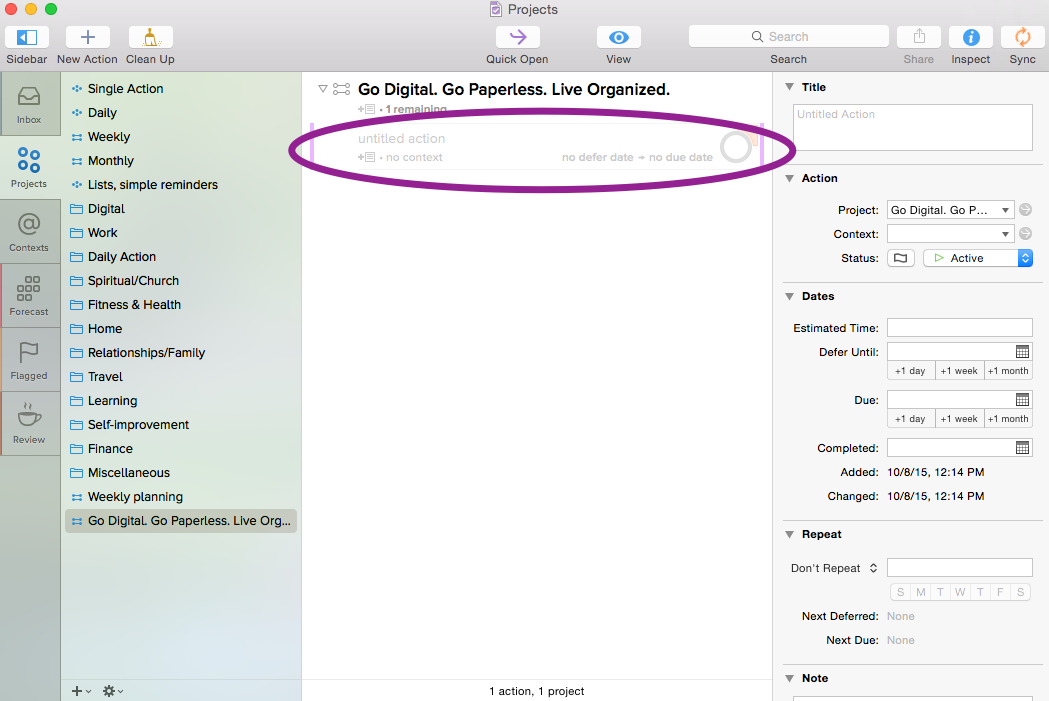 Start typing in that window to create a new task and hit enter when you're done.

You will see the same organization options on the right side-bar for this specific task that you saw with the overall project, including: estimated time, defer date, due date, repeat options and more. Again, it's not necessary to fill in every option for every task just what's applicable. Continue outlining any tasks that you'd like to add to this project. Now you can see your project with specific actions items outlined.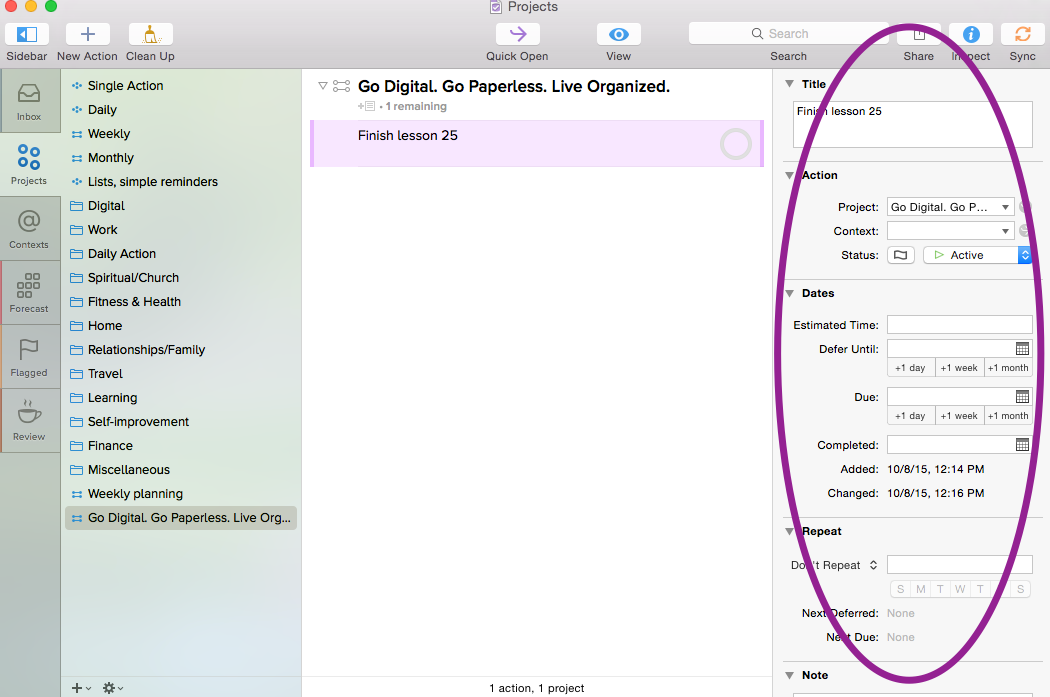 Context
In addition to tasks being organized by project, it's important to think of them by context. In the left side-bar select contexts. This can be a very new way to think about planning and it may be difficult to think of contexts to set up. Contexts that I use frequently are certain people (my spouse) and certain locations (at my parents). There's no one-size fits, this is something you can play around with to figure out the best context's for you.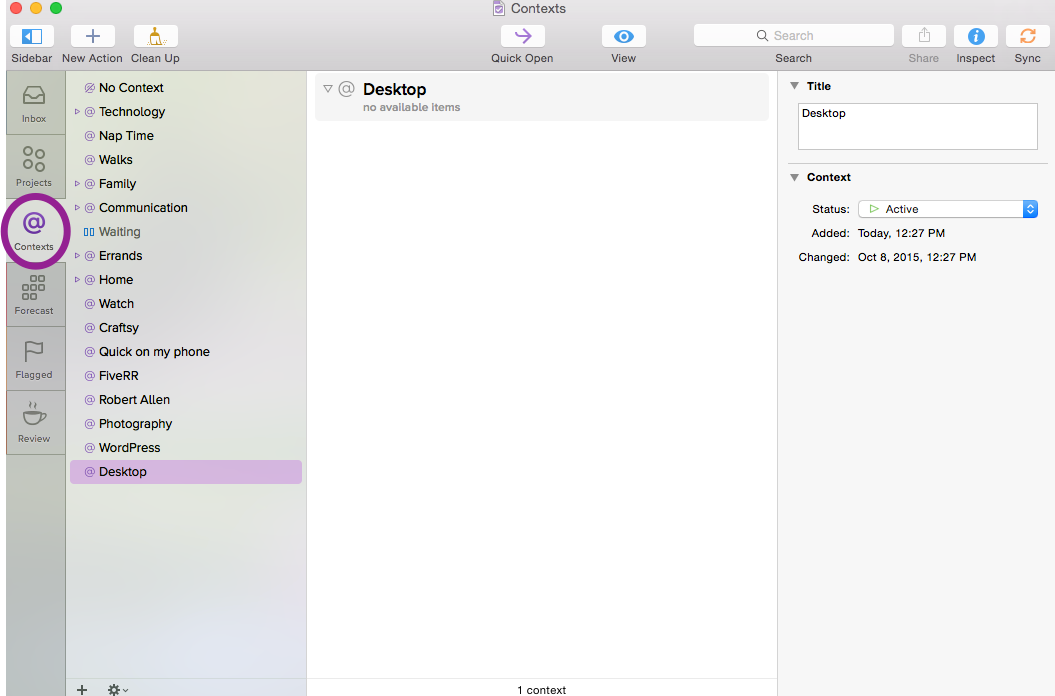 Add a Context
Setting up a new context is very simple. Make sure Contexts is selected in the left side-bar and then press the + icon on the bottom left side of the screen. The same type of box will appear in your side-bar that was created with the project. Enter your context name and hit enter. Continuing on with the project of completing the course, I'm going to give the context of Desktop, meaning my desktop computer. I'm giving this context name for tasks that need to be completed when I'm at my Desktop.

Now the main window will be blank. We haven't assigned any tasks to reside in this context yet.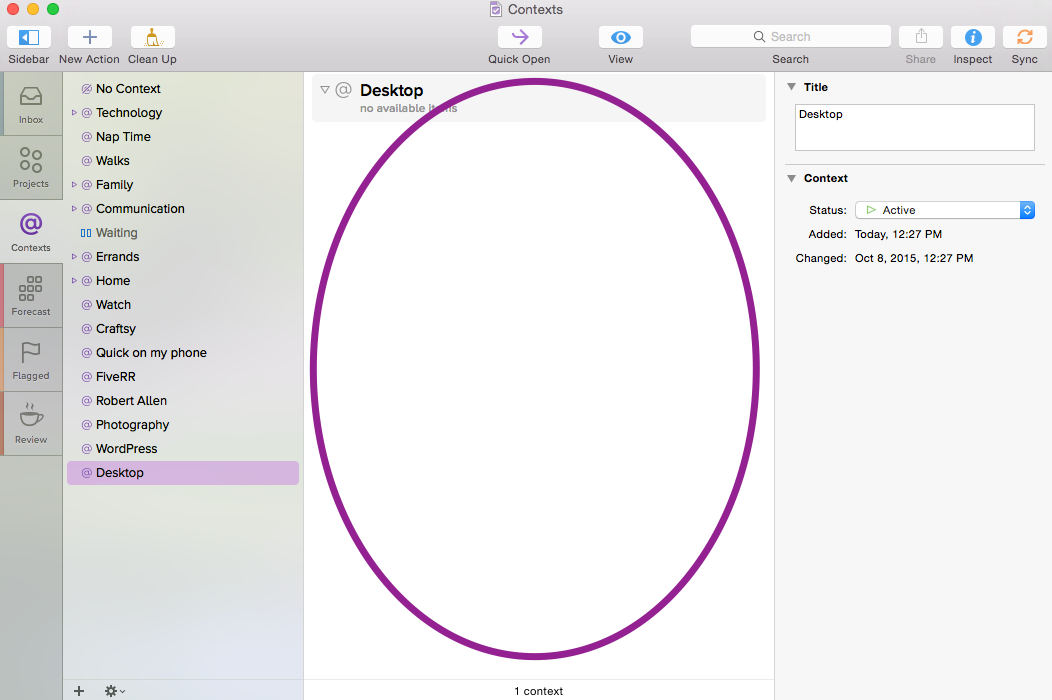 To do so, navigate back to projects by selecting it in your left side menu-bar and selecting the task that we recently created, "Finish Lesson 25." You will know it's selected if it's highlighted in purple. To assign the context "Desktop" to this task, navigate to the right side-bar and find Context. Use the dropdown and select the context.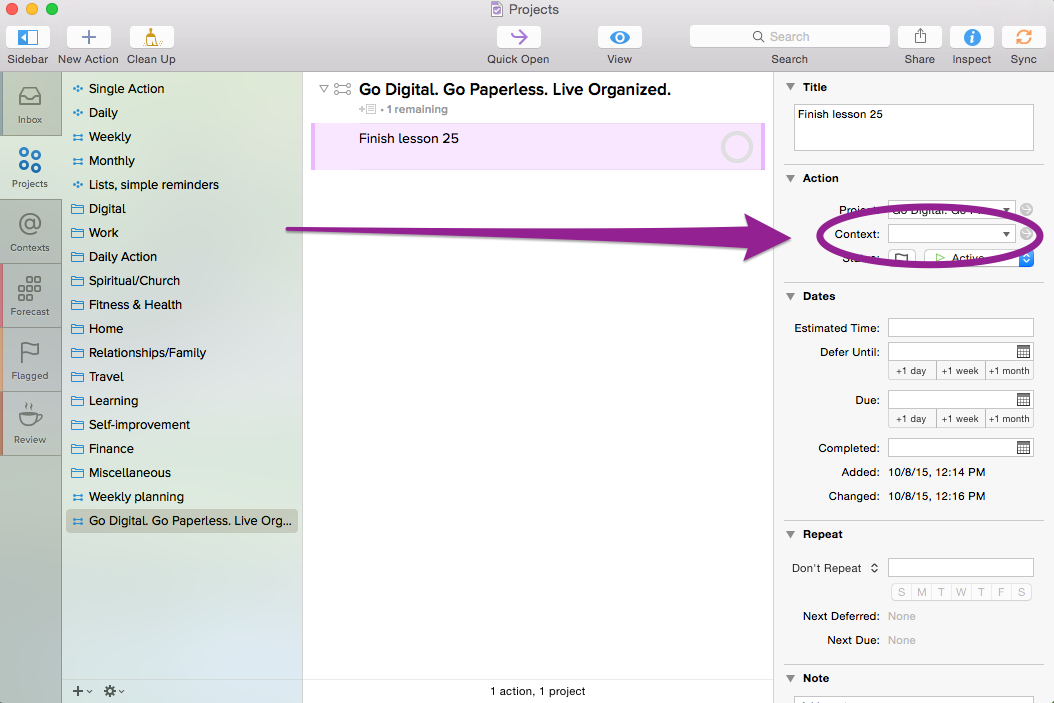 Now when you navigate back to the context section you will see the task, "Finish Lesson 25" in the context "Desktop."
The power of contexts is that I can quickly see a list of tasks based on a certain tool, location or person. I can have 20 different projects and within all those projects I have tasks that all need to be completed at my desktop computer. So when I'm at my desktop I can move things forward, simply by looking at that context and without shuffling through my different projects to see what I need to work on while I have time at my computer to work. My time is very effectively used because I know exactly what needs to be completed at that specific time, with a certain tool and/or with a certain person or at a certain location.
Forecasts
Forecasts allows me to see the tasks and projects that are associated with a particular date. I use due dates often as they're an effective method for me to move things forward. I also have a lot of things that are associated with a particular day (like take the garbage out every Wednesday). I can see all of those tasks here.
Here, I've zoomed in on the main window so that you can the nice calendar view on the Forecast window. I can select a day and see the tasks that are associated with that day. I can also add tasks directly from this window that need to be assigned a certain date.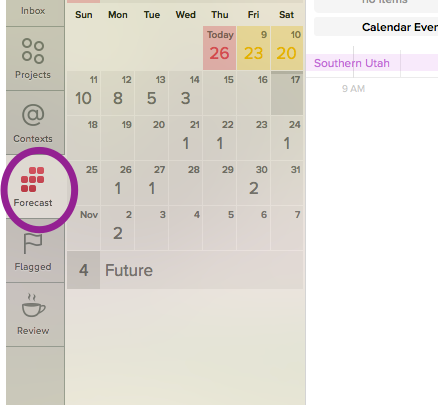 Another nice feature of the Forecast view is if you have anything scheduled on your apple Calendar those events will show up at the bottom of your task list. This is a great feature that allows you to easily see everything (tasks and appointments) happening on a particular day all in one place.
There's a quick overview of Projects, Contexts and Forecast. I searched for a long time (and tried out many other apps) before finding this wonderfully functional productivity tool. Using OmniFocus for time management is the perfect way to keep tasks organized, easily accessible and moving forward!
---
Get Started!
If you're ready to jump in with OmniFocus take the time to get all of your thoughts, dreams, projects and tasks written down. REALLY EVERYTHING. Having everything you'd like accomplish, from picking up screws at the hardware store to planning a trip to China, is very important to have written down somewhere.
If not, the tasks cloud the mind and prevent you from focusing on other tasks you may be working on. Getting things out of your head and into a trusted system allows your brain to function at its fullest and allows you to live in the present moment by being there and not thinking about your to-list. Good luck! I hope you love OmniFocus as much as I do. You can find more tips & tutorials for using this fabulous app here.
---
Get Digitally Organized
If you're interested in digital organization check out my free email course below: Simplify with a Life Digitally Organized. The course is a great way to learn the tips and tricks of going digital. You'll get 7 emails for 7 days with actionable strategies for creating a life digitally organized. Join the course below and look forward to a more organized, productive and focused life.