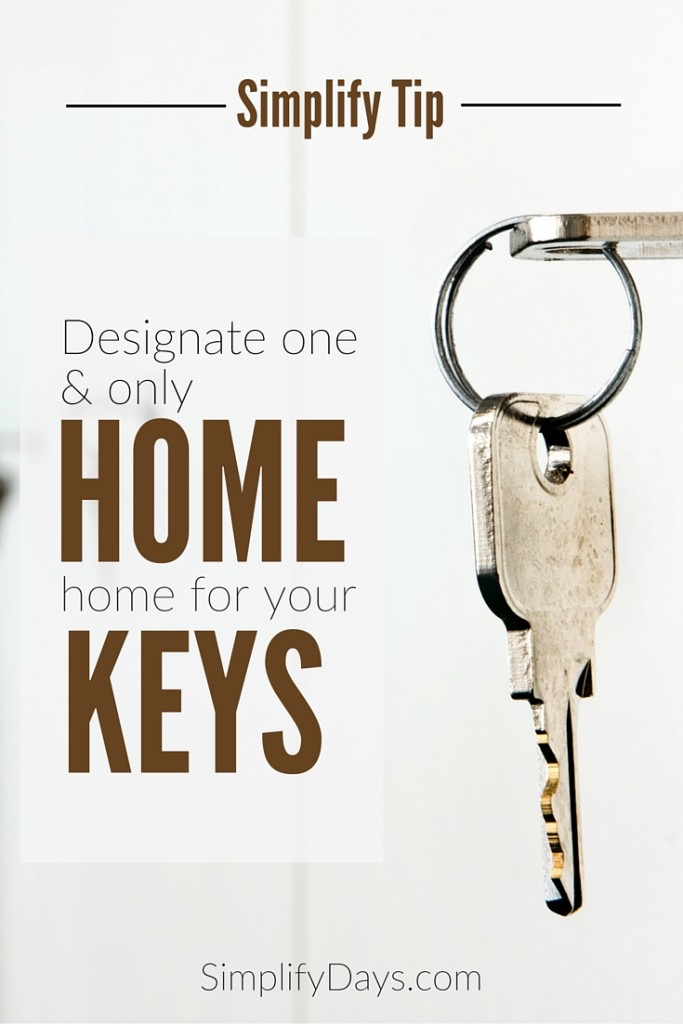 Do you ever find yourself grabbing the last few items you need for an appointment you'll barely be on time to, getting ready to head out the door and …. shoot where are the keys? Ahhhhh where are the keys? Are they in my purse? … No. Are they in the desk? … No. Are they on the entryway table? … No. Ohhh here they are on the kitchen table — Then find yourself running out the door frazzled and behind schedule?
There are a million places that keys could go but they should go in one spot … always. They should always go in their home. Not having a home for an important item like keys causes unneeded frustration and loss of time.
Choosing a home for your keys simply means designating a specific location where keys will always be deposited when you walk into your home.
---
Choosing a Home
Where's the right place for your keys to be? It depends on personal preference and home design. The most important thing is that they're always in the same place. Here are a few tips for choosing the right location:
Close to the Exit: Think about the layout of your home. If you have multiple entrances, choose a location for your keys closest to the door that you are most frequently entering and exiting from.
Out of Sight: I recommend housing your keys in location that is not easily visible. If your home was broken into you wouldn't want all your important keys lined on the wall for easy taking. Keys obviously need to be easily accessible but they can go in a cabinet or drawer. If using a bowl, simply place it in a drawer. If using a key rack just install it inside a cupboard.
Out of Reach: If you have small children or if small children frequently come to your home, it's important to choose a location that is not easy for them to locate and get into.
Not in a Bag or Purse: It's important to keep bags cleaned out daily. It's too easy for things to accumulate and get cluttered in purses. For this reason, I recommend placing keys in a location other than your purse. See tips for keeping g a clean purse here.
Traveling Tips
Whenever you're somewhere other than your primary residence, simply choose a home for your keys upon arrival.
When I'm at my parents, our keys go on the top of the piano that's right by the front-door.
When we're anywhere else, I simply grab a bowl from the kitchen, choose a location for it by the door and that's the home for our keys for the duration of the trip.
---
A Home for Everything
Keys aren't the only thing that should have a home. Everything you own should have a specific location where it belongs … It's home. Andrew Mellon has a wonderful book on de-cluttering and organizing. One of his tag lines is "A Home for Everything." I've enjoyed his popular book, UnStuff Your Life.
---
Getting Organized
If you're looking for more ways to simplify and get organized you may be interested in my free email course: Simplify with a Life Digitally Organized. Digital organization has made such a HUGE difference in my life. Digital organization is a great way to create order, peace and clarity in your life. Join the course below and look forward to a more organized life, home and office!