Typically when we think of organizing we think of a perfectly clean space. However, clean doesn't necessarily mean organized. And the opposite is also true – cluttered doesn't necessarily mean disorganized.
As a mother to a rambunctious toddler, a surprise visitor may be shocked at the state of my home as a "professional organizer" during most evenings. If that surprise visitor knocked on my door around 6pm they'd probably find toys waiting to be picked up, dishes from dinner waiting to be cleaned, and a mess around my daughters chair.
Being organized isn't about obsessing over having everything perfect all the time, especially if you have young kids, you'll just drive yourself crazy. Instead of focusing on always having things picked up focus on having a functional space. Organization is more about how well your space works for you then how it looks to others.
I love this excerpt from another professional organizer whom I admire and who offers practical and insightful advice on having an organized and productive life.
If I asked you to describe an organized space, what would you say? From most people, I hear things like 'neat and tidy,' 'spare,' 'minimalistic, and 'boring.'

But an organized space has nothing to do with these traits. There are people whose homes and offices appear neat as a pin on the surface. Yet, inside their desk drawers and kitchen cabinets, there is no real system, and things are terribly out of control. By contrast, there are many people who live or work in a physical mess, yet feel very comfortable in this environment and can always put their hands on whatever they need in a second. Could they be considered organized? Absolutely.

Being organized has less to do with the way an environment looks than how effectively it functions. If a person can find what they need when they need it, feels unencumbered in achieving his or her goals, and is happy in his or her space, then that person is well organized.

I'd like to propose a new definition of organization: 'Organizing is the process by which we create environments that enable us to live, work, and relax exactly as we want to.' When we are organized, our homes, offices, and schedules reflect and encourage who we are, what we want, and where we are going.
– Julie Morgenstern, Organizing from the Inside Out
If you're working on simplifying, getting rid of excess clutter is of course an important part of the process, but having a perfectly clean space 100% of the time is not part of the requirement.
Here are three simple tips when simplifying and getting organized:
Purge to get rid of things that aren't serving you
Organize your space to function well for you &
Don't obsess over perfection
I hope as part of your simplifying journey you'll work on making your space functional to serve your true purpose and goals.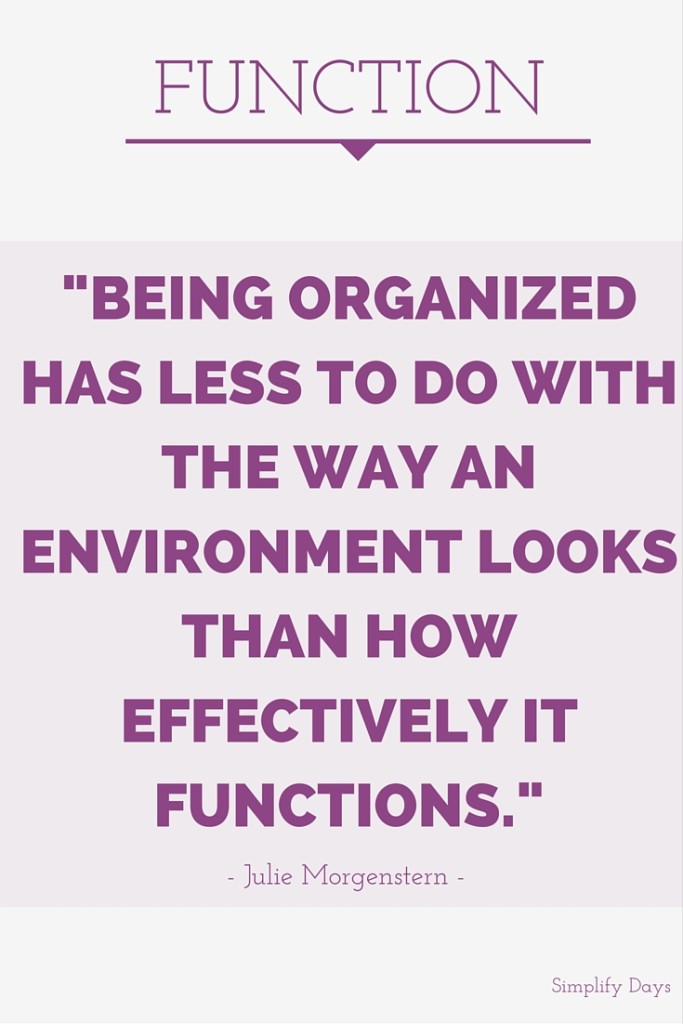 Are you looking for ways to make your space more functional and organized? Digital organization is a great way to create order, peace and clarity in your life. If you're looking to get digitally organized you may be interested in my free email course: Simplify with a Life Digitally Organized. Join the course below and look forward to a more organized life, home and office!