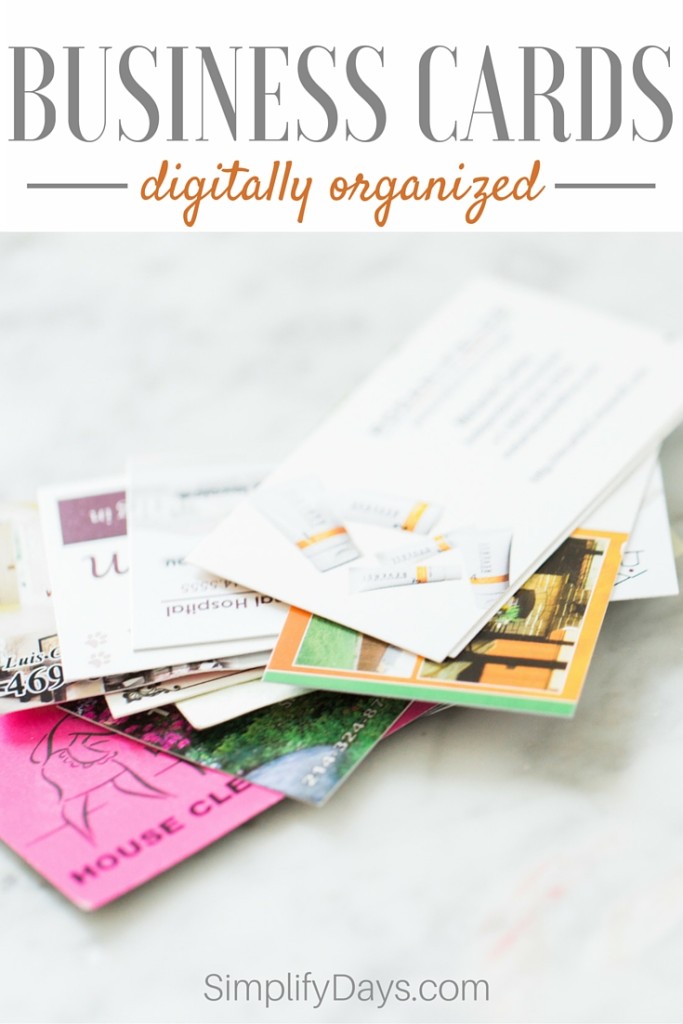 I had the opportunity to attend a wonderful conference this previous weekend. I learned a lot of great information, meet wonderful people and gleaned inspiration and motivation. Today I'm working on going through the information to outline my tasks and projects from everything that I learned. I also have a large stack of business cards from all of the great people I was able to come into contact with during the conference. A great, fast and easy way for me to organize and keep track of business cards that I collect is to digitize them.
The Benefits of Digital Business Cards
I love to digitize business cards because:
I don't have to stress about losing someone's contact information. I know it's digitized and safe in my system.
I don't have to shift through a large stack of business cards when I'm looking for someone's information. I just search and easily find their information.
I can make notes about how I meet the person right with the business card. I can easily say if I meet them at lunch or in a class.
I can easily track follow up. Right in the note I can write down if and when I reached out to the person to make sure that I re-connect with all of the great people that I meet at the conference.
The System
Digitizing business cards is so fast and it can be done right on your phone! This article will walk through two very simple and effective options.
---
Option One: Use the Evernote Scannable App
Scannable is a wonderful and free scanning app made by Evernote. Just search for the app on your phone. It's an aqua icon with a blue butterfly. There are three simple steps to digitize in Scannable:
Download the app.
Place the business card that you'd like to digitize on a flat surface with a contrasting background and launch the app.
Hold your phone right above the card. Scannable with frame-in, focus and digitize the card.
From there you can easily scan the back of the card if needed as well. Just flip the card over and Scannable will take the picture. If you have flyers or anything else from the person that you meet, then you could scan that information here too. Once everything is captured, hit the small blue check mark on the right side of the screen.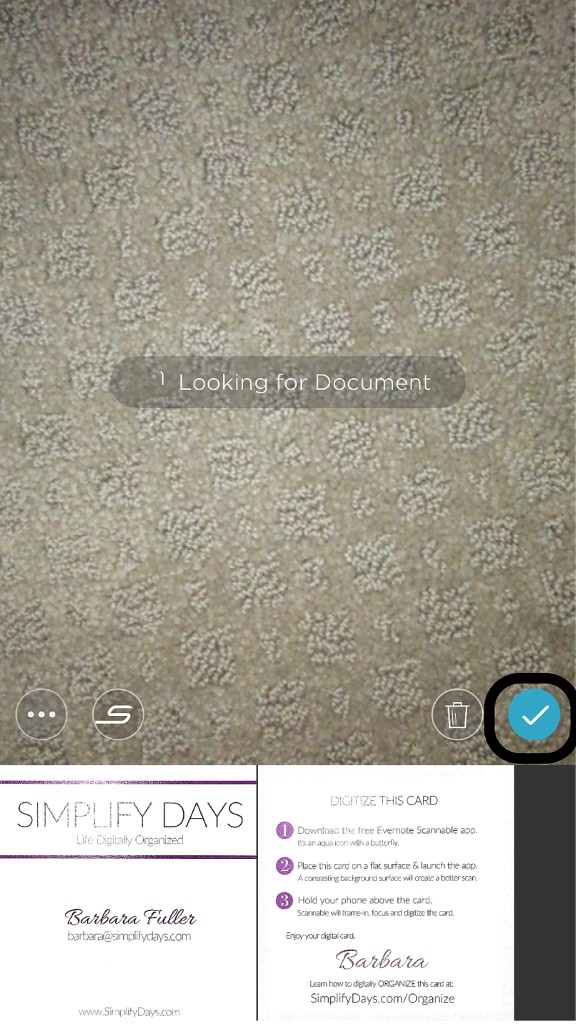 Now with the card digitize, it's time to save and organize the information. After you hit the blue check mark, your window will look like this.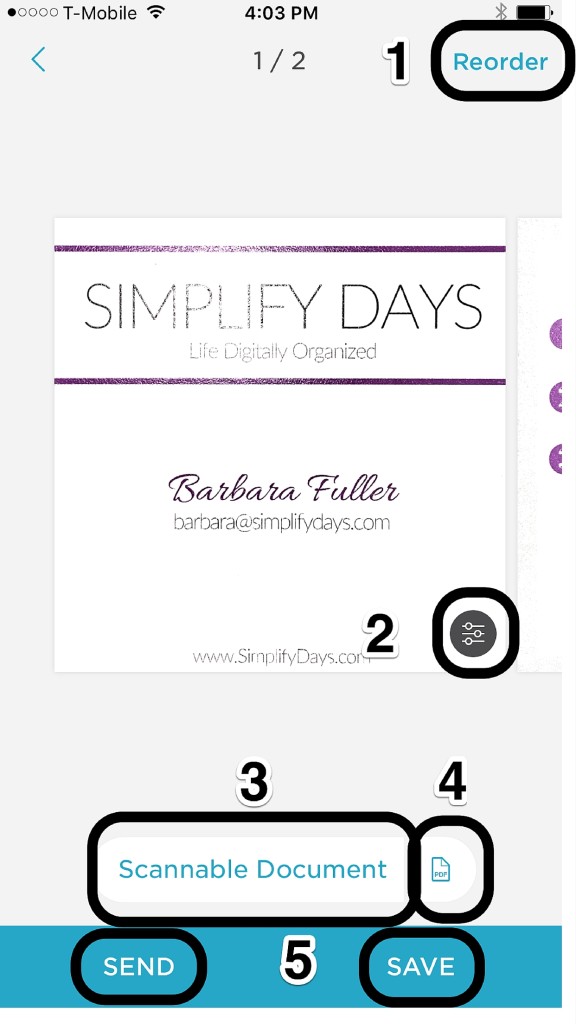 This screen gives you the options to:
Re-order the scans
Edit the photo(s)
Name your file
Choose the file type (PDF or JPG)
Send or save the information
When I'm digitizing business cards, I re-name the file to the contacts name, choose the JPG file type and save the file in my favorite orgnaization application Evernote. If you're brand new to Evernote see my getting started guide here. With those post's instructions, set up a new notebook in Evernote for saving business cards/contacts. Or you could create a notebook for the particular event that you attended if you have a lot of other information from the conference that you would like to keep together with the cards.
Once you hit Save in the Scannable app, you'll be brought to this window and will see the option to select Evernote as a save destination. With your Evernote account set up, select the Evernote save option. You will be promoted to enter you Evernote login information (you only need to do that the first time and then Scannable will remember). Then you'll see a list of all of your Evernote notebooks. Select the notebook that you just established, for business cards/contacts or your chosen title, and hit save. That's it! Now when you navigate to Evernote you'll see the scan neatly organized in the appropriate notebook. Congrats on your digital cards!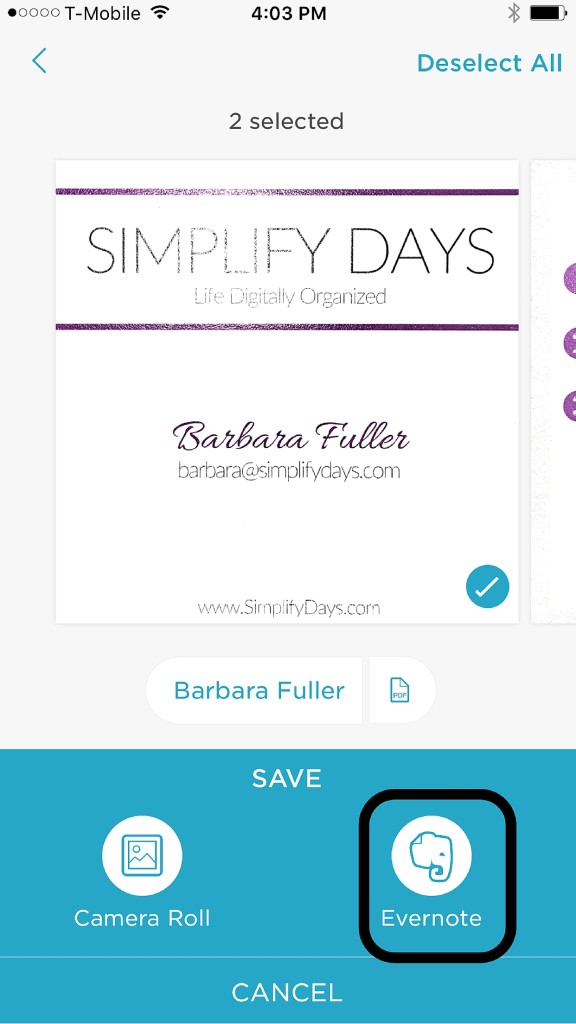 ---
Option Two: Use the Evernote App
Another great way to digitize business cards is to use Evernote directly. Evernote is a free organization application. Just search for the app on your phone. It's a green icon with an elephant.
If you're new to Evernote, you can:
There are four simple steps to digitize in Evernote:
Download the app.
Place the business card that you'd like to digitize on a flat surface with a contrasting background and launch the app.
Select the photo option.
Hold your phone right above the card. Evernote with frame-in, focus and digitize the card.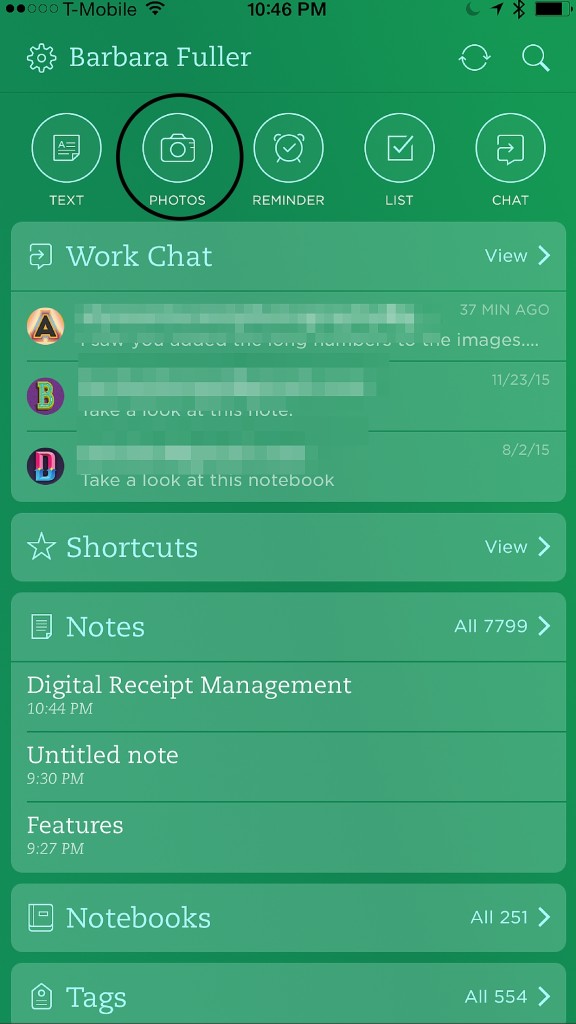 If Evernote recognizes it as a business card, then it will automatically populate a contact form. If it doesn't recognize it as a business card then tap on the scanned image.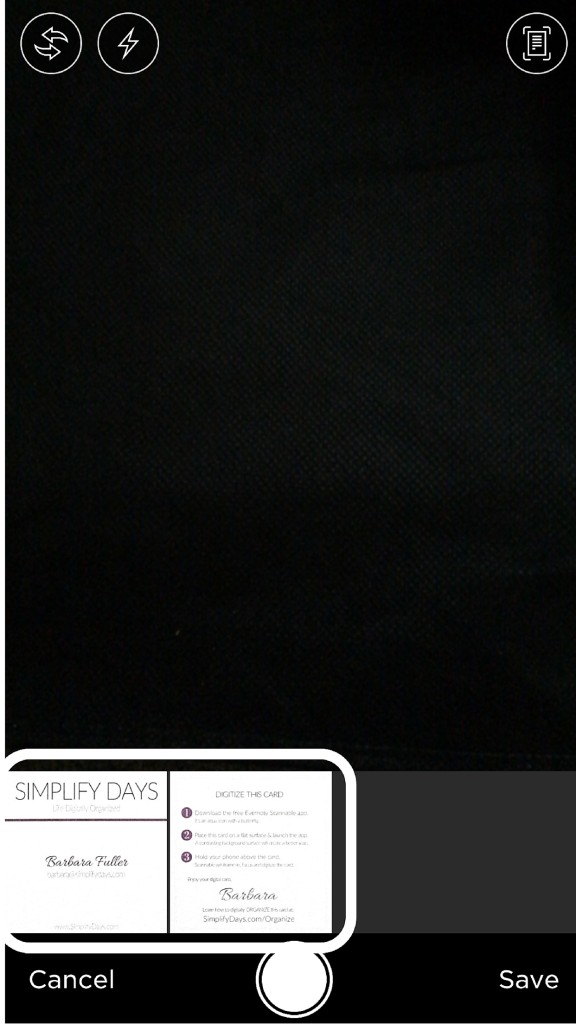 Select Saving As.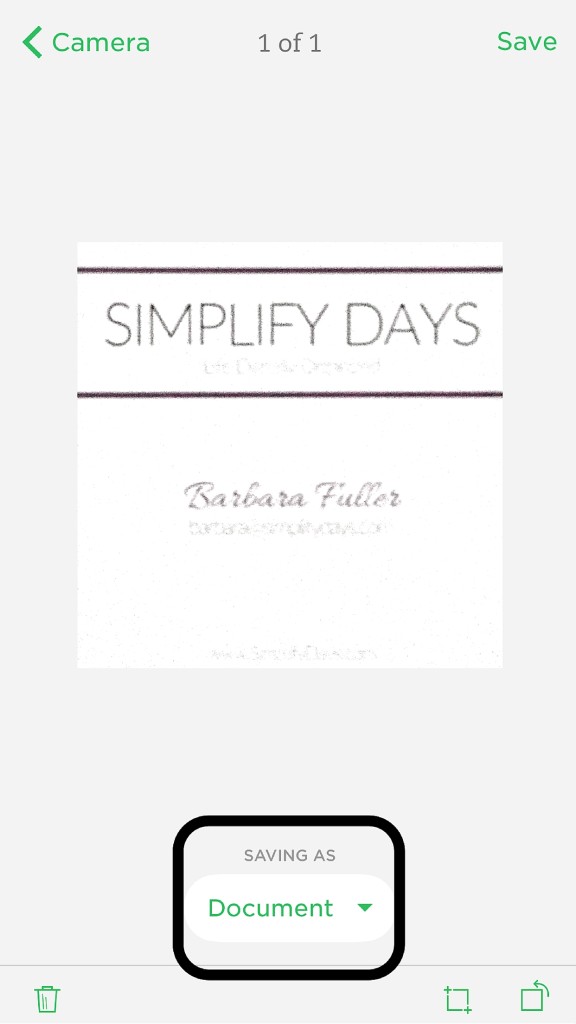 This window will appear. Select Business Card.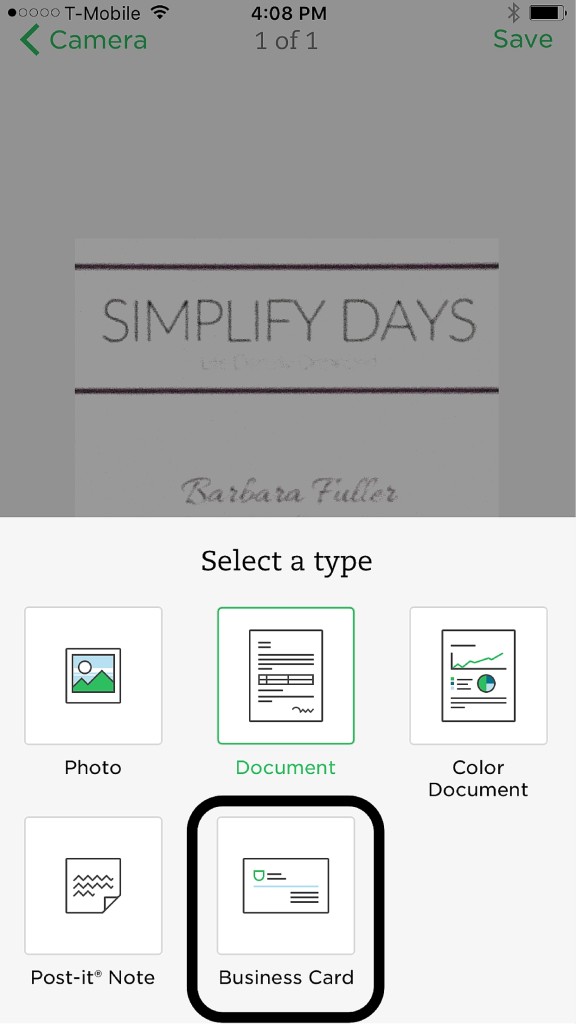 Next, this contact form will appear. If Evernote recognized it as a business card at the beginning then this would have pulled up automatically. Evernote will populate the fields that it can from the information on the business card. Add, edit and adjust any necessary information on this window.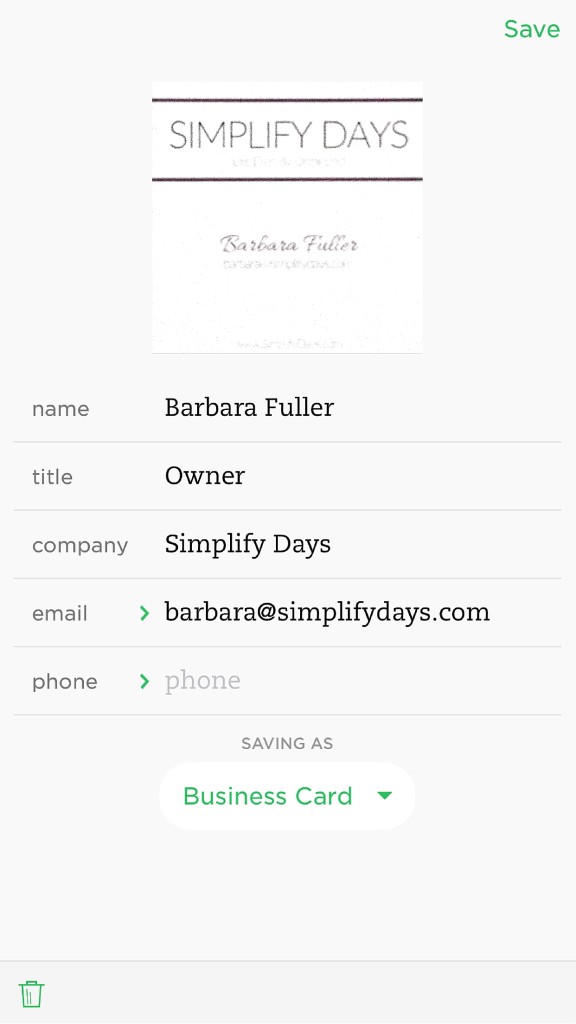 When everything is all set, hit Save and your Evernote note will look like this. It's a great contact card with the scanned in business card at the bottom.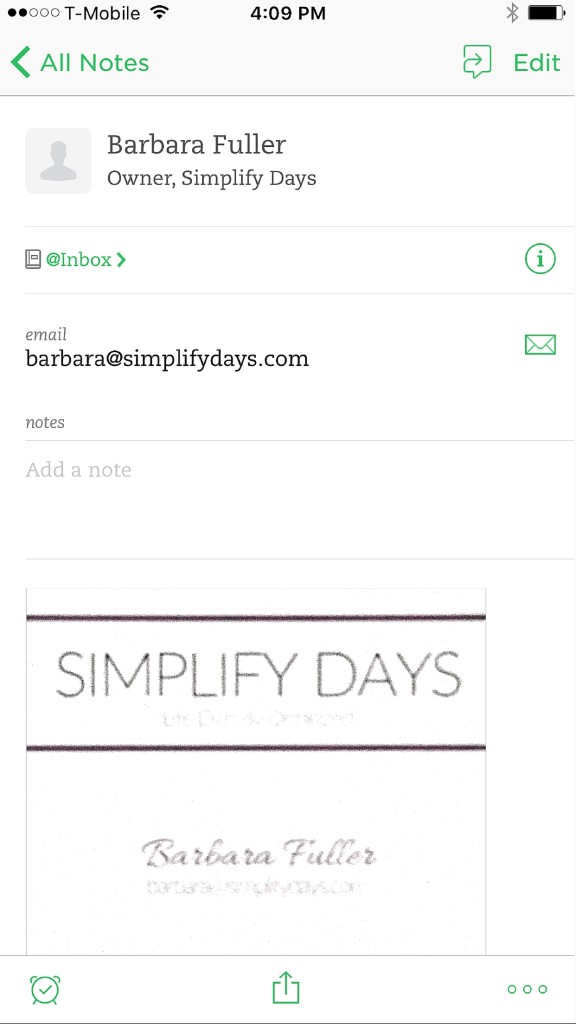 ---
Scannable vs Evernote for Digitizing Business Cards
There are pros and cons for these two different digitizing options.
From my experience, here are the pros and cons of using Scannable:
Pros
You can easily scan double sided. Most business cards have information that I'd like to capture on both sides.
I find that Scannable typically creates better quality scans that scanning directly within Evernote.
You have various options to quickly share the information with someone else and/or to save it to a different destination.
I like how I can easily select the Evernote notebook saving location. So instead of all the cards that I'm scanning showing up in my inbox, I can send them directly to the appropriate location.
Cons
Using two apps for a single purpose (Scannable & Evernote). However, they're integrated really well so it doesn't create any extra steps.
From my experience, here are the pros and cons of using Evernote:
Pros
It's nice to have the contact form and then have that create a contact card right in the note with the business card. From there you can just click on the icons to send a quick email or make a phone call without having to enter the phone or email information.
It's nice to be able to digitize and organize the information all in the same app.
Cons
If Evernote recognizes it as a business card then it will populate the contact form on the first scan. If you need to scan double sided then you need to turn the automation off so that you can capture both sides before moving on to the next step of the contact form.
I find that it's harder to get a good crisp scan with Evernote compared to Scannable.
Try scanning a couple of business cards with each method (it just takes a couple of minutes) and you'll easily find which method you enjoy using the most.
---
Tips & Tricks
Here are a few tips and tricks for making digitizing and organizing your business cards easier.
Good lighting: Make sure you have lots of light when scanning. It will create much better scans.
Contrasting Background & Flat Surface: Both applications will be able to recognize the card much easier when it's placed on a contrasting background and flat surface.
Manually Capture: If you don't want either app to automatically frame in and take the shot for you, or if it's having a hard time recognizing the card, then turn auto mode off and manually take the picture. In Scannable, you can turn auto mode off by selecting the icon with the three small circles on the left side of the screen. In Evernote, you can turn auto mode off with the icon in the top right corner. Just keep in mind, this will also turn off auto cropping so it will capture the business card along with the background. You can then edit and crop the image if you'd like.
Use JPG: Evernote will always save scans as JPG's. In Scannable you have the option to save files as JPG or PDF. JPG is a file format typically used for photos and PDF is a file format typically used for documents. I save my business cards as JPG because that allows me to view the card as an image right in Evernote on IOS. When you save items as PDF, when viewing the note on a mobile device within Evernote, the file will show up as an attachment which then needs to be downloaded in order to be seen. On the desktop version you don't have to download it but on the mobile version you do.

One more note here — For receipts and business cards I scan them as JPG's so that I can easily view and reference them on Evernote IOS. For all other paper documents I recommend scanning them in as PDF's. PDF's it the world recognized digital format for paper. In most cases, paper should saved as PDF.
It may seem like a lot of steps but it's really quick and simple to digitize business cards. I wanted to clearly outline all of options and techniques but once you figure out the best system for you then you'll see how you can digitize and organize a whole stack of business cards in just a couple of minutes.
---
Getting Digitally Organized
If you're interested in learning more ways to get digitally organized you may be interested in my FREE 7-day email course: Simplify with a Life Digitally Organized. Join the course below to see if the paperless lifestyle is right for you! You'll receive 7 emails for 7 days full of detailed instructions, tips and tutorials for getting digitally organized.