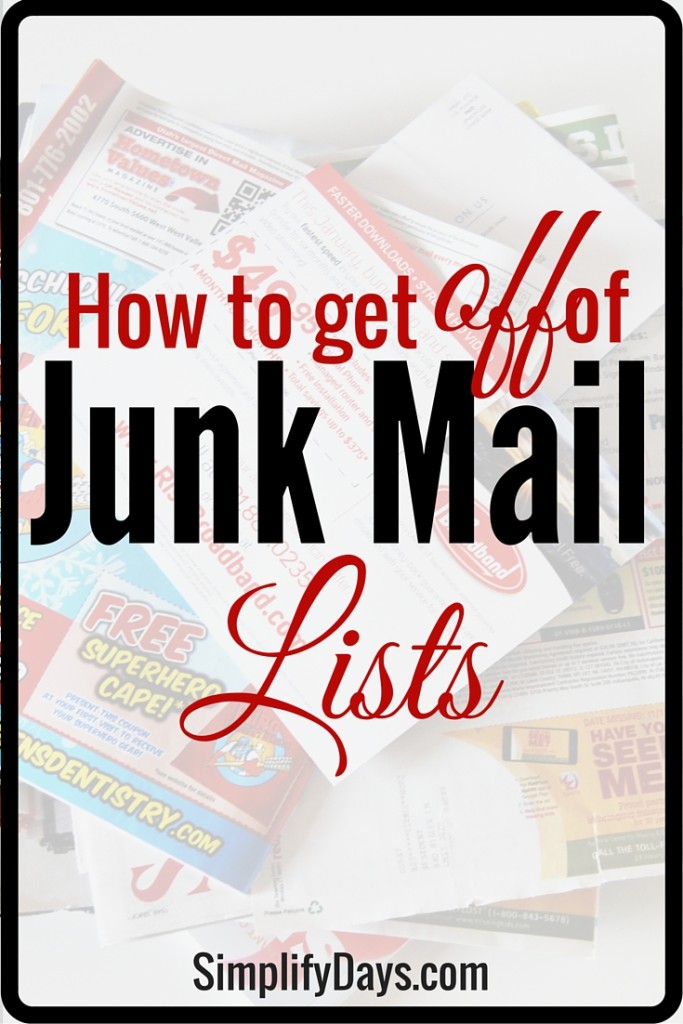 No too long ago I was out for a walk and thought we'd stop by our mailbox to see what had arrived. We currently have all of our main mail going to another location other than our primary residence so I hadn't checked our physical mailbox for a while.
I slipped the key in, turned and when I opened the box I had to throw my hands in front of the mailbox to keep all of the contents from spilling out. Our mailbox was packed full and overflowing with junk mail. Magazines, brochures, flyers and "special one-time offers" where literally failing out of our mailbox.
With junk mail, you can't just grab the pile and toss it into the recycling bin because there could be an actual piece of mail addressed to you hiding somewhere in there. So we carried all the mail inside and sorted through the contents.
Did you know you can permanently get off of junk mail lists? With all the moving we've done the last couple of years I've gone through this processes a few times and thought I'd share the secrets with you. Junk mail is not only a waste of your time, it's also a complete waste of resources and money. It's easier than you think to get off of these lists. Just dedicate an afternoon to go through the process. Here's the drill:
---
Get off of Junk Mail Lists
There are a few different types of junk mail. There are credit card and insurance mail offers and then there's direct mail marketing. Use the following resources to get rid of ALL junk mail coming to your home:
---
Stop Getting Catalogs
You also may be receiving catalogs from companies or stores that you've shopped at. Getting off of these list is a bit more time intensive. Fortunately though, it's not something you need to do with every move. Just do it once and you'll be done (as long as you don't subscribe to more. 😉 )
For catalogs that you've subscribed to, you will need to contact the companies individually to get off their mailing list. On the back of the catalog, there is usually a customer number that you can use as a reference when requesting to be removed from their mailing list. When I went through this processes, I would typically receive a couple more catalogs after the request was received because they already had those mailers prepped.
If you're subscribed to a lot of mailers then keep track of who you have contacted and when. I just made a few simple notes in my favorite organization app Evernote to track as I went through the process. This helped me make sure that I wasn't re-submitted requests that I'd already submitted.
---
Welcome Cleanliness
Getting off of junk mail lists is one of those things that takes a dedicated afternoon (or maybe two) but will save lots of time and energy in the long run! Invest a few hours to git rid of this unnecessary clutter and then when you open your mailbox the only items you'll find will be pertinent and useful information. I hope these resources help you get a bit more organized and save some time!
---
Looking for More Ways to Get Organized?
If you're looking for more ways to get organized then check out my free email course below: Simplify with a Life Digitally Organized. You'll receive 7 emails for 7 days with specific and actionable strategies for cutting the clutter and getting digitally organized