Get Your Free Digital Template and KonMari Inspired Checklist Below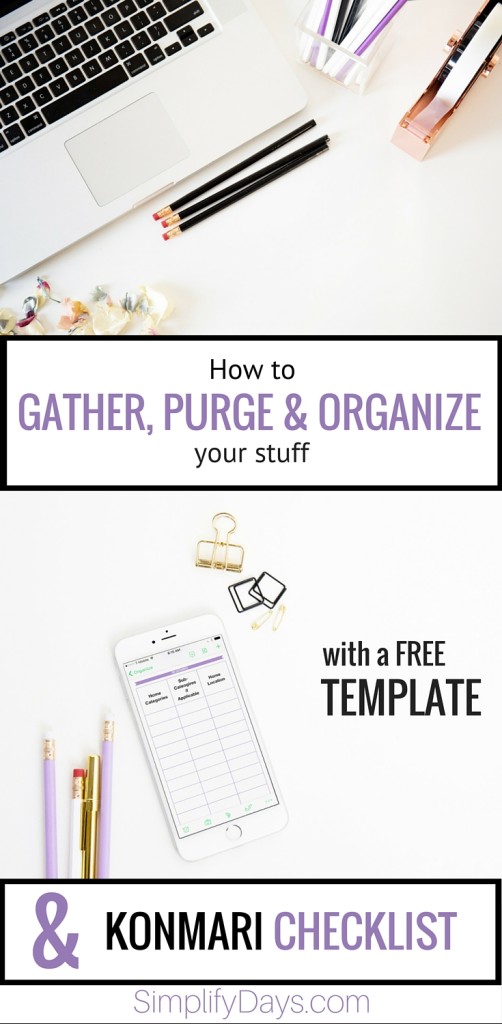 In the last few years my husband and I have moved quite a few times. We've been experimenting with small space living and have enjoyed trying out a few different spaces to see if living in a small space will work for us. So far we've really enjoyed it! (See our most recent 650 square foot space here).
Although moving can be a lot of work, it's been really great for us because each time we move we get rid of more stuff. It's forced us to look at all of our belongings (many times). When we're moving we're forced to look at all of our stuff and if we haven't used or worn an item since being in that space then we just get rid of it.
Each time we move into a new space we're also able to re-organize all of our things. Something I really focus on is organizing by category. Organizing by category means that all of our cleaning supplies are in a single location, all of our office supplies are in a single location and so forth.
Organizing by category not only keeps our space more clean and functional but also helps us to minimize and accumulate less. When I can clearly see everything in one single space I get a real perspective of what we own. When things are dispersed throughout your home, it's really hard to understand what you own. It's amazing how many t-shirts or pens can hide in various locations!
---
The Steps
Here are the simple steps for organizing your stuff by category:
Think through the flow of your space first and determine where you'd like to group your main home categories. (Some things function best by the front door and others in the kitchen).
Start with a simple category (like office supplies) and gather it all together.
Take a good look at all of your office supplies and PURGE as much as you can!
Then organize and place the items in the designated location.
Make sure all household members understand where office supplies go.
Then move on to the next category!
---
Tips
Here are a few tips for getting your stuff organized by category:
Sub-Categories: Certain categories will need sub-categories. For example, my pantry items are categorized by: baking supplies, pasta rice dry beans & grains, nuts & seeds, canned goods, spices vinegars & oils, snacks and fresh items like breads.
Frequency: Think through what is used the most often. Place those items in easy to reach locations and less used items in high/low cupboards or drawers.
Test-Run: Give things a test run. Just as soon as I have everything organized in a new space I realize that a certain category would make more sense in another location. Flow is super important and sometimes it's hard to determine the best location until you test a few out.
Routine: Establish a routine for certain gathering locations/categories. You can see my routine for cleaning out my purse here, and my strategies for using an effective inbox here.
Go Digital: One of the best things that helped us get rid of boxes and boxes of stuff was going digital. By going paperless I was able to retain memories, reference materials and important documents without having to keep them physically. Everything is now digitally organized on my computer and we just have one single file box for our remaining papers. That's it! If you're ready to purge your paperwork then join me in my free email course: Simplify with a Life Digitally Organized. 
Here are two great resources for learning more about gathering, purging and organizing your stuff by category:
(See an excerpt about organizing by category from The Magic Art of Tidying Up here).
---
Get Your Free Digital Template and KonMari Inspired Checklist Below
Ready to Purge?
It is a REALLY big project to sort through everything and get organized by category. But it so rewarding! It's amazing how much our stuff can crowd up our lives and tie us down. These last few years we've been working really hard to have our stuff complement our life and dreams not deter us and eat up our time, money and resources. It's been an incredibly freeing experience to downsize our place and have a lot less stuff. Thinking in terms of categories has helped me a lot!
If you're ready to purge your belongings or simply get more organized then grab your free Organize & Simplify with Categories Digital Template below. This template will help you outline the main categories for your home. It will also help you set goals and specific dates for going through your stuff, purging and getting organized. I've also included a detailed KonMari inspired checklist from the techniques taught in The Magic Art of Tidying Up.
This template is designed to be used in my favorite organization application Evernote. If you're brand new to Evernote you can:
This template can be used as a simple walkthrough to get organized or as the full gameplan for fully purging your belongings. It's amazing how much a bit of planning and outlining can take a very large project and make it completely obtainable. Good luck in purging and organizing. I'd love to hear about your progress! Preview the template and then grab your free copy below.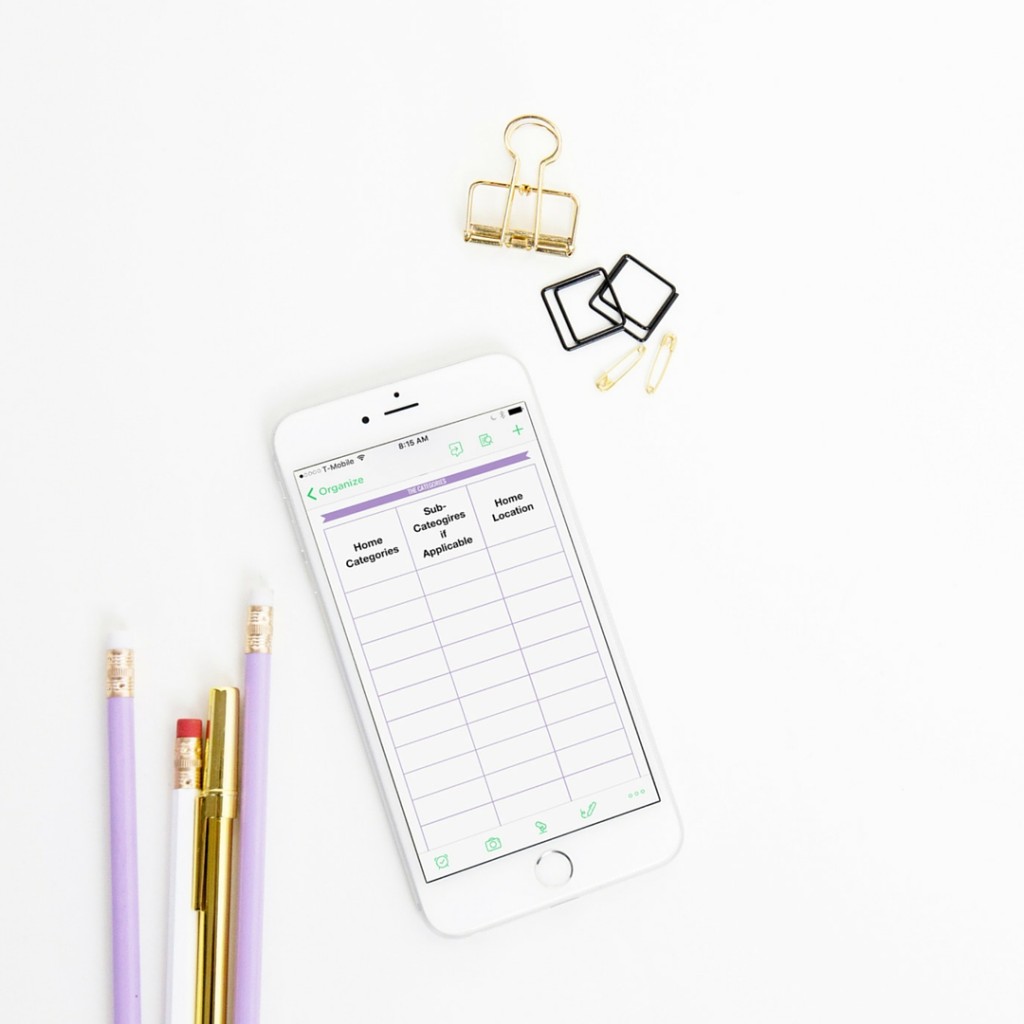 — Learn how to use this digital template in Evernote with the following video. —