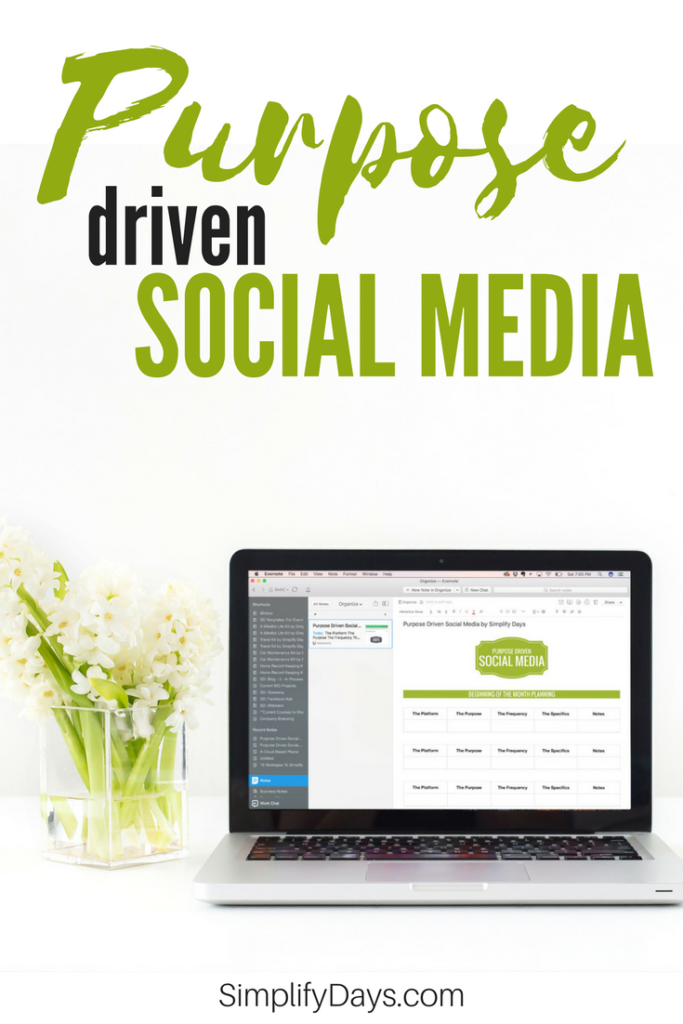 Do you feel like you're constantly being pulled into social media? When I first set up my feeds for Simplify Days and started posting pictures, thoughts and videos, I felt like I needed to always be available to others who commented on and liked the things that I was posting. I quickly learned how much time can be sucked into these feeds and how distracted I could become when I felt this pull to my phone and social feeds.
Something that I decided to establish very early in this business was setting specific limitations for myself when it comes to social media. Each platform is different and requires different needs, but for me, no platform requires constant monitoring. I have a set limit of time to check-in and that's it. That's when I reply back to comments, like others posts and post new things on my feeds. Then when I'm done, I'm done.
---
When I Limit Social Media Use
When I am really strict on following the specific times that I've established, I notice a big difference in my life. When I specify and then limit the frequency of my social media I am better able to:
Focus on and complete my work projects
Have a clear and present mind
Be unconcerned with how others choose to live their life
Be available and present with my daughter
Get outside and enjoy the real world
Personally connect with the beautiful people, things and places surrounding me
Accomplish personal projects like preparing a healthy dinner and organizing our home
Now this isn't a proponent to not ever use social media. As you can see in my top navigation and side-bar, I'm on all of the major platforms. It is simply about thinking through social media platforms and making sure that they're being using as a benefit and not as a distractor.
What has helped me ensure that social media is being used as a benefit is to outline first why I am using a particular platform and then when I should use that platform to fulfill the specified purpose. Social media can be a great way to connect with others and to share wonderful things. It can also be one of the greatest distractors and time-wasters in our day and age.
---
Gain Control Over & Limit Social Media Use
If you feel like you need to evaluate your social media use then snag your free Purpose Driven Social Media template below. This template is designed to be used in my favorite organization application Evernote.
If you're brand new to Evernote you can:
Social media is such a personal thing and no one can tell you how frequently or in-frequently you should use it. The template will help you outline these decisions. The template consists of tables with the following information waiting to be filled in:
The Platform
The Purpose
The Frequency
The Specifics
Notes
The platform is simply the venue or social media location, such as Pinterest or Twitter.
The purpose, is why you use and spend time on that platform. Are you on Facebook to stay connected with friends and family? To connect with brands and products that you love? To spread a certain message or ideal?
Next, determine when and how often to engage on that platform based on your specified purpose. If you use Facebook to keep in touch with friends and family, then how often should you engage with Facebook to fulfill that purpose? Once a day? Once a week? Setting a very specific time is a great way to set limitations. Limitations are a great thing! They give us boundaries and structures to make sure that certain areas of our life are getting the time that they need without needlessly giving way too much time to areas that don't need it.
You also may want to consider setting specific times and or days to check-in which is the next box. For example, if you run a business that depends a lot on social media, then perhaps stating that you'll check in on your feeds once in the morning, once in the afternoon and again once in the evening is a great way to stay on top of the demands of social media without creating the need and habit of constantly feeling like you have to always be available and on your feeds. If you like to see what's happening with your family, then perhaps checking in once a week on Wednesday would do. You get to decide. But take a minute to think about the why & when of each platform that you use. Make sure you're basing your frequency off of the purpose for using the platform. You may also want to consider a specific time allotment for certain platforms. If you use Pinterest to find delicious recipes to feed your family, then perhaps you can fulfill that purpose by using Pinterest twice a week and allowing yourself one hour at each Pinterest session.
I have also included a small section for setting personal and family unplugged goals. These may be at certain hours of the day (dinner time), during certain activities (when I'm outside) or during certain occasions (when we're camping this weekend). You get to choose; but having plenty of unplugged time is healthy for every part of your body and every relationship that you have!
---
Purpose Driven Social Media
The template is designed to be used monthly. You may be able to just fill it out bi-monthly or quarterly but check back in on it. Accountability is a big factor for success and simply knowing that you'll be going back and filling in your end of the month review is a great way to stay motivated and on task.
Here are a few more tips for effectively implementing purpose driven social media:
Separate Personal & Business: If you use social media on both personal platforms and business platforms it would be a benefit to outline each platform in each area of your life to designate it's specific purpose and time allotments.
Consider Schedulers: If you're using social media as part of your business, then consider using schedulers to send out your content and then all you need to do in check in on feeds for personal engagement and interactions.
Customize: You can easily remove tables or add tables to the template based on the social platforms that you engage on.
Date It: Add a date in the title to specify the month or months that the template applies to.
Share It: Tackling projects and goals with someone else is a great motivator! Copy the URL for this template and share it with someone else who would enjoy purpose driven social media as well.
Switch the Habit: If you're in the habit of checking feeds whenever you have down-time, then try placing a digital book or interesting article on your phone to read during these times instead. You may be surprised by how much reading you can now accomplish. 😉
Are you ready to engage more with the real world and real people around you? Or perhaps you'd just like a little more time to do the things that you love? Grab your free template below and enjoy the clarity and peace of mind that comes with purpose driven social media.
ps – Something that I believe should not be part of anyones social media involvement are notifications. You can read more about why all notifications should be turned off and find tutorials for how to do so right here.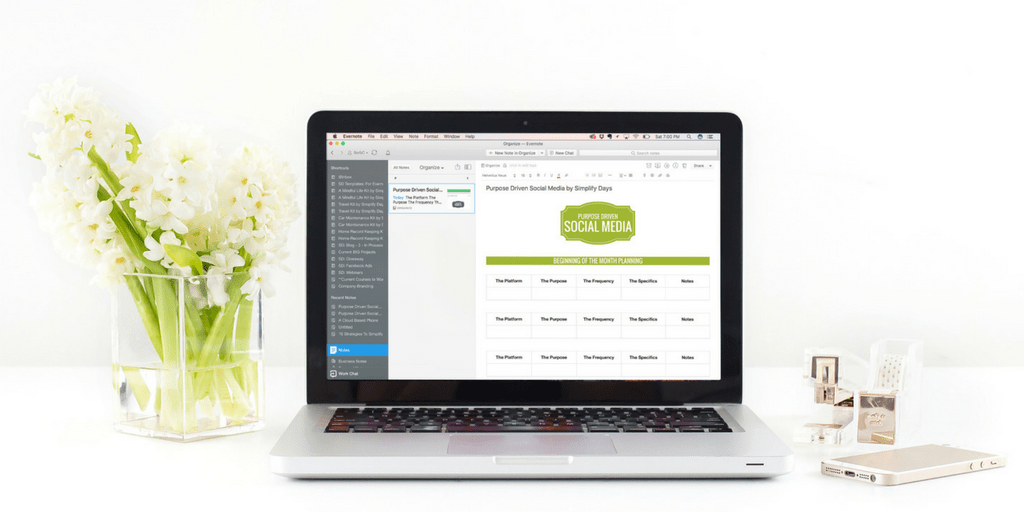 — Learn how to use this digital template in Evernote with the following video. —