Grab your free summer road trip template below.

Summer time, summer time, sum sum summer time. 😉 I'm nearly bursting at the seams with excitement for summer. One of mine and Drew's favorite things to do during the summer are road trips! We are lucky to live in Midway, Utah and are surrounded by beautiful places. Just a few hours north we have Yellowstone, Jackson, Island Park and Sun Valley. Just a few hours south we have Bryce Canyon, Moab, Arches, Canyonlands, Zions and Grand Escalante. Not to mention the Uinta Mountains literally in our backyard.
With so many amazing places right around us how can we not go exploring? We aim for at least 2 road trips per month in the summer + weekly hikes, biking and picnics. People frequently ask us how we're able to go and enjoy so many places. Do you want to know our secret? Planning. 😉 Enjoying and exploring usually doesn't just happen. It takes a bit of forethought and preparation.
Before each summer we sit down and write out all of the places that we'd like to go and visit during that summer. Then we choose a weekend for our top choices, make camping reservations and plan out our main activities for that location. On road trip weekends our goal is to have the car packed Thursday night so as soon as Drew gets off of work on Friday, we are on the road!
---
Planning Summer Road Trips
I've created a fun, bright aqua blue template for planning out these summer road tips. (You can snag your free copy below). The template is designed to be used in my favorite organization application Evernote.
If you're brand new to Evernote you can:
Here are the three simple steps for using the Summer Road Trip Bucket List Template.
Step One
Look at a map of your area and see what fun and beautiful places surround you. (You can easily take a screen shot of your map and then drag and drop the screen shot right onto the template).
Search your area on Trip Advisor to get some more great ideas.
Step Two
Under the brainstorming section write out a bullet list of all the places that stood out to you.
Step Three
Start placing your top choices in the planning section under a specific month. Plan the exact weekend to go and start planning out the details. Be sure to also block out the dates on your shared family calendar (we use Apple Calendar).
That's it! Get ready for a fun filled summer. Then, when you're planning your specific trips be sure to snag a copy of my free packing list template right here to keep things organized for each individual trip.
---
Get Your Free Summer Road Trip Bucket List Template
Now it's time to start dreaming up your summer and planning out the specifics. I hope you have the best summer yet! I'd love to hear what you're planning and where you'll be exploring this summer. 😉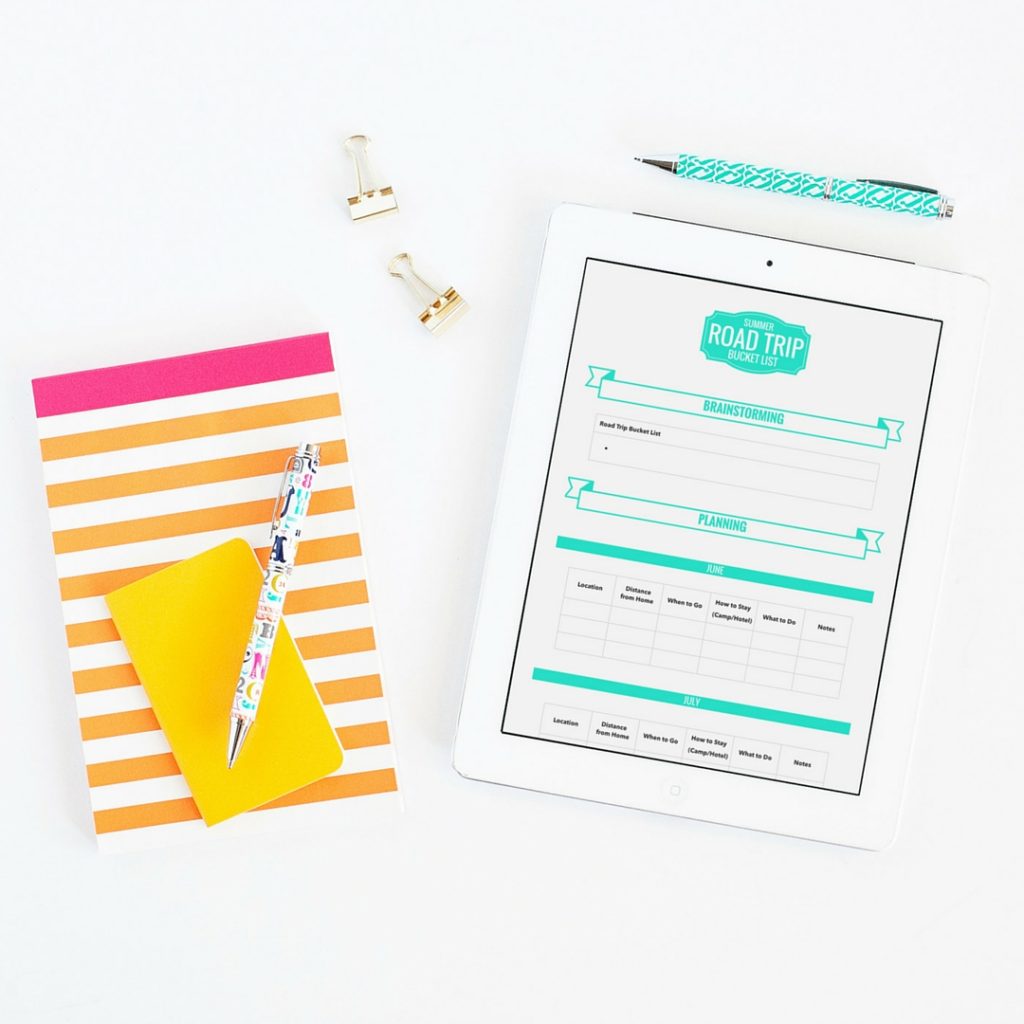 — Learn how to use this digital template in Evernote with the following video. —