Learn how to turn notifications off & get a free template for purpose driven social media at the bottom of this post.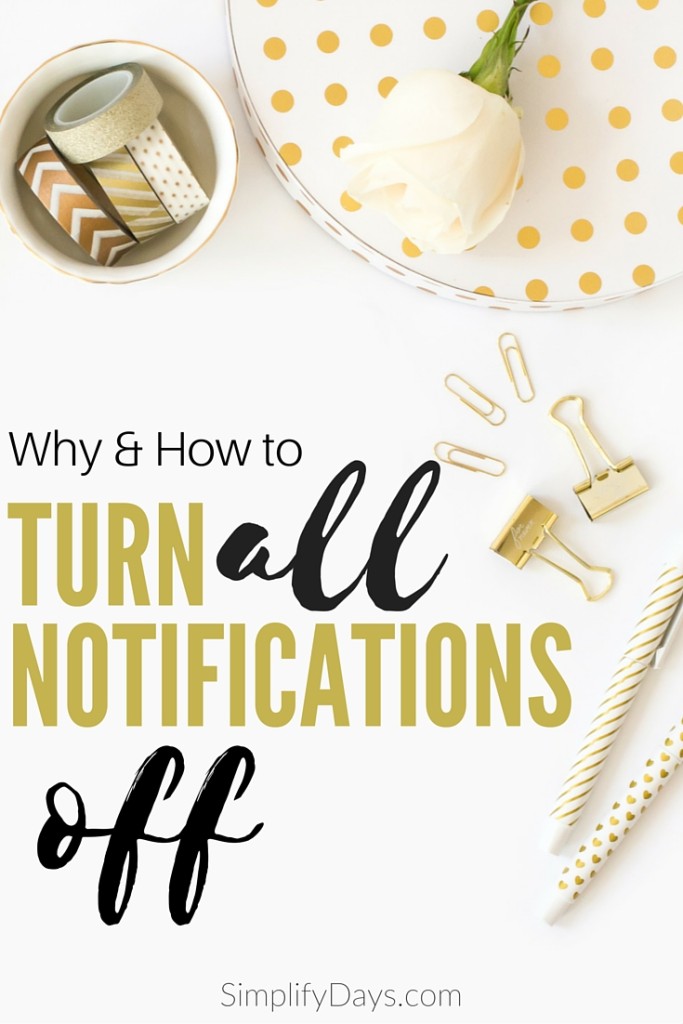 The Instagram world recently exploded with personal requests and pleas to turn on post notifications. The requests came from businesses, bloggers, digital entrepreneurs and anyone else who relies on Instagram to connect with their personal audience. The requests were spurred from an announcement from Instagram that they would be changing their algorithms so that Instagram posts would no longer show up in chronological order. Our Instagram feeds will now be displayed in the order that Instagram thinks we'd like to see our feed. Fearing the upcoming changes and how it could potentially affect their ability to reach their audience, businesses and bloggers flooded everyones feeds with posts instructing their followers to turn on notifications.
I completely understand why businesses and bloggers were making these requests. After spending years and hundreds of hours building up an engaged and interested audience, these businesses are somewhat at the mercy of what Instagram decides to do. Although, I understand the tough situation that these businesses are facing, I do not believe that turning on notifications is the right answer, and here's why.
---
What Notifications Mean to the Brain (URGENCY!)
The brain is an interesting thing. It has the capability to memorize hundreds of thousands of words, to generate mathematics and formulas and to store and recall massive amounts of data. While the brain is incredibly powerful and probably much under-utlized in some areas, in other areas the brains functionality doesn't seem to serve us the best.
When looking at the ability to decipher the important from the unimportant, the brains functionality seems to be lacking just a bit. In the words of one of my favorite authors, David Allen, "It seems that there's a part of our psyche that doesn't know the difference between an agreement about cleaning the garage and an agreement about buying a company."
It seems as though the brain views decisions simply as decisions that are in need of time and attention. Typically, our brain doesn't easily and quickly determine the things that matter and that are truly important from the things that are trivial and should rarely take much of our time.
So what does this mean for those notifications that we were talking about earlier? When we're engaged with something and a notification comes in, our brain isn't quite capable of letting it go simply because we're engaged in something more important. Our mind usually doesn't naturally decipher that for us. Our brain sees the notification as something needing attention — urgently.
---
What Notifications do to the Brain (STRESS)
So, when a notification comes in, our brain sees and views that notification as of utmost importance and it demands our attention. Whether we're working on a big project for work, reading a book with our child or focusing on planning on upcoming trip, we see the notification and our brain switches, it wants to take care of the notification immediately. Now let's take a closer look at what happens to our brain when it makes the switch to this seemingly very important item.
I will again borrow words from another wonderful author (and brain scientist), Daniel Levitin, "Asking the brain to shift attention from one activity to another causes the prefrontal cortex and striatum to burn up oxygenated glucose, the same fuel they need to stay on task. And the kind of rapid, continual shifting we do with multitasking causes the brain to burn through fuel so quickly that we feel exhausted and disoriented after even a short time. We've literally depleted the nutrients in our brain. This leads to compromises in both cognitive and physical performance. Among other things, repeated task switching leads to anxiety, which raises levels of the stress hormone cortisol in the brain, which in turn can lead to aggressive and impulsive behaviors. By contrast, staying on task is controlled by the anterior cingulate and the striatum, and once we engage the central executive mode, staying in that state uses less energy than multitasking and actually reduces the brain's need for glucose."
Wow! This is serious stuff. But you don't need a scientist to tell you this, nor do you need to know what cingulate and striatum are. Just pay attention to how you feel. I notice a huge difference on the days that I'm focused on the real and important things in my life and am actually accomplishing real and important things, from the days that I'm frequently checking my email and social feeds. On my focused days I feel productive, in control and happy. On my distracted days, I feel like my life is a bit out of control, stressed and unproductive.
Just in-case you need a bit more convincing from a scientist though … Daniel Levitin also explains that, "the cognitive losses from multitasking are even greater than the cognitive losses from pot smoking."
Yikes! Are getting notifications worth the effects of continually switching our brain from one activity to the next? Constantly checking social feeds and being drawn in from notifications is incredibly bad from the brain, it's also bad for our physical well being, for life focus, productivity and a whole host of other areas.
---
Why we Naturally Get Drawn In (Dopamine & Adrenaline)
In addition to the brains seemingly unability to determine the unimportant from the important, there is another large factor to why notifications, social media, constantly checking emails and the like can be so addicting.
We frequently hear that multitasking is bad for us and most people understand that social media is mostly trivial, so why is there such a constant draw? Daniel Levitin explains, "You'd think people would realize they're bad at multitasking and would quit. But a cognitive illusion sets in, fueled in part by a dopamine-adrenaline feedback loop, in which multitaskers think they are doing great."
When we complete a task (nearly any task) our brain releases a feel good hormone that most people are familiar with and which Levitin mentions above, it's called dopamine. When we respond to a picture on Facebook, we get a shot of it. When we respond to an email, we get a shot of it. And when we give a thumbs up to someone's picture on Instagram, we get a shot of it. Each dose craves another dose and easily spurs us into a constant stream of little hits of dopamine and adrenaline. It actually makes us feel good and makes us feel like we're accomplishing things even though the things on Facebook, most emails and the things on Instagram are not urgent and are very rarely that important. We're accomplishing very little on social feeds but our brain makes us feel like we're being very productive!
---
Turn All Notifications Off (No, seriously, turn them off)
Now, this isn't suppose to be a rant about social media being evil or something. As you can see in my top toolbar and in my side-bar I'm on on the major social channels. Humans are social by nature and we enjoy seeing what each other are doing and staying in touch with our friends and family. There's absolutely nothing wrong with that. The problem is when these channels dominate peoples lives. If you feel like you have to check in on them all of the time to respond to things immediately then I think that serious problems to productivity and overall health and happiness can start to arise.
The perfect way to make sure that you're in control of your social media and that it's not in control of you is to turn off all notifications from your feeds (and notifications from everything else for that matter). With notifications off, you can check in when you'd like, when you have time and preferably after you've spent ample time on the people, things and projects that are real, important and meaningful to you.
If you're not sure how to turn notifications off, click on the links below and you'll be taken to that channel's webpage with a specific post outlining step-by-step instructions for turning notifications off. If there's a specific tutorial that you'd like, just leave a comment below and I'll make sure to write one up for you or provide a link to a helpful source.
How to turn notifications off for:
It only takes a few minutes to turn these notifications off and they can make a huge difference!
---
Purpose Driven Social Media (Enjoy & Live Real Life!)
Are you looking to take control of your social media use? Snag your free template below and learn how to implement purpose driven social media. This template is designed to be used in my favorite organization application Evernote.
If you're brand new to Evernote you can:
The template will walk you through the steps of how and why to use social media so that you're in control and use social media only as a positive benefit to your life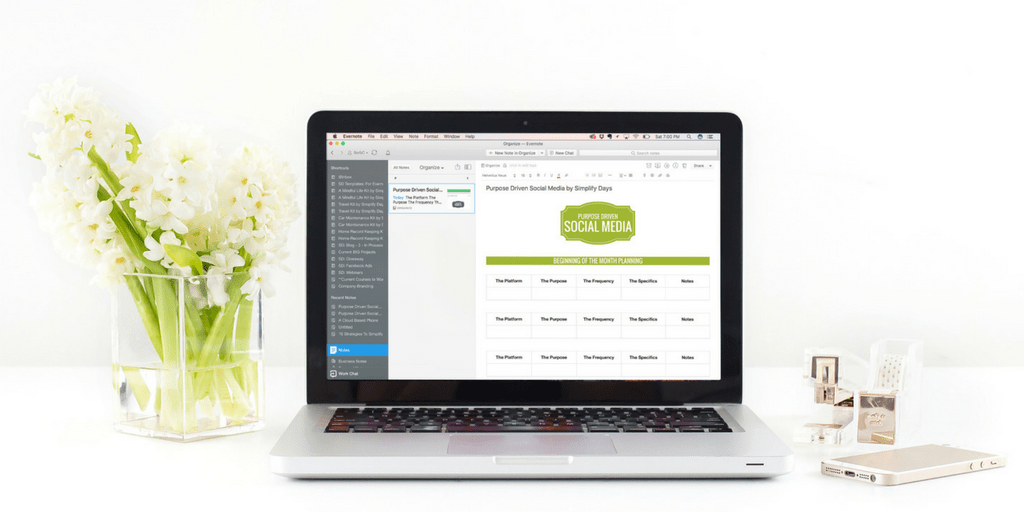 — Learn how to use this digital template in Evernote with the following video. —