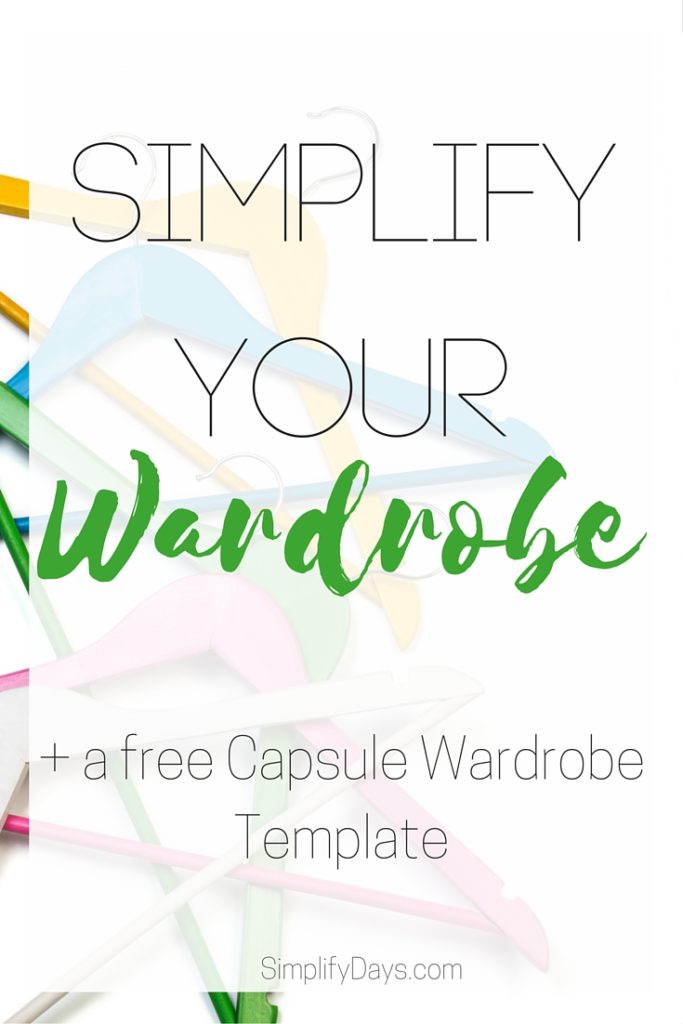 Free Capsule Wardrobe Template Below
Do you have nothing to wear but a closet full of clothes? It's amazing how many t-shirts, necklaces and socks can be stuffed into one closet for one person. The volume of stuff can add up so much that the simple act of getting dressed in the morning can be overwhelming.
A few years ago my dad told me the following story.
He was going through and looking at some family photos. He found a photo that was taken years ago of himself with his mom and siblings. The kids where all grown adults with families of their own but this picture features just his mom and her kids.
He continued looking through more family photos and enjoying the memories as he came across another family photo taken a couple of years after the first one. The photo again featured his mom, his siblings and himself all as grown adults. As he looked closer at the two pictures he saw that every single person in the picture except one was wearing the same outfit as in the first picture taken a few years previously. He smiled and thought how interesting it is that although we all have closets full of clothes we typically wear our favorites again and again. When we go out to dinner we reach for our favorite nice outfit, when we work outside we reach for our favorite work clothes and when we have a family picture we grab our favorite formal outfit.
Even if your wardrobe is packed full and getting dressed in the morning feels like you're trading your life savings on the NASDAQ, chances are high that you have a few core outfits that you reach for over and over and over again. The trick is finding your favorites and getting rid of rest.
Simplify Your Wardrobe
This article is all about simplifying your wardrobe. A simple wardrobe will help you to:
get rid of all those extra clothes sitting in your closet that are rarely used
simplify your life and daily decisions
get ready for the day faster
look your best by wearing what looks the best on you
stop spending money on clothes that you don't need
cut down on your laundry
keep your space cleaner and more organized
travel easier by simplifying the packing process
have more energy, time, space, love and money for the things in your life that are truly important and meaningful
The Solution: A Capsule Wardrobe
Free Capsule Wardrobe Template Below
Have you ever heard of a capsule wardrobe? If you've spent time on other simplifying or minimalist websites or feeds then chances are you've heard the term. A capsule wardrobe is a small collection of versatile and interchangeable outfits. The outfits are limited and strategically chosen for the season. We'll get into all of the specifics in this article but first I wanted to outline a few things that this article isn't.
This article is not:
Fashion advice (I'm with my daughter swimming, playing and hiking most days so fashion is not my priority)
An encouragement to buy new fashionable pieces every season (for me, simplifying your wardrobe is about buying less not shopping every few months)
A list of my personal clothes for the season and where to buy them (again, this isn't a fashion blog and I don't want to encourage others to buy things they don't need)
About expressing yourself through clothes or fashion
This article is about intentionally designing your wardrobe to serve you. It's about simplifying your clothes so that you can have the space and clarity for a life that you love.
Capsule Wardrobes: A Short History
So, where did the term Capsule Wardrobe come from? In the 1970's a London boutique owner named Susie Faux originally coined the term. She advised a wardrobe of around 30 items, but suggested that fewer that a dozen items would make the ideal Capsule Wardrobe.* The idea caught on in the US in the 80's but has really exploded the last few years. The top leaders of the movement right now are:
The Steps for Success
So are you ready to re-vamp your closet and simplify your wardrobe? Here are the steps for success.
Gather all of your clothes, shoes and accessories (including anything in storage).
Put all of your clothes on the floor (seriously ALL of them). Get everything out of your closet, attic, armoire, basement etc. Group your clothes by category (shirts in one pile, pants in one pile, sweaters in one pile etc). Preferably do this behind a closed door. The process will probably take a couple of days and you don't want your neighbors to come over and see every article of clothing you own in a big heap.
Look at the massive pile and commit yourself to never having so many clothes again!
Start to purge. Get a donation box and start putting everything that you don't want to keep in the box. Keep purging. If you were shopping today would you buy the item? If no, put it in the donation box. Have you worn the item in the last year? If no, put it in the donation box.
Download the free Capsule Wardrobe Template below and fit it out. (Instructions for exactly how to use this template are below).
Build your Capsule Wardrobe. (More tips on this below).
Purge again! After you've outlined your goals and purpose for your Capsule Wardrobe hopefully you'll be ready to get rid of more stuff.
Box up items that you're keeping but that are not in your Capsule Wardrobe and put them out of site. (More on this below).
Donate your donation box. Don't trash your clothes. Give them to family, friends, neighbors a shelter or a donation store.
Unsubscribe from newsletters, emails or social channels that will encourage you to buy more clothes.
Stop shopping for entertainment.
Congratulations! Now you can enjoy a slim, simple and beautiful wardrobe.
The Free Capsule Wardrobe Template
Grab Your Free Capsule Wardrobe Template Below
Building a Capsule Wardrobe can seem like a big and daunting project. I've designed a free template to help simplify the process, you can grab yours below. It's amazing how helpful it is to get thoughts and ideas written down. The Capsule Wardrobe Template is designed to be used in my favorite organization application, Evernote. If you're brand new to Evernote you can:
You can also learn what an Evernote Template is with the following video.
Here is a preview of the template. We'll go over how to use each section to effectively build a Capsule Wardrobe that works great for you.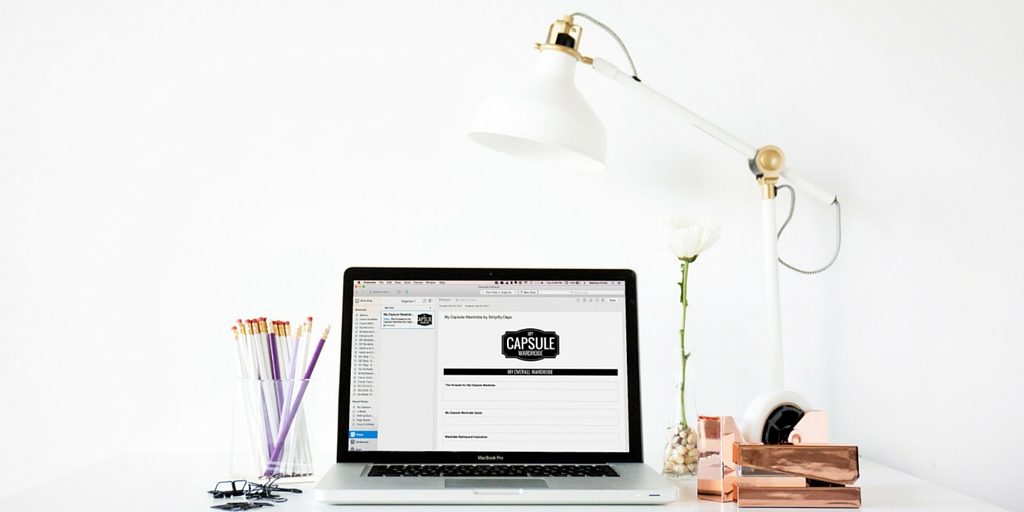 Section 1: My Overall Wardrobe
The first section of the template is a place to write down information on your overall wardrobe. First write a one sentence statement for the purpose of your wardrobe, then write a bulleted list for your wardrobe goals. When you outline these two items think through what having a simple wardrobe will allow you to do. (Maybe travel more or get out of debt). Think about what having a simple wardrobe will allow you to feel. (Maybe more relaxed and more in-tune with your true desires).
Next, brainstorm and define your styling and inspiration. You can easily take screen shots on various websites and place them in this table, add text or anything else that you'd like to remind yourself what you're working towards for your wardrobe. Then write out your lifestyle and activities. What you do daily is a big part of how you'll design your wardrobe. And lastly, outline the main, minor and accent colors for your wardrobe. Choose versatile colors for your main wardrobe and colors that look really good on you.
Section 2: My Wardrobe This Season
Different people have different definitions of the Capsule Wardrobe. The original creator of the Capsule Wardrobe movement, Susie Faux, advocated choosing a simply wardrobe (30 items or less) for the whole year. However, most advocates now suggest changing your wardrobe seasonally following this 3 month timetable:
A Capsule Wardrobe for January – March
A Capsule Wardrobe for April – June
A Capsule Wardrobe for July – September
A Capsule Wardrobe for October – December
Each season consists of a different wardrobe with different pieces. I really like having a rotational, seasonal wardrobe because I live in Utah and our seasons have pretty drastic changes. (Negative 15 in the winter and 105 in the summer). I need very different clothing for the different seasons so it's really nice to switch things out. If you live somewhere with less seasonal changes than you may be able to keep a single wardrobe and not switch things out. It's up to you.
This section of the template is for building out your specific wardrobe. If you're choosing your wardrobe for the whole year then put that in the first box. If your choosing your wardrobe for the season then put the season or months in the first table.
Then decide on a predetermined number of items for your wardrobe. This part can be tricky. Remember, less is the whole point of building a Capsule Wardrobe. I really like Courtney Carver's 333 Project. She advocates 33 pieces for each 3 month season. With her program your number for this table would be 33 total wardrobe items for the season.
Once you have your season established and the amount of wardrobe items to allow yourself, go to your clothes and start choosing your Capsule Wardrobe. Start building it out, but it doesn't need to be exactly perfect yet. Just start gathering the items that you'd like to have as part of your wardrobe. Have a definitely yes pile, and a maybe pile that you can think about.
Then, write down any tasks that need to be completed for your wardrobe in the next table. Are there any repairs needed or do you need to run some clothes to the dry cleaners? Write the tasks down and give yourself a due date for completing the items. You can set up a reminder at the top of the template and Evernote will send you a reminder to complete the tasks.
Next up, challenge yourself! Once you've seen all of your clothes together you may be ready to commit to some challenges. Can you commit to not buying any more jackets for at least 4 years? Or perhaps dedicate yourself to a no-clothes shopping year. (We've done this every other year for the last four years). For one full year, no new clothes. Think through a challenge or two that will help you live with less and write the challenge(s) down here.
The next table I debating if it should be included with the temptable. It's a place to write down any new items needed for the season. A lot of Capsule Wardrobe posts and articles these days are proponents of buying new trendy and fashionable pieces each season. For me, fashion isn't the purpose of my Capsule Wardrobe, simplicity is. I don't use my capsule wardrobe as a reason to buy more clothes; however, I realize that there are times new things are needed (or simply wanted which is okay too).
If you do need to shop, hopefully a Capsule Wardrobe will allow you to:
be a more conscious consumer
invest is clothing that you love instead of just buying to buy
have classy and timeless pieces
be more intentional with the money you spend and the places you shop
I've tried really hard these last few years to not get caught up in the latest fashions and trends. I don't want to have to re-buy things every season depending on the fashion. If there's something you really need to complete your Capsule Wardrobe, write the item(s) down in this table. Then specify your specific budget.
Now it's finally time to get really specific and actually build your wardrobe! Go back to the clothes that you started to select and make your final decisions. Select and then write down the exact tops, bottoms, shoes, accessories and outerwear for your wardrobe. Make sure that the total number doesn't exceed what you've already outlined.
Then outline your favorite outfits. Thinking in terms of outfits is really important! You don't want to just choose your favorite tops and favorite bottoms. Choose ones that work well together and that can easily be mixed and matched.
The last table in this section needs to be used with extreme caution. This is a place to write down additional itmes that are not part of your core wardrobe but that are needed for various activities. These are things that I don't include in my Capsule Wardrobe but that are still in my closet:
pajamas
swimming items
gear: I have a section in my wardrobe specifically for outdoor, fitness and camping related items. I only use the items for specific recreational activities and not for everyday wear. I only open and use the items when I'm doing a certain activity. (i.e. cycling, yoga or camping).
Again, less is more here! Don't have 5 different pairs of pajamas or 8 different yoga pants. Select your favorite yoga outfit and your core camping gear and only keep those items in your closet.
Congrats! Once you've finished this section you have your official Capsule Wardrobe set up! Once you have all of your items selected and outlined go ahead and put them in your closet. For the rest of your clothes on the floor that didn't make it to the donation box and didn't make it into your capsule wardrobe, box them up and put them out of sight. These could be clothes that you'll need for a different season, or just extra items that you love but that you don't need to have in your wardrobe right now.
Take a minute to look at your tiny and simple wardrobe. It's a great accomplishment and a lot of work to purge all of your clothes. Good job!
Section 3: Seasonal Reflection & Review
Once your Capsule Wardrobe season is over, come back to this template and reflect and review on your experiences. Each season you'll learn something new and you'll get better and better at building your perfect wardrobe. Writing your thoughts down and reflecting on the process is an important factor in your success.
Write down what you learned from the season, write down what you did great with, and write down what you would like to improve for the upcoming season.
As you get ready to build your capsule wardrobe for the next season, get ready to purge again if necessary. Write down items that you haven't included in your Capsule Wardrobe for a while and simply get rid of them.
And lastly, write down why you love your Capsule Wardrobe. It's important to remember why you're doing what you're doing and to make sure that your Capsule Wardrobe is serving you well.
The Capsule Wardrobe Template is designed to be used over and over again. Each season, take a minute to fill it out and you'll get faster and better at building your perfect wardrobe.
Free Capsule Wardrobe Template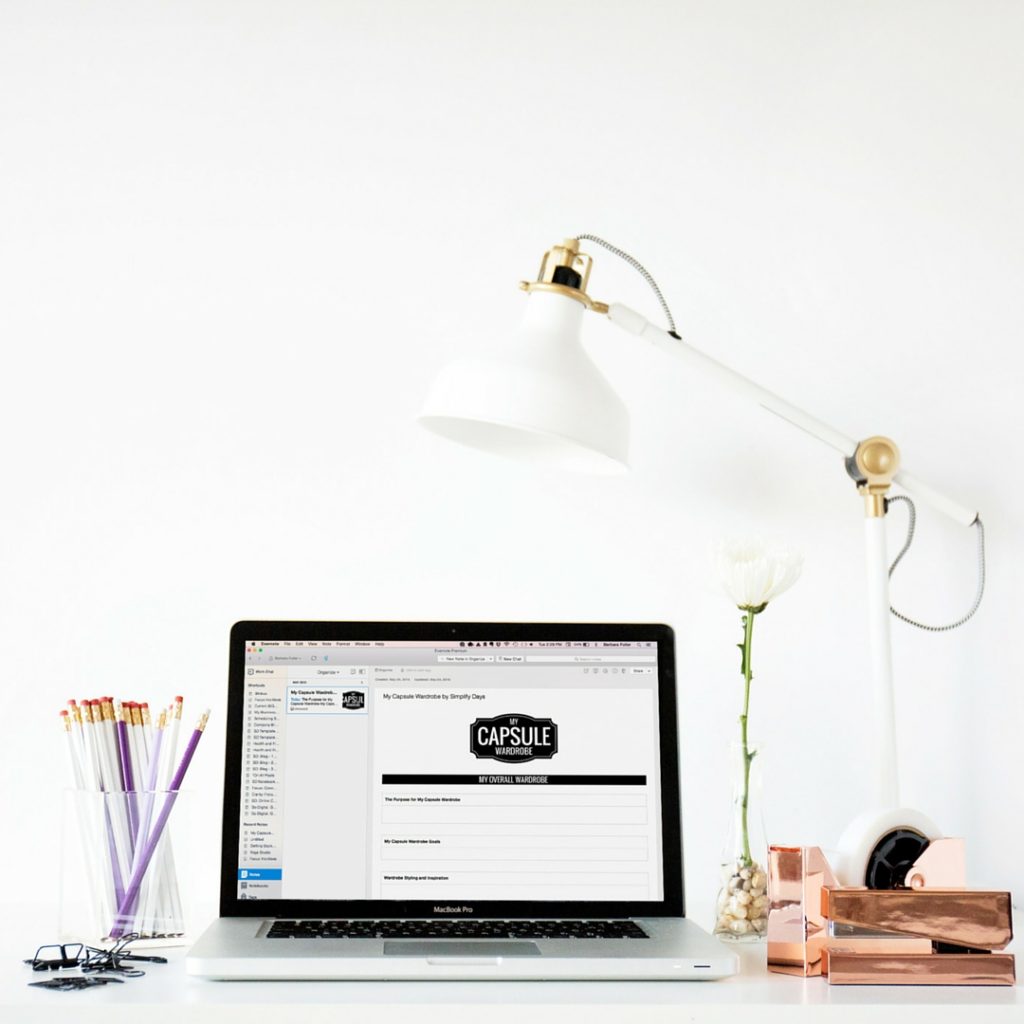 Grab your free Capsule Wardrobe Template right here to get started creating a wardrobe that will help you simplify and have more energy, time, space, love and money for the things in your life that are truly important and meaningful.
— Learn how to use this digital template in Evernote with the following video. —