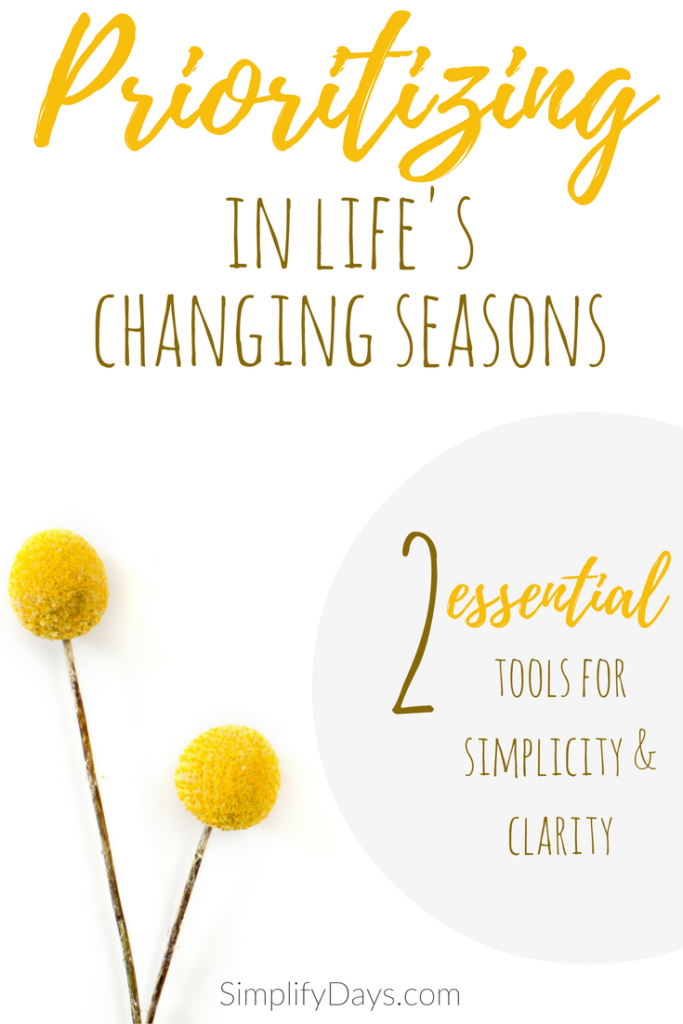 Isn't it amazing how quickly life can change courses? It seems like as soon as life is flowing and in-sync everything suddenly changes and leaves us scrambling to find our new "normal" again.
Life can have seasons of:
Slowness
Busyness
Stress
Calm
Turmoil
Peace
Love
Sorrow
Loss
Joy
And a whole range and mixture of other emotions and feelings.
Life's changing seasons oftentimes requires us to re-prioritize our goals, values, projects and tasks. Some seasons bring our life into very clear focus and others leave us mumbling around a bit. Things that once seemed so important in one season of life can quickly become insignificant in a new season of life. Different planning, organization structures and routines are needed for each changing season.
I remember when we first brought our daughter Malia home from the hospital how quickly my life went from highly focused, productive living to feeling like even the smallest tasks were a challenge to complete. Getting a shower in felt like a successful day and making it to the grocery store and back home without a major meltdown felt like a small miracle. In the midst of that life season it felt like I'd never get back to my normal "producitive" living again. But sure enough my new life with baby started to become my new normal. My priorities and focus shifted and eventually I was able to get more done in the day than just take a shower. 😉
During these life shifts I have to constantly remind myself to be kind and patient with myself. There will be seasons of life for highly focused, productive living and other seasons of life for a very different focus.
No matter what season of life I'm in it's extremely important for me to focus on what works for me during my particular season of life, not what's currently trendy or what "productivity hack" everyone is suddenly talking about. Just because a strict morning routine works well with someone else's life doesn't mean that it's right for my current season of life.
Planning, organization, prioritizing and goals can swing drastically during these changing seasons; however, there are a few core tools that have remained helpful for me during all of my life seasons. Here are my top two tools during all of life's seasons:
Evernote: Evernote is a free organization application. I use it to keep track of all of life's important information. Whether I'm tracking projects for clients or scanning in information from my daughters latest pediatrician appointment, Evernote is the central location for all of my information. If you're new to Evernote, you can:
OmniFocus: OmniFocus is an amazing task management application. I use it to keep track of all of my tasks and projects. From building a website to planning out a dinner party OmniFocus is the perfect tool for all of my planning needs. If you're new to OmniFocus, you can:
There are other things like time-blocking and strict-scheudling that have been helpful for me during some seasons of life but not others.
On this site and in my signature course I focus primarily on core tools that can incredibly useful for anyone during any season of life. From homemakers, attorneys and entrepreneurs Evernote and OmniFocus can help you live your current life with more clarity, focus and simplicity. The way I use these tools flexes and changes from season-to-season but they are indispensable for me.
If you're looking for ways to simplify and streamline your current season of life then you may be interested in my free email course: Simplify with a Life Digitally Organized. Join below and you'll receive 7 emails for 7 days with information about the tools and strategies that help keep my life in order and prioritized in all of life's changing seasons.