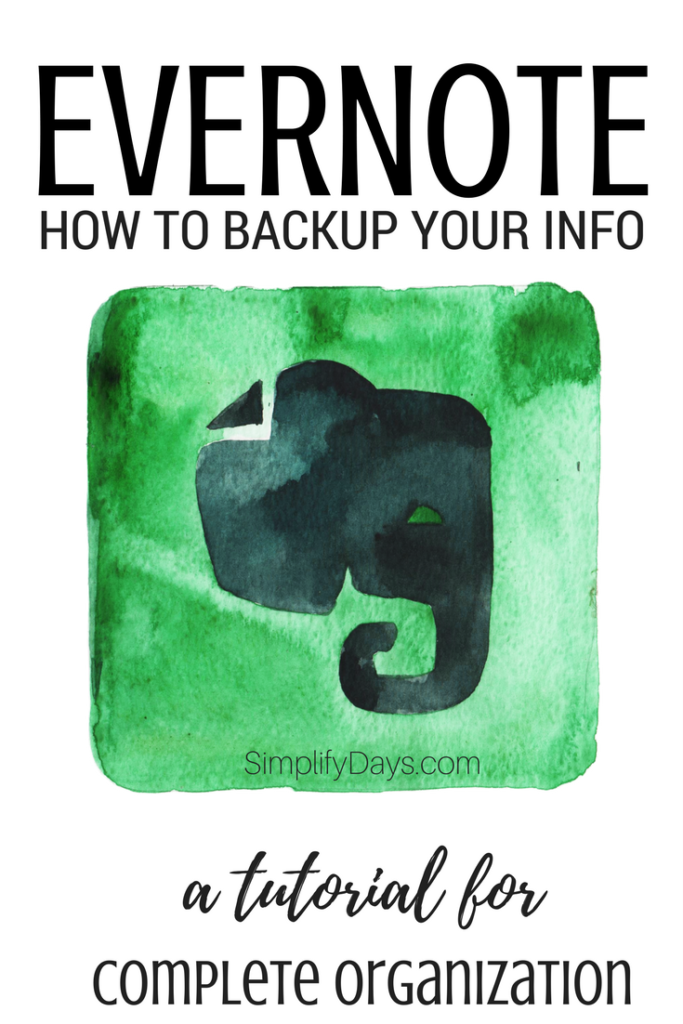 This is a tutorial for an amazing organization application Evernote. If you're new to Evernote, you can: Get the app here, Get started using the app here and See more tips & tutorials for using Evernote here.
Evernote is a cloud-based service which means that the app is continually backing up the information that you keep in Evernote. Your information is being backed up to Evernote's servers and your data is being saved in the cloud. This is a wonderful feature for being able to access your information wherever you are. It's also a great way to keep your data off-site, or in other words at a location other than your home. If something happened to your home, your data would still be accessible through Evernote.
While these are wonderful features, many people mistakenly interpret Evernote's cloud-based system as a safe backup solution for their information. This article will cover why and how you should frequently export and backup all of the information that you store in Evernote.
---
Why You Should Backup the Information you Store in Evernote
I keep a lot of information in Evernote. I would hardly know what to do with myself if everything was suddenly gone. While Evernote does it's best to keep our information secure, here are a few scenarios where I would rely on my Evernote backups to access my important information:
If the information in my Evernote account become corrupted or unavailable.
If someone hacked into my Evernote account.
If Evernote (heaven forbid) became obsolete, or in other words went out of business.
For these reasons, I export and backup all the information in my Evernote account.
All digital information should be backed up frequently and in numerous formats. I like to follow the 3-2-1 rule with all of my backups. The 3-2-1 rules says:
Have at least three copies of your digital information.
Keep your digital information in at least two different formats.
Store one copy of your digital information off-site.
With Evernote, they've already taken care of the last one, they store your information in the cloud and off-site. So with backing up Evernote information we'll focus on the first two bullets: three copies and two formats.
---
How to Backup Your Evernote Information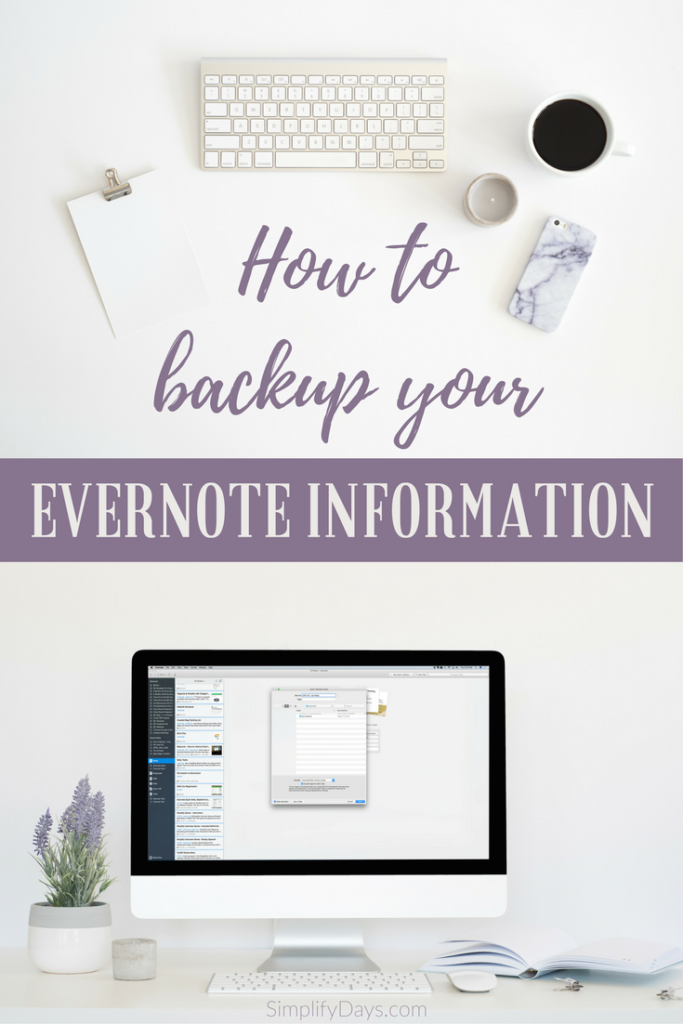 Backing up your Evernote information is quick and seamless. The first thing you need to do is create a backup folder for your Evernote backups. I suggest creating a new folder in your documents titled Backups then a nested folder called Evernote. Place your backup in this folder.
There are a couple of options and formats for backing up your Evernote information.
Export all Notes
For Evernote, the fastest way to back up your information is to do one export of all your notes.
Select Notes on the side bar and make sure "All Notes" appears at the top of your note view section. If it specifies one notebook, just click on Notes in the side bar again.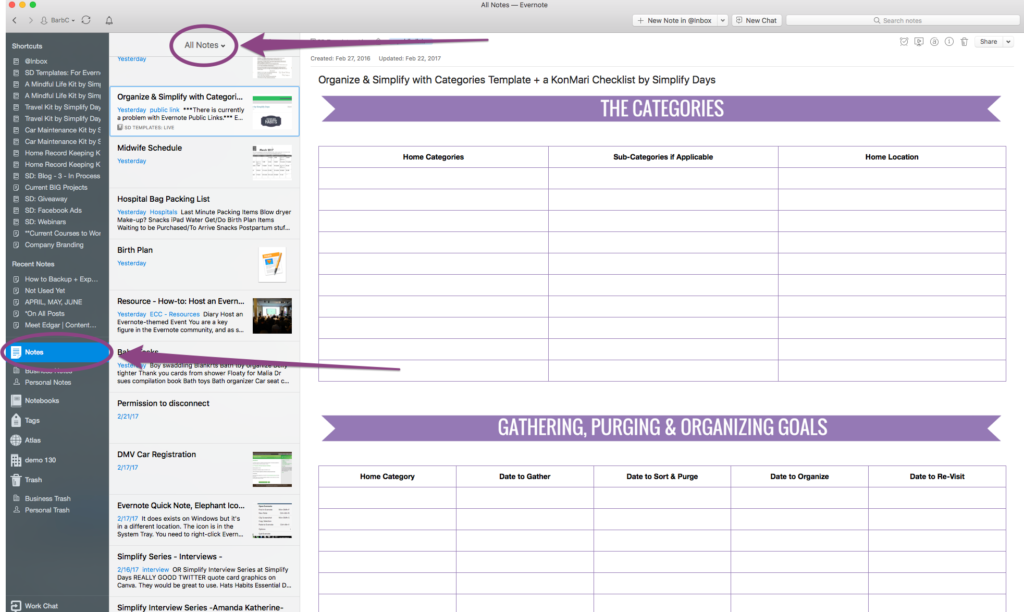 Select all your notes by clicking on a single note and then pressing Command-A (or Control-A on Windows).
Go to File > Export Notes. Make sure it says Export NoteS and not just note. If it's singular, then you only have one note selected.
Once you select Export, you can designate the location where you'd like to save the notes. By default, the title is My Notes. I change this to the date of the backup, using my designated dating format: YEAR-MO. The Evernote XML Format (.enex) will the be the default format for exporting notes. You can also export your notes in an HTML format. I recommend doing both. If something was to happen to Evernote, you don't want all of your documents saved in their proprietary format (.enex). HTML can be converted to PDF so it's good to have the backups in both formats. Once you click save, the backup will begin. The more notes you have, the longer it will take. I suggest creating this backup weekly, especially if you use Evernote frequently.

Export by Notebook
A more time-intensive but important method of backing up your information in Evernote is by Notebook. This is important because if your ever lost all of your Evernote information and just have the one backup with all of your notes, you would have all of your information but you would have to go through each note and re-assign it to a notebook and get it organized again. If you have a lot of information in Evernote, then you understand that this would be a huge hassle.
To export by notebook, you follow the same steps as above with one minor adjustment. At the beginning, choose the notebook that you'd like to backup and make sure that notebook title is displayed at the top of your note view section.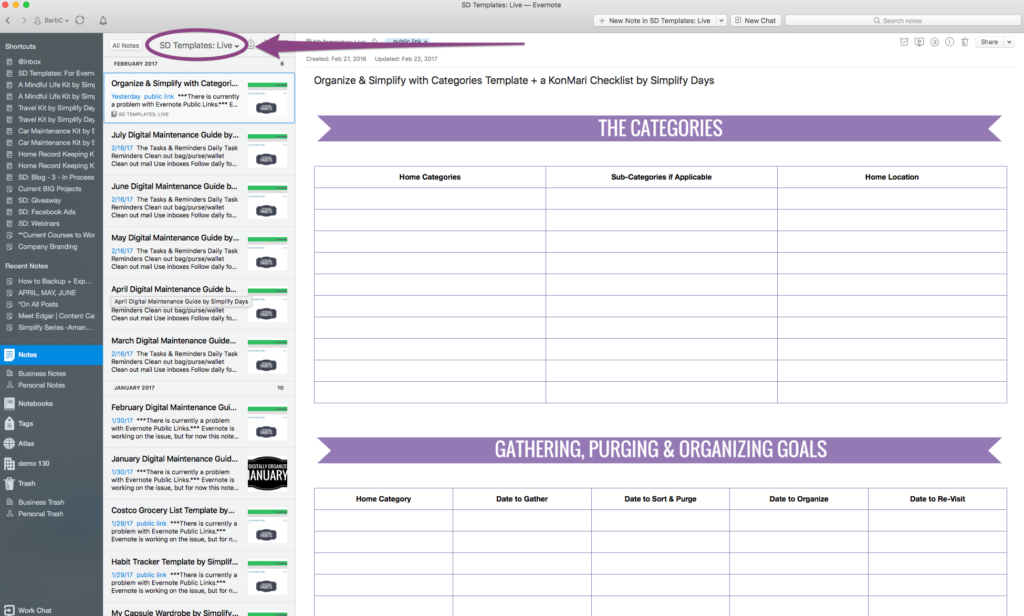 Select all of the notes within that notebook by clicking on a single note and then pressing Command-A (or Control-A on Windows). Then you're ready to export.
When I create this backup organized by Notebooks, I usually do it based on notebook stacks and not by individual notebooks. Also, I don't backup my data by Notebook every time that I do an Evernote backup, as it takes much more time than exporting all of the notes at once. I do this more specific backup every few months or so.
---
How does the backup work?
Sometimes it can be confusing to understand how a backup functions. So I wanted to give a quick analogy of copying information.
Pretend you have a physical binder with all of your important notes and documents. You want an extra one. So you take that notebook into a copy store and have them make you a replica. Now you have two. Your original and the copy. You stick the copy on the top shelf of your closet and continue to use the original as needed … adding in more notes and making edits as necessary. The COPY stays right where it is and is not connected to the original. It is not updated with the new changes or altered.
The functionality is the same when you export all of your Evernote database. You're making a copy of the files and sticking them somewhere else. I put my backups in Dropbox but a local folder on your local hard-drive would also work great.
When you export your notes there's no change in the way your original Evernote notes work. They will all still be there as normal.
The copies are not updated when you update Evernote, they're completely separate and don't work or function together. That's why it's important to export your Evernote information regularly.
---
Backups + More Resources
Remember, the likelihood of anything happening to Evernote itself is very small, but it's always better to be safe than sorry. My life is in Evernote, so I backup intensively and frequently. I do not keep all of my Evernote backups. Just a couple and then a delete the old files as I have new backups.
Following the methods above will provide you with numerous copies of your important information and multiple formats of your information. These things will ensure that you're following the 3-2-1 rule of safe and secure backups.
You can read more about keeping consistent and reliable backups of all of your digital information, not just what you keep in Evernote, right here.
You may also be interested in my routine for keeping a life digitally organized. Following my suggested schedule ensures that you will always have consistent and reliable backups of your important information.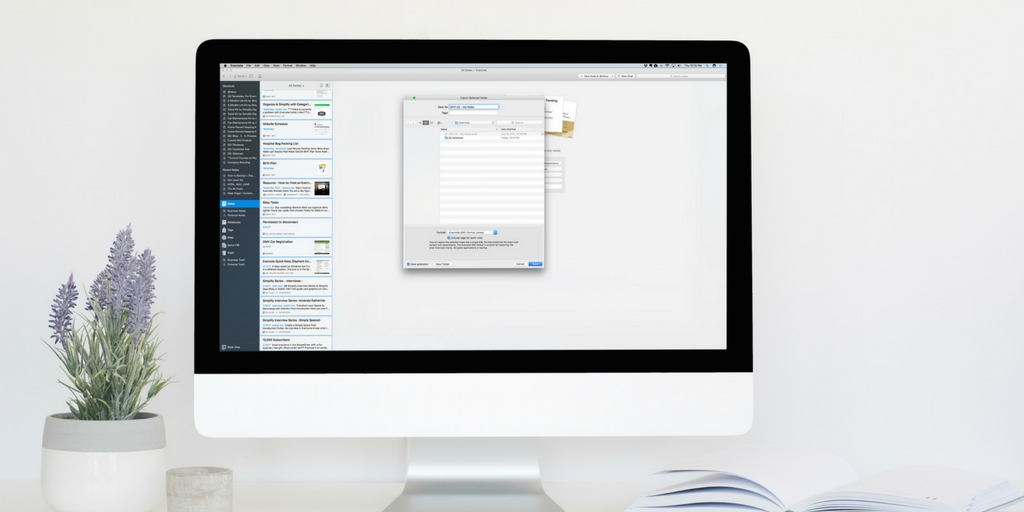 ---
Simplify by Getting Digitally Organized
If you have Evernote but don't feel like you're using it to it's full capability then be sure to check out my free Evernote guides right here. I also have a collection of free Evernote Templates for ultimate Evernote organization.
My signature course teaches Evernote structure and organization. It also focuses on integrating Evernote with other digital tools for ultimate organization, productivity and clarity of mind.
If you're just getting started down the road of digital organization then you may be interested in my free email course: Simplify with a Life Digitally Organized. Join below and you'll get 7 emails for 7 consecutive days with specific and actionable steps for cutting the clutter and getting digitally organized.