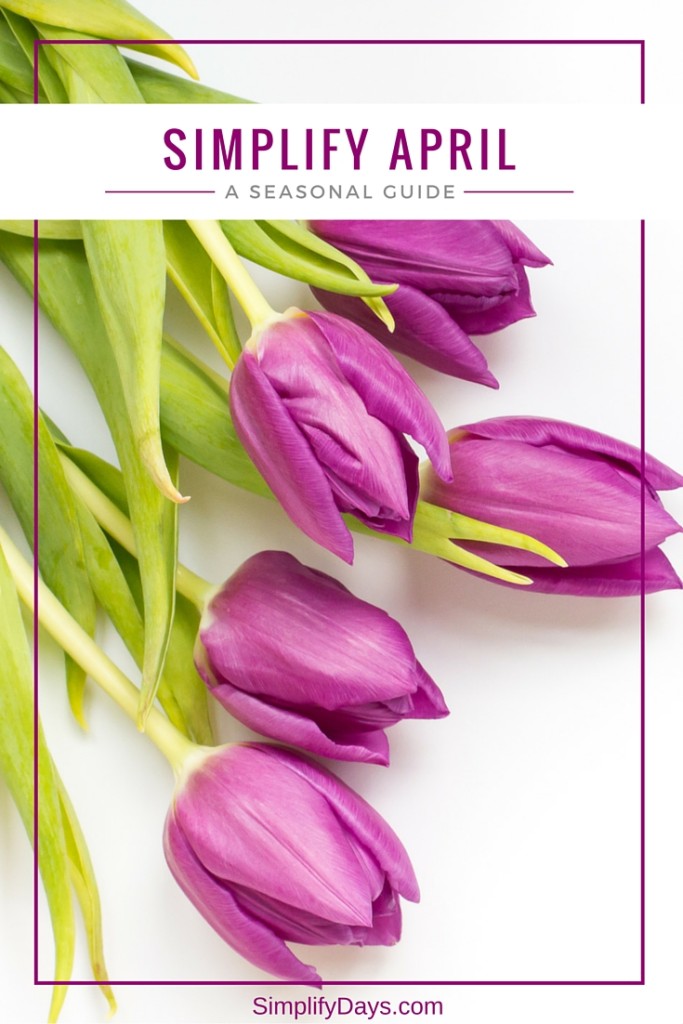 These simple season guides are created every month to assist in getting organized and simplifying our lives. I believe that when we schedule and plan ahead life goes smoother, so that's the first section of the seasonal guide: ORGANIZE. These are simple reminders and tasks to plan for the month. I live in Utah, so I take into account changing seasons, traditional American holidays and events etc.
Once the necessary is taken care of and scheduled, we can then allow ample time for truly living life, so that's the second part: SIMPLIFY & ENJOY. These are simple suggestions and tips for truly enjoying this time of year.
9 WAYS TO SIMPLIFY AND ORGANIZE APRIL
---
ORGANIZE
Prepare for April Fools (Friday, April 1st)
For the Day
Do you love to make people laugh and find surprises and pranks fun? Then you just have a couple of days to nail down your tricks. Get planning and get the most out of this fun day.
Prepare for Easter (Sunday, April 16th)
For the Season
Decorate: If you don't enjoy holiday decorations then skip it. If you do enjoy them, then schedule a day to bring out the floral and pastels.
Crafts & Fun: Bunny ears, dying eggs and other activities can all be fun ways to lead up to the holiday. Plan the activities, when to get the goods and days to enjoy the fun.
The Meaning: The Easter festivities are so fun with kids! The meaning behind Easter is so powerful for adults. Take some time to read, study and integrate the peaceful messages of Easter.
For the Weekend
Check out local activities like Easter egg hunts and brunches happening on the big weekend. Schedule the festivities that you'd like to attend. Plan religious services.
Finish up Taxes (Monday, April 17th)
Nobody loves doing taxes but planning and preparation can make even the most unfavorable tasks completely manageable. If you haven't gotten on top of your taxes then dedicate the first part of April to getting your accounting and finances in order.
Make Note
Make note of a few other important things coming up on the calendar:
Spring Break (various dates but usually in April)
Earth Day (April 22nd)
Mothers Day (coming up on May 14th)
Set up Your Spring Capsule Wardrobe (April-June)
Have you ever heard of a Capsule Wardrobe? A Capsule Wardrobe is a small collection of versatile and interchangeable outfits. The outfits are limited and strategically chosen for the season. Now is a great time to switch out your Capsule Wardrobe for the spring months. Read more about Simplifying your Wardrobe right here.
Watch Your Garden Grow
April is a grat time to start your little seedlings and to prep the garden. If you have (or would like to have) a green thumb then get your garden and plants planned out and prepared for spring planting.
Digital Spring Cleaning
April is a great time to clear the clutter and get organized! Digital organization is an important item in maintaining a clean office and home. Here are some great ways to get started:

SIMPLIFY & ENJOY
Focus on Real Life
Winter can be an easy time to allow electronics, social media, videos and other illusionary elements into our daily life. Focus on real life this spring and summer. Get unplugged, breath in the fresh air, hold your kiddos tight and bask in the renewed earth and the beauty of spring.
Go to Spring's Beauty 
Are there places close to home where spring is simply stunning this time of year? Perhaps an apple orchard with spring blossoms, the mountains budding with spring flowers or red rocks a bit warmer than the mountains? Dedicate some afternoons, or full days if possible, to go to these special places and to enjoy their fleeting spring delights.
I hope you have a wonderful and organized month! And don't forget to check out the free email course below for easy and actionable strategies for simplifying and getting organized.