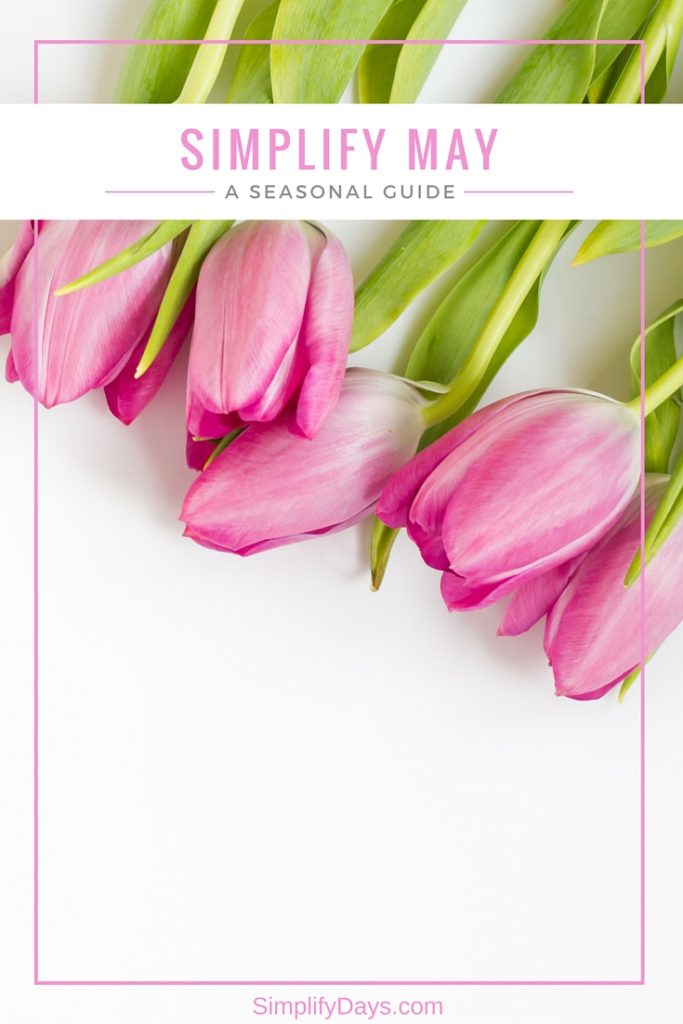 These simple season guides are created every month to assist in getting organized and simplifying our lives. I believe that when we schedule and plan ahead life goes smoother, so that's the first section of the seasonal guide: ORGANIZE. These are simple reminders and tasks to plan for the month. I live in Utah, so I take into account changing seasons, traditional American holidays and events etc.
Once the necessary is taken care of and scheduled, we can then allow ample time for truly living life, so that's the second part: SIMPLIFY & ENJOY. These are simple suggestions and tips for truly enjoying this time of year.
6 WAYS TO SIMPLIFY AND ORGANIZE May
---
ORGANIZE
Prepare for Mothers Day (Sunday, May 14th)
Mothers certainly deserve a special day! Start planning early to make sure the Mothers in your life know how special and appreciated they are. If you need some suggestions for gifts then see my guide for gifts that inspire simplicity & organization here.
Plan out Memorial Weekend (May 26th-29th)
The kick off for summer is nearly here! Plan a fun weekend to start the summer off right. Check out my free Packing List Template here to help you stay organized if you're planning a getaway.
Summer Road Trips
Summer is the best time for road trips! It's amazing how much you can do and experience within a few hours of your home. Get your road trips planned and scheduled to make sure you get to enjoy the beautiful places around you. Read more and grab a free copy of my Summer Road Trips Template here.
Digital Spring Cleaning
May is a great time to clear the clutter and get organized! Digital organization is an important item in maintaining a clean office and home. Here are some great ways to get started:

SIMPLIFY & ENJOY
Local Gardens
May is truly a beautiful time of year. I love to explore local gardens and nurseries this time of year to bask in the earth's beauty and the glory of spring. Do you have any local gardens that you can explore and enjoy?
Go on a Hike + Picnic 
Yeah for hiking season! Check out the weather and after a few warm days when the trail will be dry get out on a natural walk/hike. Pack your bag with lunch or dinner and take a few hours to take in deep breaths of the fresh spring air, look at the clouds and be thankful for this time of year.
I hope you have a wonderful and organized month! And don't forget to check out the free email course below for easy and actionable strategies for simplifying and getting organized.