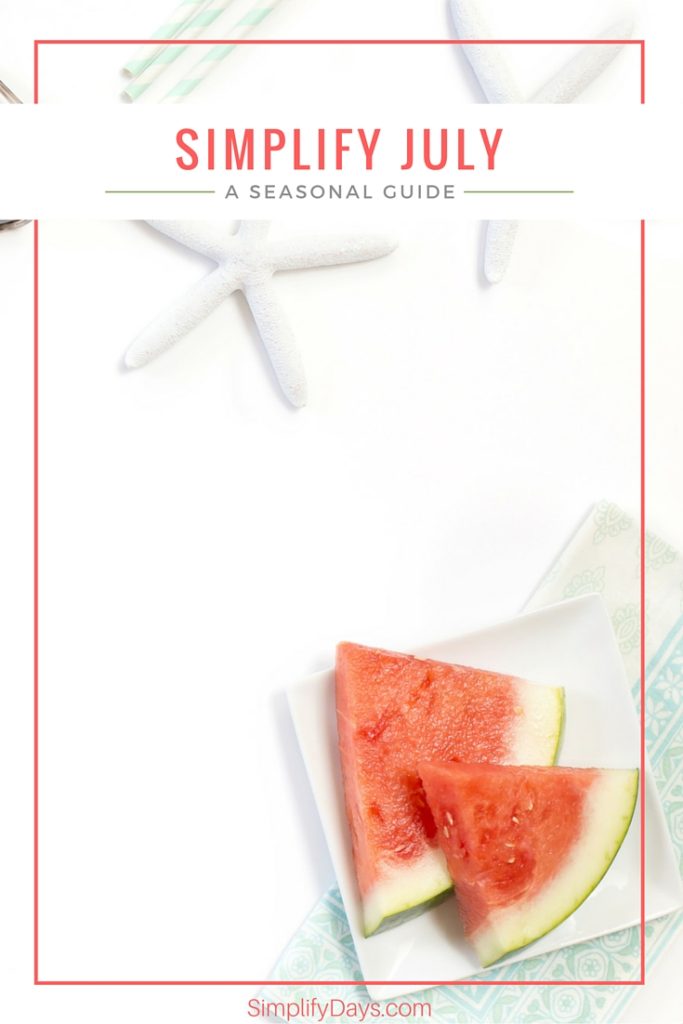 These simple season guides are created every month to assist in getting organized and simplifying our lives. I believe that when we schedule and plan ahead life goes smoother, so that's the first section of the seasonal guide: ORGANIZE. These are simple reminders and tasks to plan for the month. I live in Utah, so I take into account changing seasons, traditional American holidays and events etc.
Once the necessary is taken care of and scheduled, we can then allow ample time for truly living life, so that's the second part: SIMPLIFY & ENJOY. These are simple suggestions and tips for truly enjoying this time of year.
6 WAYS TO SIMPLIFY AND ORGANIZE July
---
ORGANIZE
Plan out Fourth of July Weekend (July 1st-4th)
Hopefully you have something fun planned for the Fourth of July weekend. If not, get a few things scheduled to enjoy summer at it's best. Check out my free Packing List Template here to stay organized if you're planning a getaway.
Set up Your Summer Capsule Wardrobe (July-September)
Have you ever heard of a Capsule Wardrobe? A Capsule Wardrobe is a small collection of versatile and interchangeable outfits. The outfits are limited and strategically chosen for the season. Now is a great time to switch out your Capsule Wardrobe for the summer months. Read more about Simplifying your Wardrobe right here.
Summer Road Trips
We are in full road trip mode here! 😉 Summer is the best time for getting out and exploring. It's amazing how much you can do and experience within a few hours of your home. If you haven't yet, get your road trips planned and scheduled to make sure you get to enjoy the beautiful places around you. Read more and grab a free copy of my Summer Road Trips Template here.
Stay on Top of Digital Organization
Do you want to stay organized all summer? Digital organization is the best method that I found for truly simplifying and getting organized. If  you're new to digital organization, here are some great ways to get started:

SIMPLIFY & ENJOY
Summer Hikes
Summer is the best time to enjoy the mountains. Nothing beats summer wildflowers, tall trees and fresh mountain air. This is a great resource if you're looking for hiking trails near you.
Explore National and State Parks
In the West, we have National and State Parks everywhere; but we've also visiting protected wildlife areas in places like Thailand and Peru. In nearly every place in the world there are beautiful reserves, state and nationals parks, and protected wilderness areas. Right now is the perfect time to get out and explore. Here's a great resource for looking up National Parks and another great resource for looking up State Parks.
I hope you're having a wonderful summer and that you have a wonderful and organized month! Don't forget to check out the free email course below for easy and actionable strategies for simplifying and getting organized. Happy Summer!