-Simplify Interview Series-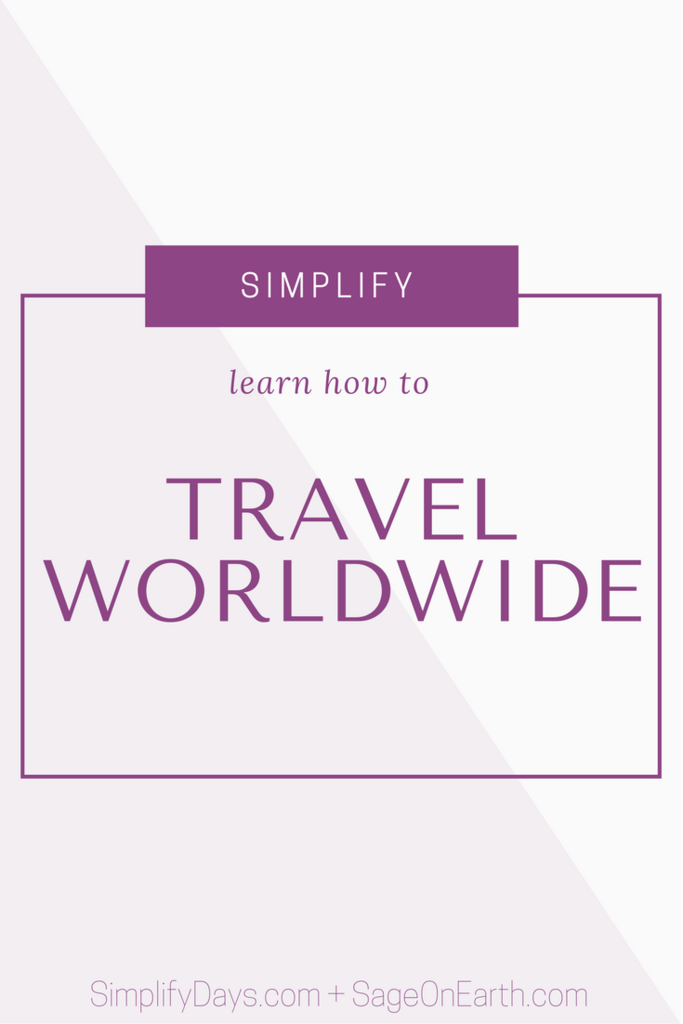 Calling all aspiring world travelers!
If you clicked on this post them I'm guessing that you either love to travel or long to travel. The world is filled with so many fascinating cultures and beautiful landscapes but world travel can seem like an unrealistic dream for many.
Today's Simplify Interview Series is with Gaelle from Sage on Earth. Gaelle has been traveling the world for 22 years and leads her family of four on endless adventures, across all continents.
In this interview, Gaelle will teach you about the art of slow traveling and how you too can make this coveted lifestyle a reality.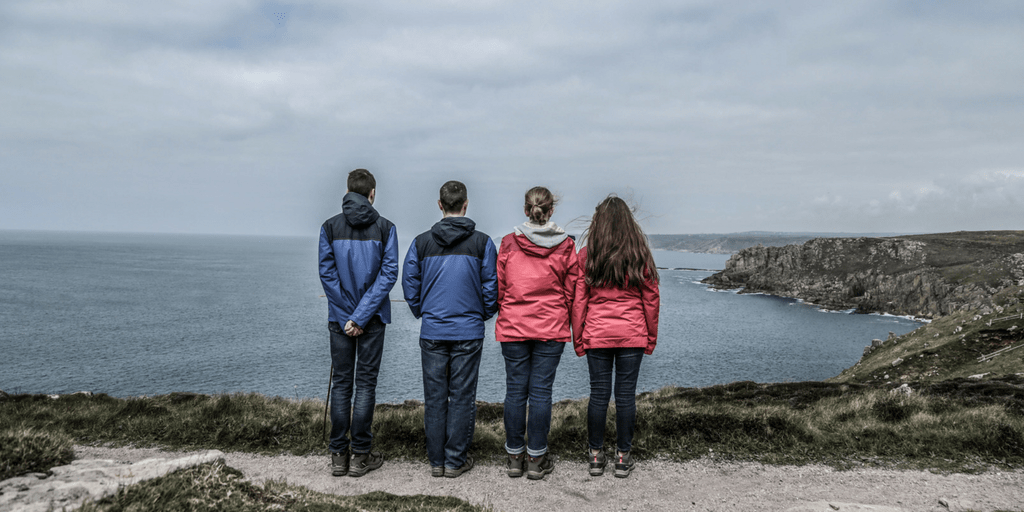 — Photo: Cornwell in Land's End (Britain's most south-western point) in 2017. — 
What is slow traveling?
Gaelle: More and more people have heard of the "Slow Living" concept: an invitation to minimalism, mindfulness, a quieter life, enjoy the moment, etc. We always loved to live slow, but also travel that way too.
I was always perplexed to see how people want to enjoy a trip, when all they have in mind is running from one "Must-see" place to another. We are immersed in a "group travel" fashion invented by travel agencies that forces us into "fast-travel." This is convenient for the ones who don't have time or energy to prepare a trip on their own. But it is so far from enjoyable if you think of it!
Travel should be an opportunity to learn about yourself and about others. This can't be accomplished if the whole process is to follow blindly a guide running all day long, having contact only with other foreigners or tourist megastore employees. I bet that most of people don't even remember the name of the places they went to when they are back home.
Slow Travelling (or Slow Traveling) is simply a way of traveling mindfully. The idea is not to see or visit everything, but to truly enjoy and understand the culture surrounding you.
Why did you choose to make life-long travel your lifestyle?
Gaelle: First of all, I want to clarify something here. We are not full time nomads as some families and couples are nowadays. We have an address and live in an apartment. Most importantly for us, our children have been going to a local school in every country we have moved in.
But we are changing our country of residence as needed and wanted and we are traveling for frequent vacations beyond that. Regarding that, we are not expats depending on a company to move abroad. We have to constantly start from fresh.
For this reason, I consider that we travel long term, even if we are not nomads. Therefore, we are both long term and short term travelers.
Now why we do all these efforts?
I clearly remember, being a teenager, when I first traveled abroad. The first time without a travel agency and living with locals. Things suddenly fell into place for me. I realized that staying in my country of birth couldn't be enough. Some pieces were missing.
If you were supposed to live your whole life in the same room of your house, knowing that there were some other inviting rooms next door, I guess you would answer: "No way I'm staying in that living room only, I want to enjoy the whole house!" You would miss the bathroom and the kitchen obviously, your bedroom also!
Well I suppose I feel the same: there is no way I want to live my whole life in the same country, I would miss other cultures and simply miss the discovery of a new culture too much.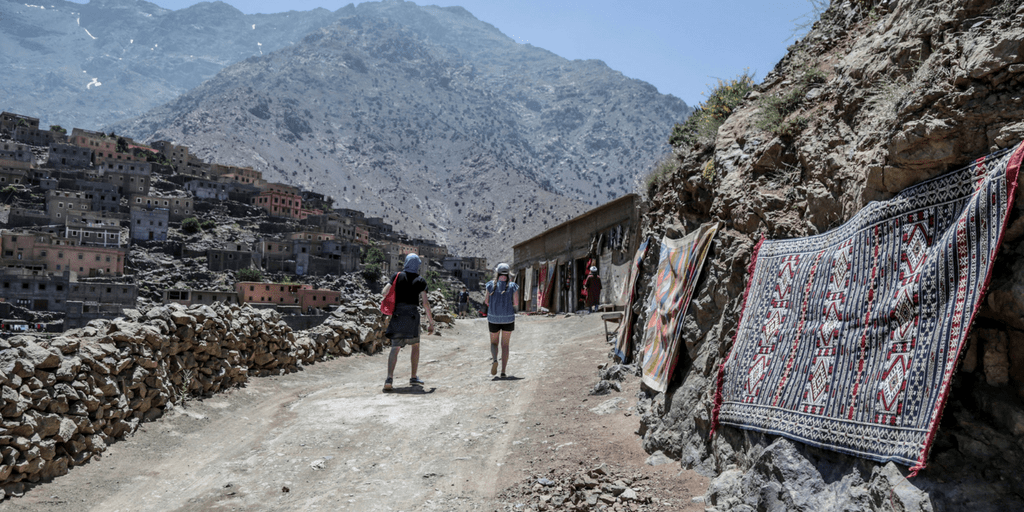 — Photo: The Atlas Mountains in Morocco in 2017. Featuring daughter and son. — 
How does minimalism and simple living contribute to your ability to travel?
Gaelle: That's very simple: we would have never had the energy necessary to move tons of useless stuff regularly. We couldn't travel that much if I needed one more week to pack and unpack each time we leave. We couldn't have carried heavy suitcases along the way. I believe that we are doing all this because things stay light and simple.
We move only personal important stuff (our last move one year ago was a 1.5m3 container) and we travel with a single carryon for each one of us: small suitcase if we rent a car, backpack if we don't. Having a lighter home and less stuff makes the whole process simply doable and manageable.
Minimalism is mandatory to our lifestyle. We all have to make efforts to live the way we chose, but we are glad to do it because after so many years each single one of us is always so happy to leave for new adventures.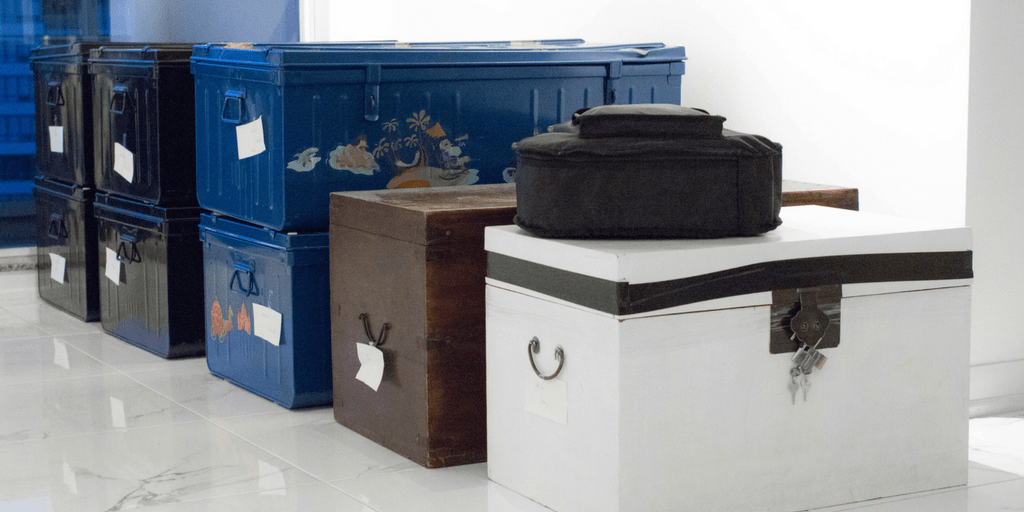 — Photo: Moving from Toronto Canada to the UK in 2016. This is all of the families' personal belongings. — 
How does your family of four financially afford life-long travel?
Gaelle: We are sacrificing a lot to that life. We could have afforded to buy a second home, have two cars and a boat, … We have no car, we don't have a second home and we do not eat out often.
We almost never eat out except when we travel. We try to be careful on expenses that don't really matter to us.
The one thing that has always been more important than our travels though, is our childrens' well-being. This means their studies, their living environment and their health. We have always managed to have them attending good schools in safe neighborhoods.
Living simply allowed me to quit my job years ago. In doing so I had free time to help my children change from a French to a full English school when we moved in Canada.
They are confident that I'm here to help if needed, even if they have a good sense of responsibilities. This is very important in the whole process because changing countries, continents, languages is far from easy for them. They manage it more than well and I'm glad I can help because we chose to live simply.
I also run a blog about what we do: http://sageonearth.com. We are now one step further because my husband is full-time involved in the website too.
Anyway, before that we were able to do all these moves and trips because we live a simple life. That was the first step!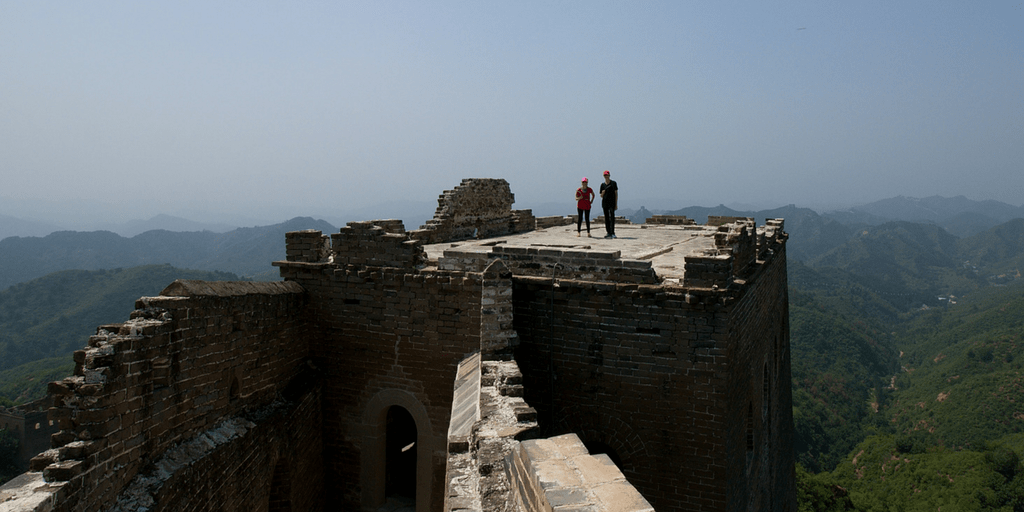 — Photo: The Great Wall of China in 2015. Featuring daughter and son. — 
Many people have travel on their dream list but don't find it practical to travel long-term or to far off places. As a world traveler, what advice would you give those longing to travel but aren't sure how to make it work?
Gaelle: This is easy: use our planning service!
I would say that traveling without a travel agency support is a deep insight. It requires you to be ready for an adventure. Even if you carefully prepare everything, there's always something wrong somehow, somewhere.
A good thing is to look for local help. It's a way to enjoy a better experience, without being too much on your own. And by doing so, you are participating in the local economy, and go from passive traveler to Eco-tourist!
Internet is a precious help here. It's very easy now to find some professional but local people ready to help you enjoy your vacation at your own pace. Ecotourism is very important to us. We believe that traveling is an exchange so it must benefit everyone.
We are not visiting a country only to take, regardless to the respect of its inhabitants. Supporting a local economy is always a good thing, this "local" being yours or not.
What are your favorite tools and resources when planning your world wide adventures?
Gaelle: Internet of course: to find some local experts for any unknown new places.
It may require some experience, but once more, we are glad to help! Airbnb and Hotels.com are a must for accommodation.
For experiences with locals such as sharing a family cooking session, or some different activities such as learning to be a gondolier in Venice, I use Viator. Among many other classic tours, there are some little gems to find there.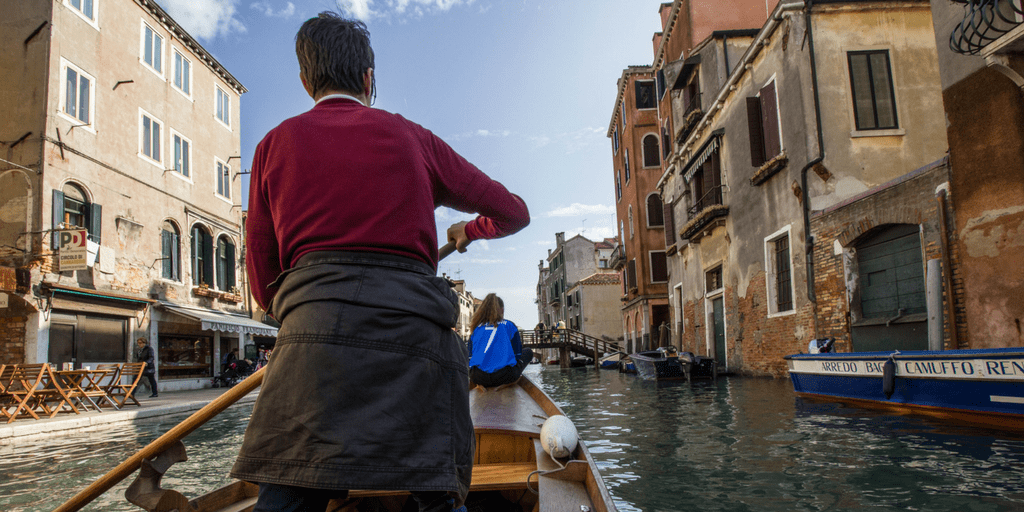 — Photo: Learning to row a Gondola in Venice in 2016. — 
What advice would you offer parents who want to travel but feel overwhelmed by the idea of traveling with their kids?
Gaelle: I won't tell more about the benefit and pleasure of traveling.
The thing is, you have to understand that you simply can't leave your kids behind when your travel. I assume you wouldn't want to live your life on your own, with your kids living with their grand-parents. Keeping that in mind it's important to travel with them as well because it's the best education you can give. They will understand differences and learn to respect them. This is such a precious thing to teach!
For that reason, you should consider traveling only as a family!
At first, you don't need to leave far, simply change your routine. Then, when you see that everything can be managed, and that the benefits are great for the whole family, try further destinations!
Once your mind is set on travel, my first advice would be: try to simplify your schedule and your luggage so nothing is a burden. If something is a burden, then everyone gets stressed, including your kids. We all know as parents, that this is not what we need in that kind of situation. To avoid this, you must keep spare time regularly in case something unexpected gets in the way.
Being 3, 4 or 5 with small ones makes you slower and more sensible to everything than being one or two adults who can take care of themselves. It's very important to keep some free time regularly, do less, carry less and everything will go smoothly.
My second advice would be: plan carefully. The family comfort and safety is so important! You wouldn't want to sleep in a car in the middle of nowhere with kids on the back seat!
Saying these words, I realize how traveling with children is an invitation to "Slow Travel!" Once again if help is needed here we are glad to do that for you!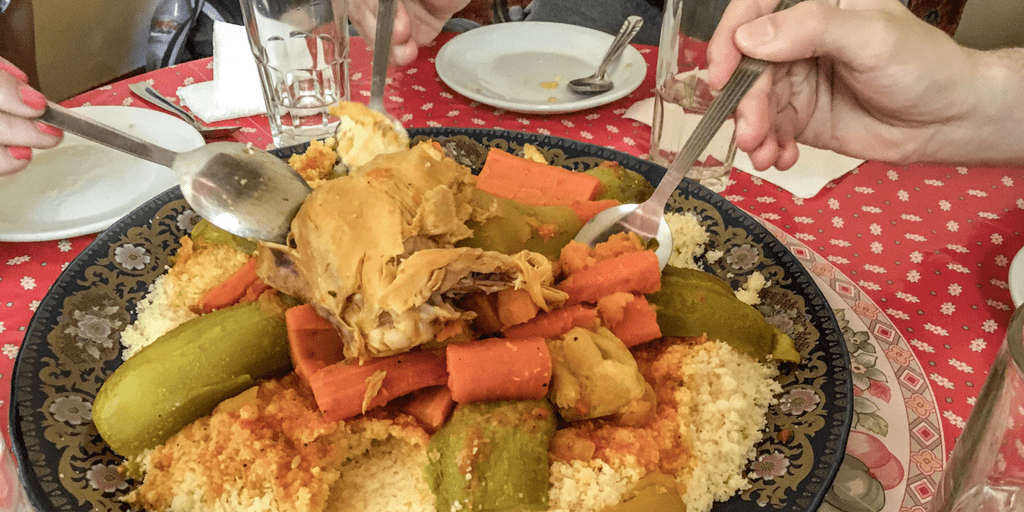 — Photo: Family sharing couscous with a Berber family in Morocco. 2017. — 
What's the greatest benefit that you have seen for your family through traveling long-term?
Gaelle: I'm glad they are naturally aware of the realities of the society; whatever society it is. I'm happy to see that my kids don't take for granted the uses of each one of our new country of adoption. This is even more precious now that they are teenagers and more on their own!
I also believe that they have seen so many different ways of living one's life that they are aware they have choices to make, but also that they have some work to do to achieve their goals. Nothing is ever taken for granted!
They have also learned the importance of remaining open to changes.
When my daughter first went to Morocco she was 4 years old. We stayed in a hotel in Marrakech with an open buffet for the diner. I watched her choosing pizzas every night, ignoring carefully the local food.
When we were back home I explained to her that travelling was also about finding different food, beds, houses, smells, tastes, etc. So if she liked the travel experience she had, she would have to go for local food wherever she goes from now, because we can't always find international food and anyway we have to stay healthy when traveling too!
She never ate pizza again on a trip, except in Italy.
Both of my kids know to eat what's on the menu without asking for special treats, whether they like it or not. My son is very sensitive to mint and chili peppers. He would never choose dishes involving these two ingredients if he had a choice. But if you'd meet him during a trip, you wouldn't know anything about that.
These are little stories of our own, but the important idea here is that flexibility is important, today more than ever, and traveling can teach that!

About Gaelle
Gaelle is the founder of Sage on Earth. She is a writer, photographer and day dreamer of constant travels and moves for her family of four. Originally hailing from France, she has now been traveling the world for 22 years, 17 of those years with kids who are now teens. Her travels have expanded through 5 continents and 29 countries. You can grab one of her slow travel guides here, or hire for her slow travel planning services here. Follow Gaelle on Instagram for beautiful photos and daily travel inspiration. 
I hope you enjoyed this interview and that you are inspired to expand your travels and increase your traveling frequency! I'd love to hear from you … What's one way you can start slow traveling? Let me know in the comments!

SIMPLIFY INTERVIEW SERIES
This interview is part of a series of interviews all about simplifying your days and features leading experts in all areas of simplification. You can find more interviews like this right here. Do you know of someone that would be a good fit for the Simplify Interview Series? I'd love to hear about it! You can get it touch with me right here.
SaveSave
SaveSave
SaveSave
SaveSave